Rabbi Greer Headed to Prison
That is the headline of an
article
in the New Haven Independent, and was big news yesterday in the Jewish media and community.
According to the article, Greer was sentenced to 20 years in prison for repeatedly raping a teenage student in the yeshiva he headed.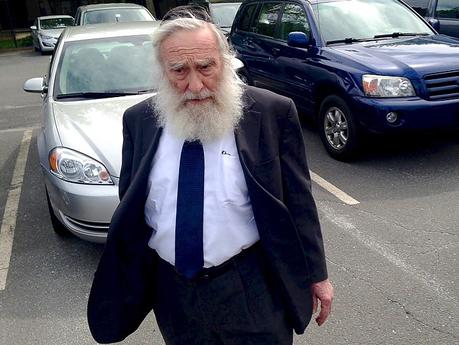 Such a difficult and horrible story. What is particularly interesting about it is what the judge reportedly said in the sentencing.
Greer stood as Judge Alander read off the sentence for each of the four felony counts of risk of injury to a minor. As soon as Alander said it would involve prison time, a court marshal immediately grabbed Greer's right hand, pulled it behind his back and put it in cuffs. Greer's face reddened, and he began shaking.
Alander ordered that Greer go straight to jail rather than remain free on bond. He said that's because he considers Greer a substantial flight risk, as he faces the "cold realization" that he will likely spend the rest of his life behind bars. Alander added that, last time he'd raised the bond to $750,000, his wife, Sarah Greer, had somehow come up with tens of thousands of dollars in cash within just a few hours.
Greer will have to serve only 12 years in prison. After that, the rest of the full 20-year sentence will be hanging over his head as a consequence for violating his probation, which he will be on for up to 20 more years.
Greer will also have to register as a sex offender for 10 years, with a description that says he repeatedly had oral and anal sex with a teenager. He will have to pay a $151 fine, and he will have to give a DNA sample.
"Why does society view these crimes as particularly deplorable? Why have they garnered such significant media and public attention? Because they involve a colossal violation of trust," Alander said.
"When, as parents, we send our children to school and take them to houses of worship, we entrust the leaders of those with the care of our children. We share an unspoken promise in understanding that our children will grow and prosper under their tutelage. When a teacher or religious leader breaks that promise, they betray that trust. It is both unexpected and deeply disturbing."
"It is important that a statement be made, to be heard by others in positions of authority who might be tempted; to be heard by the victims of sexual abuse who may find some solace in it," Alander continued. "The Talmud [a primary source of Jewish rabbinic law] teaches that there is hope for a man who is capable of being ashamed. It is my hope that someday you will truly feel ashamed for your actions and thereby embark on the road to redemption."
Let the lesson be heard by others in positions of authority who might be tempted, and let victims find solace in this statement. Quoting the Talmud. Betraying trust. It is about time someone made such a statement. Hopefully this is the shot heard around the world and others will take note and act appropriately.
------------------------------------------------------
Reach thousands of readers with your ad by advertising on Life in Israel
------------------------------------------------------