An exhibition explores the American photographer's preference for showcasing his work in books.
Slideshow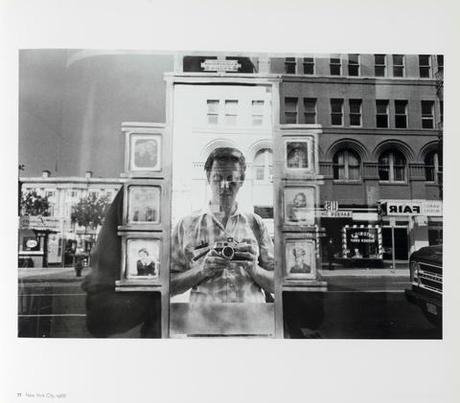 A Friedlander self-portrait taken in New York City in 1968 from In the Picture: Self Portraits 1958-2011 (Yale University Press), 2011. In the afterword to the book, photographer Richard Benson writes: "I once asked him why he became so dedicated to making books, and he told me that when he was young he found a copy of Walker Evan's great book American Photographs, and every time he went through it he something new. The book became the ultimate venue for Lee, not the transitory one of the gallery show, where the pictures could be seen only for a short time, but instead a visual structure that lasted and could repeatedly reacquaint us with what we thought we already knew so well." Image copyright Lee Friedlander/Fraenkel Gallery.
Twentieth-century American photographer Lee Friedlander is known for his black-and-white documentary photographs that featured everything from urban landscapes in the U.S. in the 60s and jazz musicians to obscure self-portraits. What fewer people know is that the book—rather than the gallery wall—is his preferred method of showing work. "Lee Friedlander: The Printed Picture," an exhibition at the Pratt Institute in Brooklyn opening on April 30, brings his printed medium to light, focusing on work published in over 40 of his photography books from the past five decades.
"It can be said that his approach to making photographs is more unconscious than pre-conceived," says Stephen Hilger, chair of the Pratt Institute's photography department and co-curator of the exhibition. "So it is through the labor of making photography books that he most clearly executes his vision." In his books, both published under his own imprint, Haywire Press, and other houses, Friedlander's careful composition is made clear in details like the simple, striking covers to the narratives created by the interplay of multiple works on a page.