I condemn any attack on our soldiers. They should be given honor and respect for going out to the front to defend the country and its citizens.. their way is not the way of the Torah - Leave our city!... Rav Ovadia Yosef said that the soldiers of the IDF are holy and we need to kiss their feet


  -- Mayor of Bet Shemesh Moshe Abutbol at municipal ceremony for Yom Hazikaron
great thing to say! he should also have spoken out against those that vandalize other's property and attack their cars and destroy flags in the street. He also said it at a ceremony of mostly non-religious and moderate religious (even some Haredi) people, not directly to the hooligans and thugs. It was a great thing to say, and hopefully it is just a start and he will actually tell them to leave and make their lives here uncomfortable until they do.
The thug's response was quick to come, condemning Abutbol for taking part in such a ceremony and holding a protest this evening..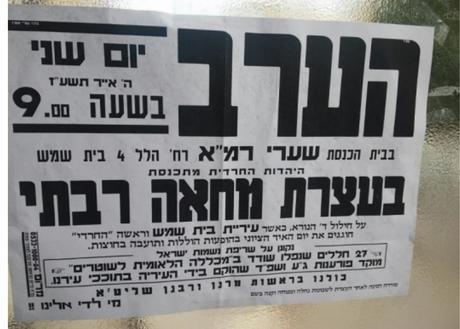 ------------------------------------------------------
Reach thousands of readers with your ad by advertising on Life in Israel ------------------------------------------------------