Is the quinoa fad over yet? I have a tendency to try something once it's lost it's place as the foodie 'darling.' I can never quite get on-board with some of the over the top LOVE I see for some newly discovered foods so I watch and wait and I dig in when the mood strikes me, not when the masses say I have to. Kale chips also come to mind but I've yet to go that route; I just prefer Lay's and I know you get that, right?  My first foray into quinoa territory was a couple of years ago with this Tandoori chicken dish, before quinoa had become heralded as the grain of all grains. While I enjoyed that dish it wasn't until I made this Red Quinoa Chipotle Lime Salad with Corn and Avocado last year that I first felt true quinoa love. I much preferred the flavor combination of the nutty quinoa better when mixed with a flavorful dressing and am surprised it's taken me this long to delve in again but delve I have. I simply loved this Quinoa Salad with Oranges, Pecans and Cranberries and I'm happy to add it to my quinoa repertoire; that list might be small but with these two salads it's mighty!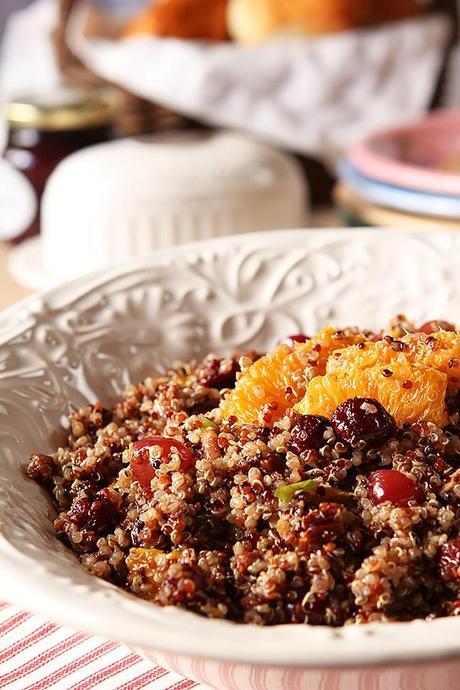 I was inspired to make this dish when I heard Ina Garten's show the other day. I had it on for background noise so didn't catch quantities or exact components but it was easy enough to find online.  Her recipe was for a wild rice salad but my pantry only offered up quinoa and I admit I think I liked it better; but then I changed it quite a bit. Don't hate me but the Barefoot Contessa could have used a bit more of everything; 2 cups of wild rice or quinoa is a lot when finished and I thought her quantities of the other ingredients simply not satisfying enough. I don't want to search for a grape or a berry or a nut, I want some of them in every bite…are you with me? The dressing also benefited substantially with the addition of some honey; the tartness of vinegar and citrus was almost crying for it. I was delighted that this salad measured up to that salad last year; so much so that it wasn't what I had on the side for dinner, it was dinner!
I've found myself navigating more and more to enjoying fruits and nuts in my salads; maybe it's because tomatoes are only good when fresh in the summer but I can find a variety of fruits for almost any season. While this was simply terrific this week I can already envision making it again for a Thanksgiving dish; the orange, cranberry and pecan components would fit right in. They sure helped to make it a bit more photogenic too; I do forget sometimes when an idea pops into my head about dealing eventually with photograph-ability. Brown casseroles, soups and grains can be difficult but in this instance, the pretty colors in this salad pop on your plate and what could have very easily been an ugly duckling was transformed into a swan. So good. I mean REALLY good!


Quinoa Salad with Oranges, Pecans and Cranberries
Prep Time: 15 minutes
Cook Time: 15 minutes
Yield: 6-8 servings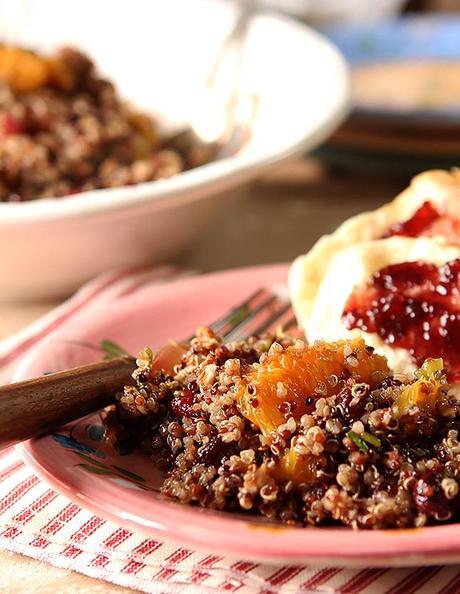 Ingredients
10 oz quinoa (I used a variegated variety)
2 cups chicken or vegetable stock
1/4 cup pomegranate juice (a juice blend is fine)
1/4 cup dried cranberries
2 navel oranges, peeled and sliced between membranes
1 cup seedless red or green grapes, cut in half
2 Tbsp scallions, white and green parts, thinly sliced
1/2 cup pecans, toasted
For the Dressing:
1/2 cup olive oil
2 Tbsp freshly squeezed lemon juice
1/4 cup raspberry or balsamic vinegar
4 Tbsp honey
2 Tbsp Orange Liqueur (optional - use orange juice)
1/2 teaspoon freshly ground black pepper
1/2 tsp salt
Preparation
Place the quinoa in a medium pot with the 2 cups of stock and 2 cups of water and bring to a boil. Simmer covered for 15 minutes, until it blooms. Drain well and put back into the pot and cover for 5 minutes. Remove lid and fluff with a fork and let cool.
While the quinoa is cooking, soak the dried cranberries in the pomegranate juice to plump.
Once the quinoa has cooled, drain the cranberries and add them to the bowl with the orange sections, grapes, scallions and pecans and mix gently.
For the Dressing:
Combine the olive oil, lemon juice, vinegar, honey, orange liqueur and salt and pepper and whisk to combine; drizzle over the salad and stir in gently.
Allow to sit for 30 minutes for the flavors to blend. Check seasonings and serve at room temperature.
2.6http://www.creative-culinary.com/quinoa-salad-with-oranges-pecans-and-cranberries/This recipe brought to you by Creative Culinary | A Food and Cocktail Blog | Website: www.creative-culinary.com