Anda is a small town on the east coast of Bohol with an admirable tourism department. It surprised me that they had brochures being distributed to visitors hanging out at Anda's public beach called Quinale Beach and at the food stalls in the Poblacion market.

Quinale Beach 
Anda's Quinale Beach is a long stretch of white sand with clear waters and a sandy bed (no rocks nor seaweeds). We were at Quinale Beach from Wednesday to Saturday on a Holy Week. The beach was mostly quiet and deserted from Wednesday to Friday, but Saturday brought in a battalion of people (a congregation, I believe). To get away from the Saturday crowd, we hung out on the west end of the beach.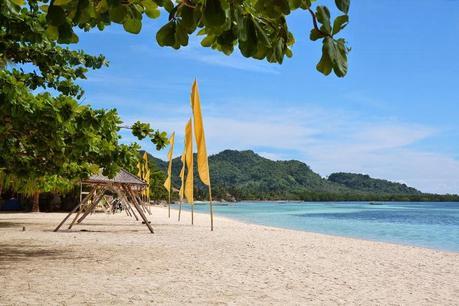 Trees and huts along the beach
Quinale Beach has a lone bar (Quinale Beach Bar 0908 992 3309) with affordable food (snacks mostly) and drinks. Adjacent to the bar is Anda's tourist center. Under the hut (free!) or under the tree or under the sun's rays, visitors can set up a tent or a picnic blanket or tables and chairs. Tables and chairs can be rented (Php75 for a table and Php5 for two chairs) at the bar. Camping on the beach is allowed but visitors must bring their own tent. Camping on Quinale Beach isn't totally roughing it because Anda has also provided toilets, changing rooms, and open showers (also free) by the bar.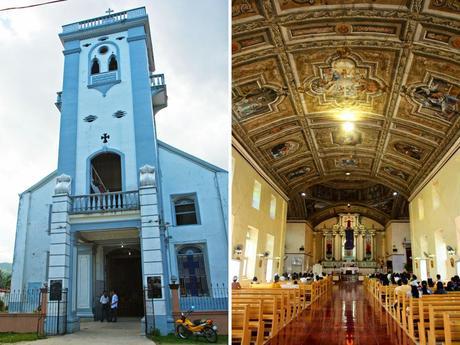 Anda Church's ceiling murals were painted by Raymundo Francia from 1923 to 1925.
The municipal hall, police station, church, market, bakeshop, and tricycle terminal are just walking distance from Quinale Beach. And the place where we stayed in, R&S Seaside Unit Accommodation [0948 849 6971 / 0916 529 5174], which has a convenience store, is just a two–minute walk from the beach and a minute walk to the market (we had our meals at the market's food center). R&S has a newer building on the next street (a minute walk to the beach), which has a restaurant with WiFi connection.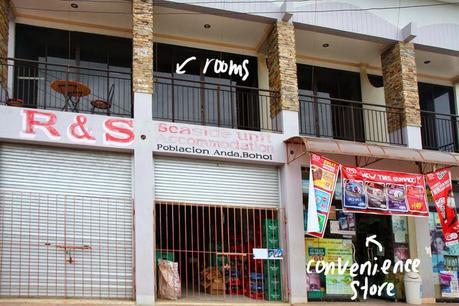 Our room could accommodate six persons comfortably. For only Php 1900, it had a queen-sized bed, a bunk bed, a sofabed with a pull out bed, a toilet and shower, an air conditioning unit, a TV, a microwave, a sink, a rice cooker, an electric kettle, and plates and utensils. Rooms for two persons and four persons are also available.

For the benefit of those planning to visit Anda, check out the map below and the list of accommodations and contact numbers.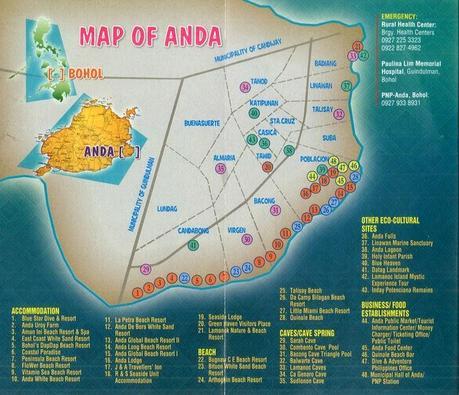 Click to enlarge
Of the many sites listed on the map, we only visited Anda Falls and the Inday Potenciana remains. The beach (and the comfy room at R&S) made us too lazy to go exploring and, despite Anda Falls being just 3 kilometers from where we were, we only got off our butts on the last day.
The habalhabal (motorcycle) rates posted at the bar in Quinale Beach shows that a habalhabal ride to Anda Falls would cost Php25 per person per way and that a motorcycle could carry a maximum of two passengers. I think the driver found us too fat that he insisted on us hiring one motorcycle each (Php100 per person roundtrip) for safety.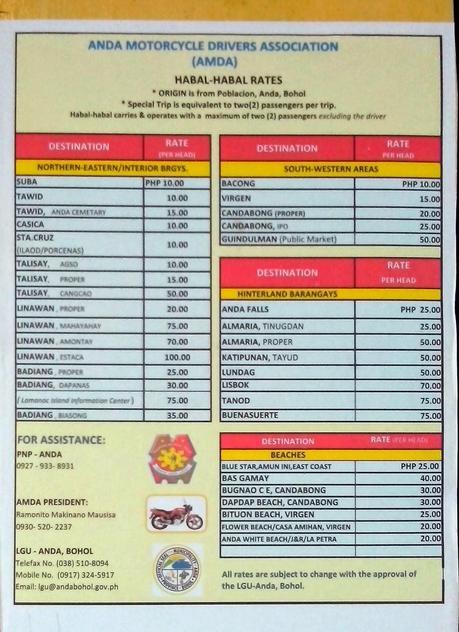 Habalhabal rates in Anda (click to enlarge)
The road to Anda Falls was rough, so I understood why he would not risk strapping us on his motorcycle. Anda Falls wasn't much to see. The local government constructed a pool at the bottom where residents can go for a swim in the cold fresh water (no entrance fee).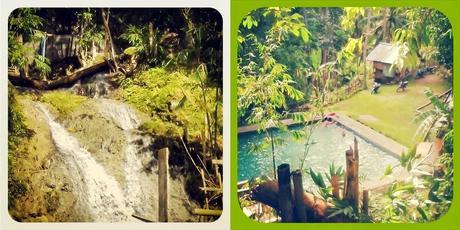 Anda Falls (left) and the man–made pool at the bottom (right)
On the way back to the town, we dropped by a small structure in the middle of the cemetery. In the center of the small wooden structure was a white tomb keeping the remains of Inday Potenciana. I looked in the tomb and saw teeth and the outline of a body.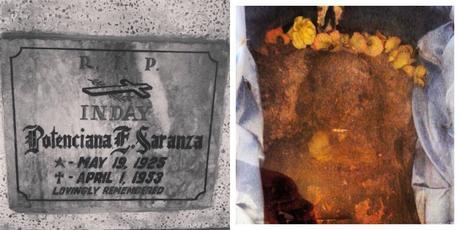 Inday Potenciana
My friend refused to look into the glass topped tomb. He extended his hand holding his cellphone above the glass and took a photo. After checking his shot, he immediately deleted it. Corpses give him the willies. Ten minutes tops and we were out of there.
All my habalhabal driver would say was that it was miraculous but he couldn't really tell me the history behind this. Thanks to langyaw.com, now I know the story.
How to go to Anda in Bohol:
From Tagbilaran
Take the bus at Dao Terminal in Tagbilaran. To Anda 5AM / 1230PM / 230PM. To Tagbilaran 6AM / 8AM / 11AM. Travel time is 3 hours.
Take a van (v-hire) at Dao Terminal in Tagbilaran. To Anda – no fixed schedule. To Tagbilaran 4AM / 530AM / 6AM / 7AM / 730AM / 8AM. Travel time is 2 hours.
If you miss the above direct vans/buses, take a bus to Guindulman. From Guindulman, there are regular buses, vans, tricycles, and motorcycles to Anda running from 5AM to 5PM.
For big groups, you may opt to rent a van. We rented one from Arnel Aniñon 0909 783 2396 / 0908 937 2405 / 0916 387 4609.
From Tubigon
Take a bus or van to Carmen. From Carmen, transfer to a bus going to Alicia. From Alicia, ride a bus or jeepney to Anda. Most would not recommend this route since buses don't run hourly. If you miss the bus, you would have to try and find a motorcycle to take you to Anda.