This coffee facial scrub is full of antioxidants which help fight free radicals and aging. It also helps reduce puffiness, acting as a mild diuretic as the skin's fluid is drawn away from fat cells. As I mentioned in the Savvy Brown FB Group, I love using leftover coffee grounds as a body scrub. I also have started using them as a facial scrub and it's been working great! I like using espresso grounds because they're smaller and because…well..espresso. It's crazy simple: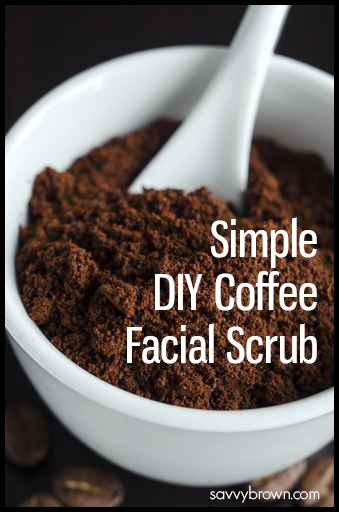 Coffee Facial Scrub Recipe
You can substitute the jojoba oil for any carrier oil you like. First, I wet my face with tepid water, I apply this scrub with gentle circular strokes. Because the grounds are fine and have been brewed already, they make a gentle exfoliant. Then I rinse and wash with my DIY foaming face wash followed by my  DIY Aloe Vera Juice Toner and then moisturize either with a few drops of rosehip seed oil and argan oil or I also use Allafia Melon and Shea Day Cream with good results.

Have you ever done a coffee facial scrub?