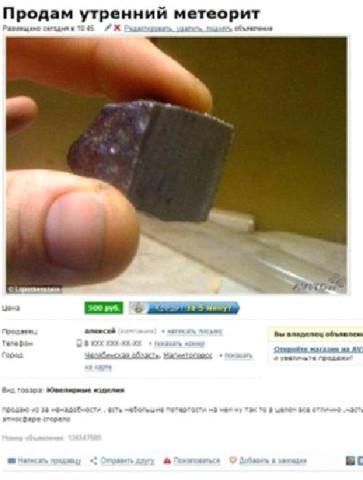 (Photo: Moscow Times)
Entrepreneurs can create opportunity out of the most unexpected places. Sometimes, inspiration drops out of the sky – in this case, quite literally. After a meteor surprised Russia today, entrepreneurs in Chelyabinsk Oblast, located just east of the Ural Mountains, immediately began gathering and selling small pieces. Not more than 5 hours after the sonic boom that blew out windows across the region, dozens of bits (real and otherwise) were online and up for auction.
This kind of quick, flexible response typifies the entrepreneurial spirit. It is a special kind of person who can create opportunity where none existed. Small and medium-sized entrepreneurial ventures, by their very nature, must make nimble moves in response to a changing business environment. They are less insulated and therefore more vulnerable than their larger or more-connected brethren. (Jon Custer wrote earlier about the importance of failure for entrepreneurs.) These Russian meteor moguls may yet find themselves in hot water with the authorities, or they may have just found a new, celestial business model. Either way, in the run-up to CIPE's April conference, Democracy that Delivers for Entrepreneurs, we celebrate that indomitable spirit.
Julia Kindle is Publications Manager at CIPE.