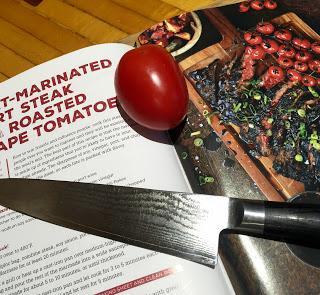 Life gets busy, especially in the summer with everyone racing off in different directions. The notion of meals that can be made with six ingredients and ready in six minutes sounds too good to be true, so when we were asked to review Stuart O'Keefe's new cookbook, The Quick Six Fix: 100 No-Fuss, Full-Flavor Recipes - Six Ingredients, Six Minutes Prep, Six Minutes Cleanup, we couldn't refuse. O'Keefe advocates having a Quick Six Fix Pantry filled with must-have ingredients and additional items that are nice to have on hand. The idea is that staple items can be combined with fresh ingredients to create inventive dishes with a minimum of fuss and prep time.
The recipes are easy to follow and offer a joyful approach to quick, simple cooking that incorporates the modern need for speed in the kitchen but doesn't compromise on flavor. The pages are filled with neat little tips on streamlining the cooking process, and ways to de-stress in the kitchen along with beautiful photos of the prepared dishes. The recipes are nicely varied with lots of meatless options and twists on tradition. Many of the recipes can be made with leftovers rather than requiring a separate trip to the grocery store.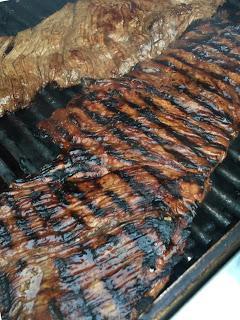 There is something in this well-organized book to please everyone who likes maximum flavor, nutrition and presentation. There is gorgeous color photography accompanying, every recipe in categories ranging from breakfast, salads, soups and pasta to fish, chicken pork, beef, sides and sweets. We tried two of the recipes from the collection: Cider-Braised Chicken and Port-Marinated Skirt Steak. The skirt steak was a big hit and will definitely be added to the family repertoire. As O'Keefe states, the marinade is the key to this delicious dish. We adapted our recipe a bit from his which you can find here.
1½ pounds skirt steak, sinew and fat removed
½ cup soy sauce, low sodium preferred
½ cup port wine
½ cup balsamic vinegar
½ teaspoon crushed red pepper flakes
¼ teaspoon freshly ground black pepper
In a Ziploc bag, combine steak, soy sauce, port, balsamic vinegar, and chili flakes. Marinate for at least 20 minutes. In the meantime, light a grill or heat up a cast-iron pan over medium-high heat.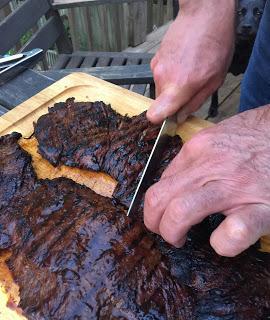 Remove steak from the bag and pour the remaining marinade into a wide saucepan and reduce over high heat for about 5 to 10 minutes, or until thickened.
Place the steak on your grill or hot pan and let cook for 3 to 5 minutes each side. Set the meat aside on a plate under tented foil and let rest for 5 minutes to allow the steak's juices to retreat.
Cut the steak in thirds, with the grain, then slice meat against the grain into ½" strips. Drizzle with reduced marinade and garnish with freshly chopped parsley or chopped green onions.