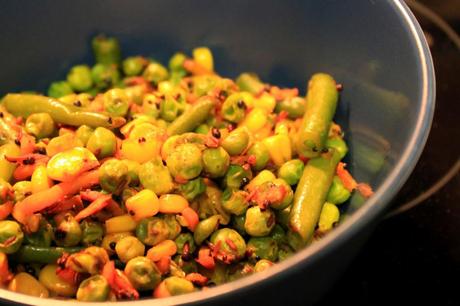 One of the things I love about my dad's cooking is it's classic homestyle Indian food made super easy (and healthy). He and my mom both believed that you could create a great meal without having to spend hours and hours in the kitchen (which is a belief that clearly rubbed off on me). One of my dad's specialities is this mixed vegetable sabji – which can best be described as sauteed veggies with roasted Indian spices to amp up the flavor. I remember he used to make this for me when we needed a quick & easy meal – he'd serve it with roti and a simple daal or even just spiced yogurt for protein & flavor.
This is a recipe that absolutely anyone can make: it literally takes about 5 minutes of prep time and 10 min max of cooking time. In that time, if you just heat up some roti and stir some curry powder, salt & cumin into some Greek Yogurt, you'll have a complete meal in 15 minutes. As you taste this sabji, it will instantly transport you to a homey kitchen in India.
The Ingredients are simple: 
1/2 tsp of black mustard seeds
1/2 tsp of cumin seeds
1 tiny pinch of hing (asafetida)
1/3 tsp of turmeric
1/8 tsp of cayenne pepper (or 1/2 of a green chili if you have one)
1.5 cups of Frozen Veggies (see picture below)
2 tsp olive oil
Salt to taste
The spices above are basically the "base" of most Indian sabjis (vegetable curry type mixes). I keep them in a pretty traditional Indian Spice Tin that you can get at any Indian Grocery Store or even online.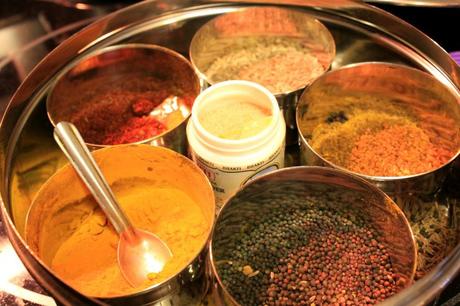 For the frozen veggies, I like to use Trader Joe's Organic Foursome Medley (carrots, corn, peas and green beans). But you can use any frozen mixed veggies you like.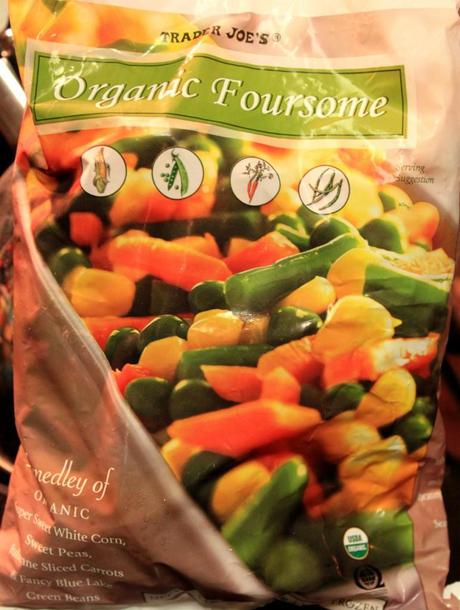 The Directions:
Heat olive oil over medium/high heat – and add mustard & cumin seeds. Let them fry in the oil until they "pop" (you'll hear the popping/sizzling noise)
Once they pop, add the hing, turmeric, cayenne (or green chile)
Stir the spices, and then add the veggies. Stir the veggies until the spices are evenly incorporated. Let the veggies cook, continually stirring for about 10 minutes. Add salt to taste in the last minute or so of cooking.
Serve with roti, daal and/or spiced yogurt.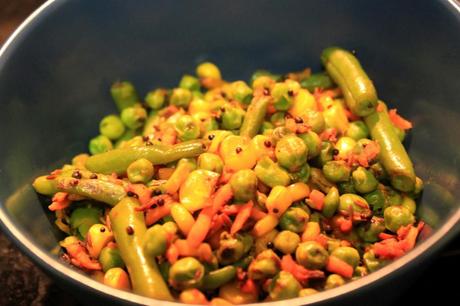 This is a great dish, and especially good for any first-time Indian cooks because of how easy it is to make! It's also really healthy – you get the antioxidant properties of the turmeric pared with the fiber from the veggies, and if you add yogurt or daal you get some good protein as well. Let me know if you end up trying this dish and how you like it! I promise you won't be disappointed.