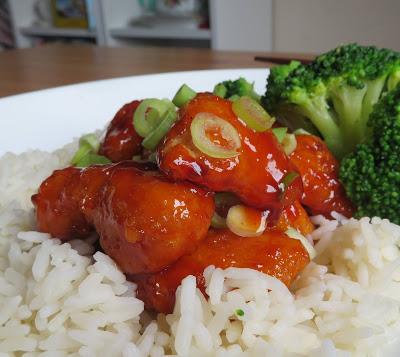 One thing I really miss over here in the UK are Chinese Food Buffets.  I have not seen one yet that even comes close to what I was used to back home. My favorite one had probably about 25 different entrees to choose from, along with sides, etc. Plus a salad bar and a dessert bar.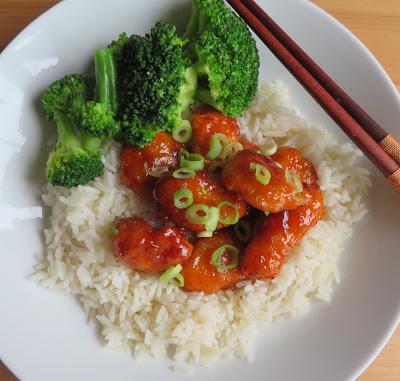 There was Won Ton Soup, crispy fried won tons, egg rolls, spring rolls . . .  boiled rice, fried rice, chinese chicken wings, garlic spare ribs, sweet and sour chicken, beef and broccoli, ginger beef, chow meins, lemon chicken, prawns, chop suey, etc.  You think of a Chinese dish and they had it, plus stuff for those who were not overly fond of Chinese dishes, like chips, battered fish, onion rings,etc.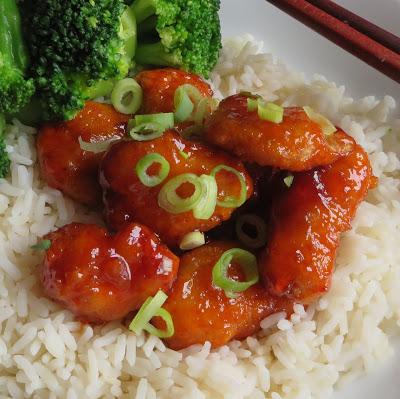 I suppose that was to appease people who can't eat a meal out without chips or who have to bring their children and want their children to have something they will eat as well.  I am not sure.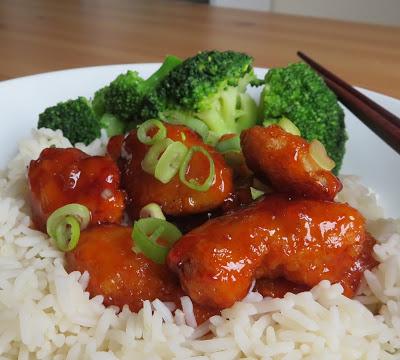 I miss Egg Rolls  . . .  there is no such thing here.  They only have Spring Rolls. I think Egg Rolls are better.  Its that filling with the cabbage and ground pork  . . .  yum . . .  I also miss the Chinese Chicken Wings. I have yet to find a suitable substitute here in the UK.  I did try Salt and Pepper Wings once, but they were not to my taste and not at all the same.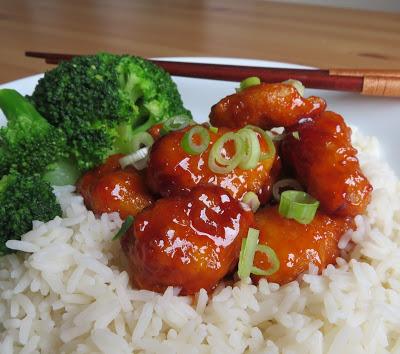 I think the Wings and fried Won Tons were always really popular back home because when the place was busy finding one or two left in the bin to have was difficult! People would load their plates up with them.  You learnt not to go up to the buffet until you saw them bringing them out, or you wouldn't get any.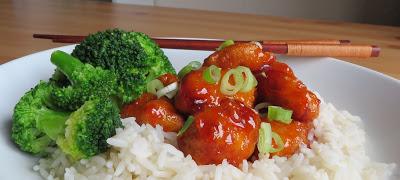 I love the Lemon Chicken, Beef and Broccoli and of course the Sweet and Sour. I also adore Fire Cracker Chicken.  Fire Cracker Chicken is very similar to Sweet and Sour, except the sauce bites back!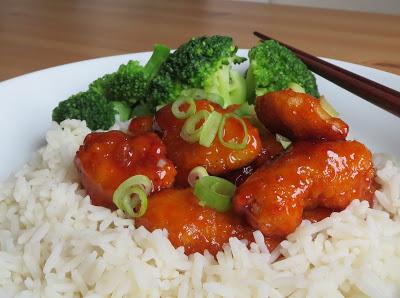 I have never seen anything like it over here in the UK, and so I found a recipe for it online here, on a blog called
Dinner at the Zoo
.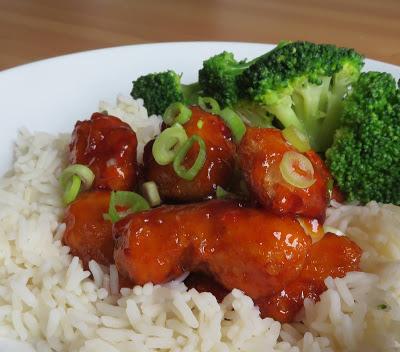 It looked just like the real deal!  The only thing I didn't like was the part about deep frying in my house.  I hate the way my house smells after deep frying anything.  If I can avoid it at all, I will . . .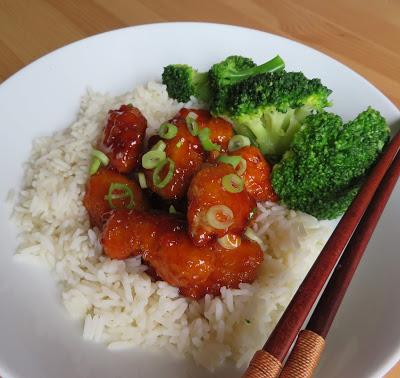 Tell me I am not alone in that!  It just makes the house stink like a chippy!  I will do it if I absolutely have to, but if I can find a way around it, I will!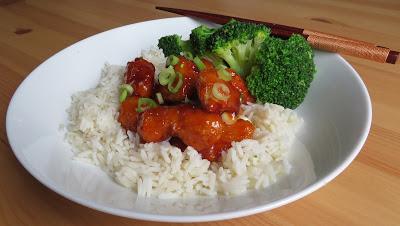 A year or so ago I discovered frozen packs of Battered Chicken Breast Chunks.  They were a real game changer for me.  I could have deep fried battered pieces of chicken breast without having that disgusting smell in the house!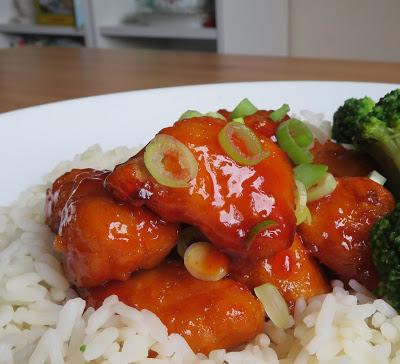 And they are actual chunks of real chicken breast in a real batter!  Plus they taste really good on their own.  You can deep fry if you must, but if I can leave that step out and still have something which tastes really, really good, I am going to choose the latter.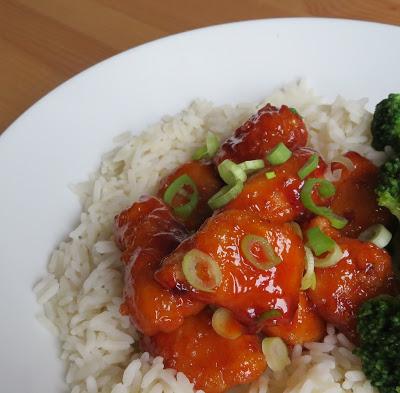 In the original recipe, the sauce thickens in the oven on the battered chicken.  In my adaptation, you make the sauce in the microwave and then pour it over the chicken breast chunks  as they bake in the ovenwhen they are almost done..  Easy peasy.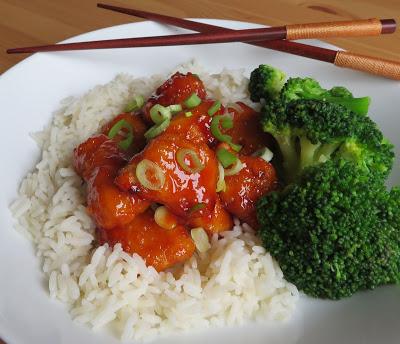 This also helps the chicken to maintain its crispy coating without it going all soggy.  In short . . . Fire Cracker Chicken perfection without all the fuss..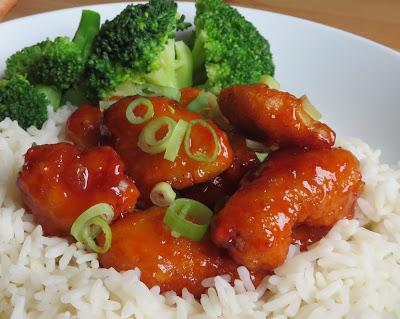 The sauce could also be thickened in a small saucepan on top of the hob. Just mix everything together, bring to the boil and cook at a low boil until it thickens.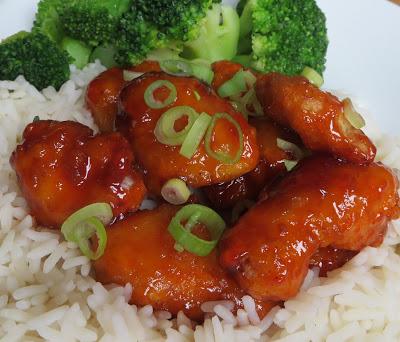 This sauce was really spicy, but not to the point where I couldn't handle it. Normally I don't like things that bite me back.  This was just nice.  I think the rice wine vinegar kind of lightens the spicy whammy from the buffalo sauce a bit. In any case it was quite nice.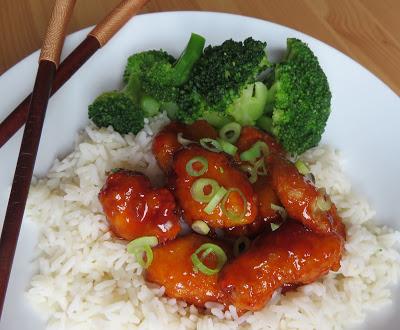 If you like it really spicy, amp up the red chili flakes. I am not overly fond of their heat so I was fairly judicious with my use of them.  All-together, this was a win in my books!
Quick & Easy Firecracker Chicken
Print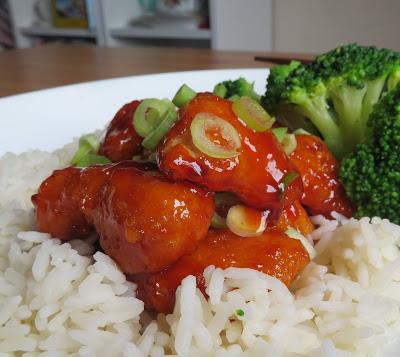 Yield:
4
Author:
Marie Rayner
Chunks of crispy chicken in a sweet and spicy glaze. This quick and easy dinner option is sure to be popular with the family!  I served it with steamed rice and broccoli spears.
Ingredients:
1 (18 piece) package of frozen battered chicken breast chunks
80ml buffalo hot sauce (1/3 cup)
100g soft light brown sugar (1/2 cup)
1 TBS rice wine vinegar
1/4 tsp crushed chili flakes (red pepper flakes)
1 spring onion, trimmed washed and thinly sliced on the diagonal
Instructions:
Preheat your oven according to the package directions for the chicken breast chunks.  Line a baking sheet with aluminum foil and spray lightly with some canola cooking spray.
Scatter your chicken pieces over the baking sheet and bang into the oven. Bake for 10 minutes.
While the chicken is baking mix the buffalo hot sauce, rice vinegar, brown sugar and crushed chilies in a large microwave safe glass beaker.   Microwave on high for 2 minutes, whisk, microwave for a further minute.
Drizzle this mixture over the chicken pieces at the end of 10 minutes, stirring them to coat them in the sauce.  Return to the oven and cook for a furthr 5 to 10 minutes until the chicken is cooked and nicely glazed.  Sprinkle with spring onions and serve!
notes:
The cooking times will vary according to your package of chicken chunks.  I cut the time in thirds. Two thirds of the time with out the sauce, apply the sauce and cook for the remaining cook time.
Did you make this recipe?
Tag @marierayner5530 on instagram and hashtag it #EnglishKitchenCreated using
The Recipes Generator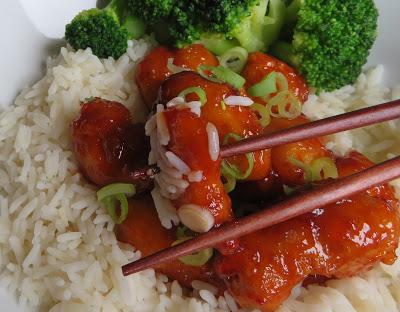 Do you know how to use chopsticks?  I have never been able to get the hang of them myself.  I can spear things with them, but not pick anything up.  It is a skill I have just never been able to get my head around.  I suppose with practice I would do better but I always just want to get in there and eat!  I guess I am too impatient!

Follow my blog with Bloglovin