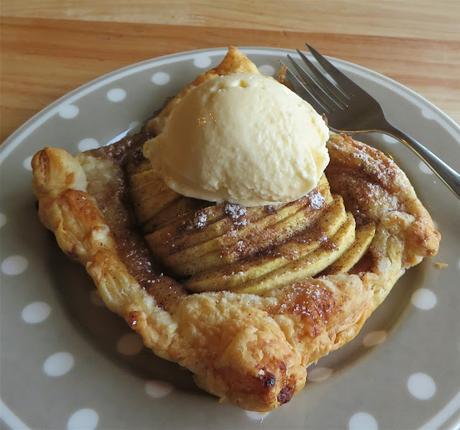 All-butter puff pastry is something I keep in my freezer all the time. It is considered to be a store cupboard ingredient in my home and something I am never without if I can help it. 
It never goes to waste and comes in real handy for all sorts.  Its one of those convenience things that you never regret buying.  And as most chef's will tell you, its a convenience food ingredient most rely on.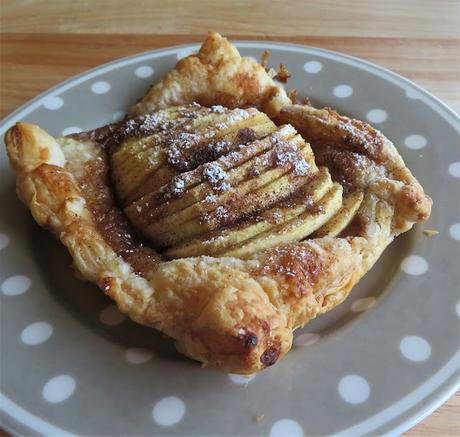 Making puff pastry from scratch is a really fiddly operation and very time consuming.  When you can buy ready made that is all butter and made from natural ingredients, why bother. It just makes sense to use the ready made.
The convenience of it far outweighs any other argument. That is what I used today for this Quick & Easy Apple Tart recipe.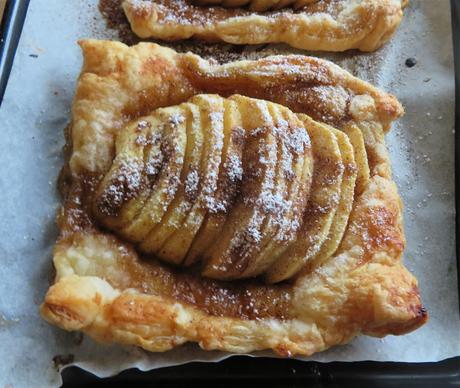 Apple season is now upon us!  I love fresh picked apples.  I love apples!  And I especially love apple tarts!
With there only being me in my home now, I don't have much use for a full apple tart however. So I created some quick & easy apple tarts, a recipe which makes only two delicious apple tarts.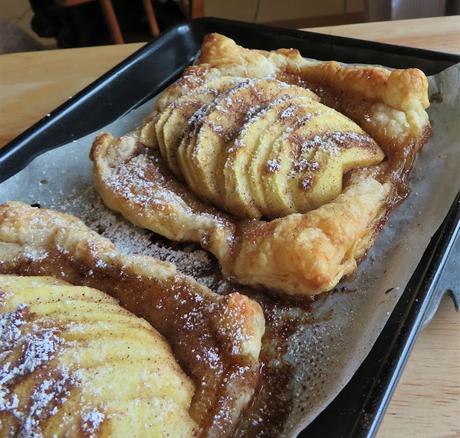 I can assure you that they lack nothing of their larger, family sized counterparts.  They are delicious!
And not only that, but they are incredibly quick and easy to make.  I can be rather lazy you know and if I can find a short cut around things, I will seek it out.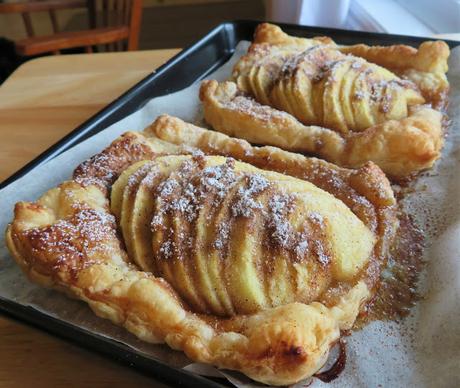 You won't need a full sheet of puff pastry for these tarts, but don't worry, I am going to share a tasty way to use up the remnants at the end. 
You will only need 1/2 of one sheet of pastry.  You need to cut that in half, which will give you two six-inch squares.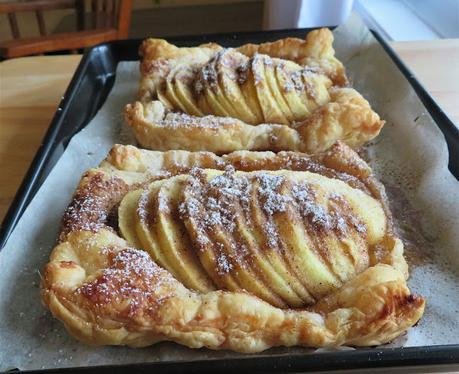 These are placed on a parchment paper lined small rimmed baking sheet.
You need only one apple for this. You want a nice sweet eating apple, on the large size. This will need to be peeled, cored and cut in half.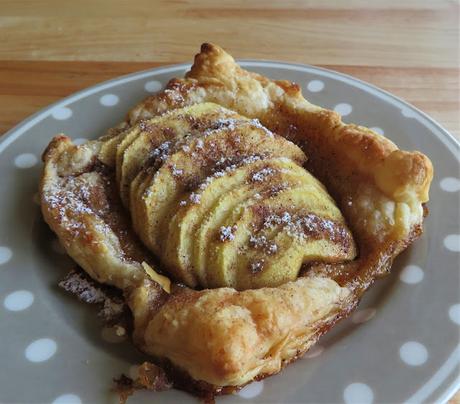 You then cut them crosswise into thin slices, maintaining the integrity of the apple shape. You can leave the skin on if you really want to, but I prefer to remove it.
You will also need some spiced brown sugar.  I mixed together brown sugar, ground cinnamon, ground cardamom and some freshly grated nutmeg.  Half of this gets sprinkled in the center of each pastry square.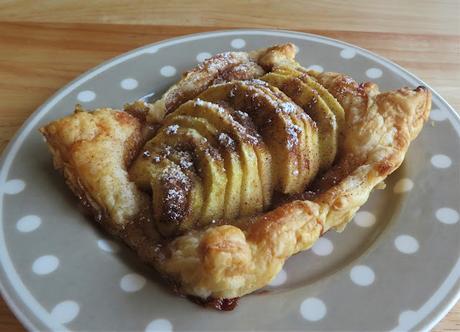 You then place half an apple in the center of each pastry square, trying to fan the slices out a bit, but also keeping the shape of the apple as much as you can. You want it to be pretty.
Once you have done that you roll the edges of the puff pastry up around the apple to make a kind of a lip.  This is to help to keep the apple juices inside the tart as much as possible. You don't want any of those sweet juices to be wasted.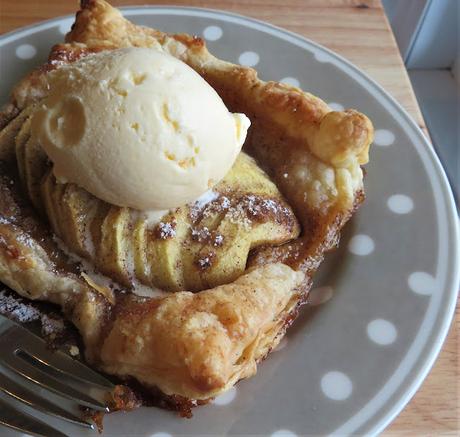 Once you have done all that you are going to brush the edges of the pastry and the apples with some melted butter. Easy peasy.
Then sprinkle the remainder of the cinnamon sugar over top of the sliced apple.  They are ready to pop into a hot oven then and half an hour or so later, Bob's your Uncle! You can be enjoying a lovely fresh apple tart!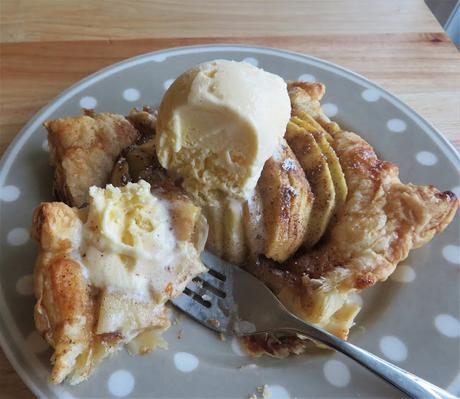 The Canadian in me loves to enjoy these warm with a scoop of ice cold vanilla ice cream. All of that cold ice cream vanilla deliciousness melting down into those tender sweet pieces of apple.
Gilding that beautiful buttery flakey pastry.  This is nirvana.  A quick and easy dessert made in heaven.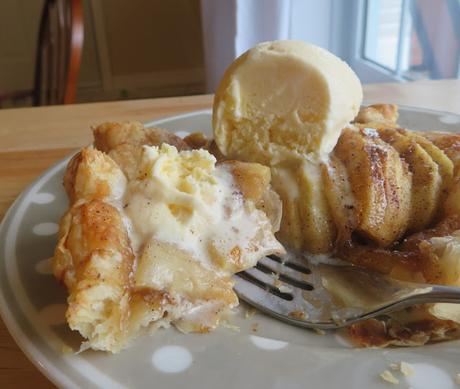 Of course if you are more than one or two people, you will be wanting something on a much larger scale, and you can certainly double all of the ingredients and make four apple tarts!
Or you may want to try some of my other easy apple desserts. Each one is very delicious!
Oaty Apple Crumble
Apple Pie Roll Ups
(A prize winner)
Dutch Apple TurnoversApple Pie FoldoverApple Dumplings Poor Man's Apple Pie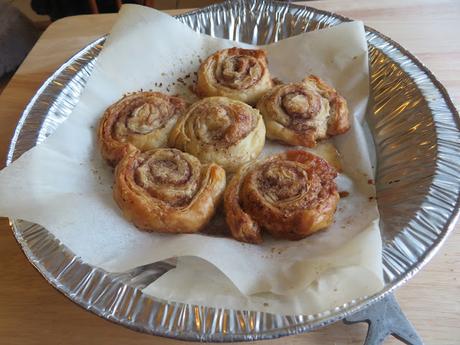 And what to do with the other half sheet of puff pastry?  Why make Pets-de-Soeur of course!  
Originally, "pets-de-sœur" were an economical dessert. They were cooked from leftover pastry to avoid waste. The name literally translates to "nuns' farts". Its a French Canadian thing.
Just spread the pastry with butter, cover with an even layer of brown sugar and then cinnamon. Roll up tightly, slice into 1 inch slices crosswise, and bake along side of the apple tarts.  Yummilicious!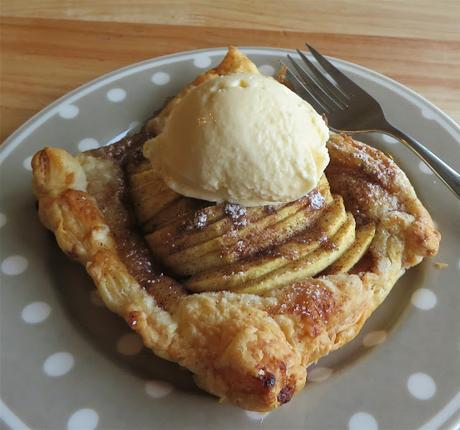 Quick & Easy Apple Tarts
Yield:
2
Author:
Marie Rayner
Prep time: 15 Min
Cook time: 30 Min
Total time: 45 Min
These rustic puff pastry apple tarts are so simple to make a child could make them. Delicious served warm with some vanilla ice cream.
Ingredients
1 large crisp sweet eating apple, cored, peeled, cut in half and thinly sliced
1 sheet of frozen all butter puff pastry, thawed  
1/4 cup (50g) soft light brown sugar, packed
1/2 tsp ground cinnamon
1/4 tsp ground cardamom
1/4 tsp grated nutmeg
1 TBS melted butter
Instructions
Preheat the oven to 400*F/200*C/gas mark 6.  Line a small rimmed baking tray with some baking parchment. 
Mix together the brown sugar, cinnamon, nutmeg and cardamom.  
Cut the sheet of puff pastry in half, reserving half for another use. cut the half sheet in half.  Place both halves onto the baking tray.
Sprinkle half of the brown sugar mixture in the middle of each pastry square.  Place an apple half on top.  Fold the edges of the pastry inwards all around.  Brush the apples and pastry edges with the melted butter.  Sprinkle the remainder of the brown sugar mixture over each.
Bake for 30 to 35 minutes, or until the pastry is golden brown and the apples are tender.
Serve the tarts warm with or without ice cream.
Notes:
If you wish to use the other half of the sheet of pastry in a delicious way, spread the sheet with softened butter. Sprinkle evenly all over with a thin layer of soft light brown sugar. Sprinkle evenly with some ground cinnamon. Roll up tightly and then cut crosswise into rounds Bake on a paper lined baking sheet/pie tin, along side of the apple tarts. Delicious!
Did you make this recipe?
Tag @marierayner5530 on instagram and hashtag it #TheEnglishKitchen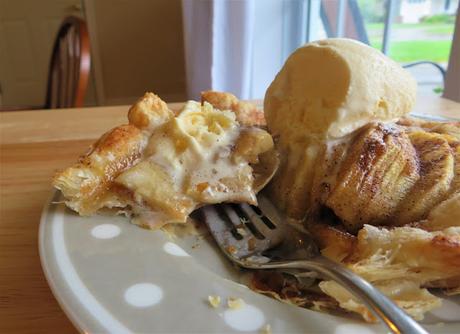 This content (written and photography) is the sole property of The English Kitchen. Any reposting or misuse is not permitted. If you are reading this elsewhere, please know that it is stolen content and you may report it to me at: mariealicejoan at aol dot com