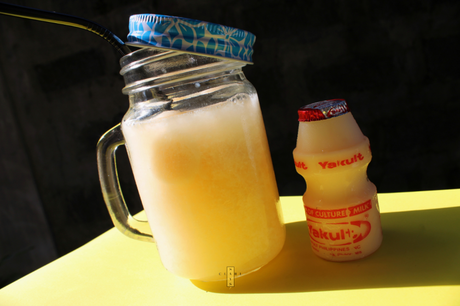 Netflix's To All the Boys I've Loved Before (2018) is honestly a good teen rom-com that is why I am excited for the sequel which will be released on February 12. In case you're curious, I wrote a review and here is an excerpt:
I was a teenager once (and so were you!). Like any teen, I've seen and enjoyed various teen rom-com. After watching Netflix's "To All the Boys I've Loved Before", I have to admit that this is the first time I truly believed in a love story.Sure, the story is simple. I'll give you that. But TATBILB is so genuine and pure that you accept everything about it. Not only that but also Lara Jean is a very relatable character. It wasn't difficult to understand and like Lara Jean because deep inside there is a Lara Jean in all of us.
So what does it have to do with this so-called "Quick Drink" post? Well, Yakult had a moment all thanks to Netflix's delightful teen rom-com. You see, Kitty, Lara Jean's younger sister gave Peter a bottle of Yakult which he loved. Now, this reminded me of a "hack" where people would add a bottle of Yakult to a glass or bottle of Smart C+ Lemon drink.
Apparently, when you do this the entire lemon drink will taste like Yakult. And if you are obsessed with this delicious probiotic fermented milk drink, you will definitely want to do that. The simplest way is pouring that small Yakult to a glass then fill it up with some Smart C+ Lemon.
Another way is freezing the Yakult for 3-4 hours. Doing this, makes the Yakult turn into a slushie-like drink. You then pour that in a glass, add the lemon drink and viola! A Yakult Lemon Slushie.
I do this, too but one time I ran out of Smart C+ Lemon drink. In grocery stores, they don't usually place this kind of drink in a freezer, just on a shelf. Since I wanted to drink it right away and want it cold, I decided to pour two bottles of Yakult onto a round ice mold, place it in the freezer and went to the grocery to buy the lemon drink. It took a while but we arrived after 4 hours and the Yakult ice was already made. It wasn't very round but it was cold.
What I did was add those Yakult round ice in a glass and pour in the Smart C+ Lemon drink. I stirred it well and enjoyed it right away. 🙂 Would you like to try it, too? I made a short video. I actually made two but the other one is a bit AMSR-y like (soon). Anyway, I hope you subscribe.