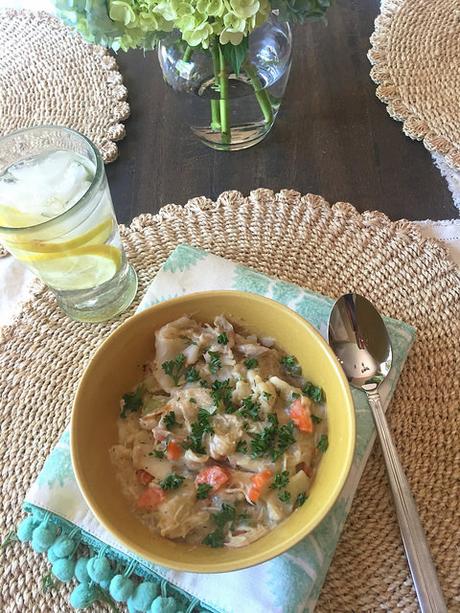 My daughter called me from the grocery store in Tuscaloosa today in a panic about what to purchase in order to make Chicken & Dumplings. Her cell phone was about to die, and she needed the info… pronto. She had decided that Sunday was the perfect time to have a go of it, and I realized I had no recipe on the blog. I tend to make Chicken & Dumplings when someone is sick, the weather is cool, or it's a rainy day. I also have so many variations. For dumplings, sometimes I drop biscuit dough, slice tortilla's, mix flour and water to cut my own dumplings, and other times… buy Mary B's frozen… (gasp)! But, guess what, they are a Pensacola tradition.
Caroline opted for the frozen. They are just as tasty to me, unless looking for the puff that the biscuit gives. While others may discard or not even use carrots, onion and celery, I do, and leave the produce it in. If not in a hurry, let the ingredients marry together in a slow cooker for the day. If needing a crowd pleaser ASAP… buy and breakdown a plain rotisserie chicken and remove the meat while still warm when home from the store. Discard bones and skin. Use bone broth along with regular chicken broth too, since you will miss the bones. I always buy low sodium broth, and add more salt by taste. Add the rotisserie chicken in at the end of the recipe. Total short cut, I know.
Seriously, Chicken & Dumplings is a great Southern dish and one of the best comfort foods around, but, it's rarely made these days because nobody has time for all of the steps involved: Boiling the chicken, deboning the chicken, and mixing, rolling, and cutting the dumplings. So, if you want Chicken & Dumplings and don't have the time, it's okay to cheat with good quality store bought products like Mary B's, and best of all spend more time with friends and family around the dinner table.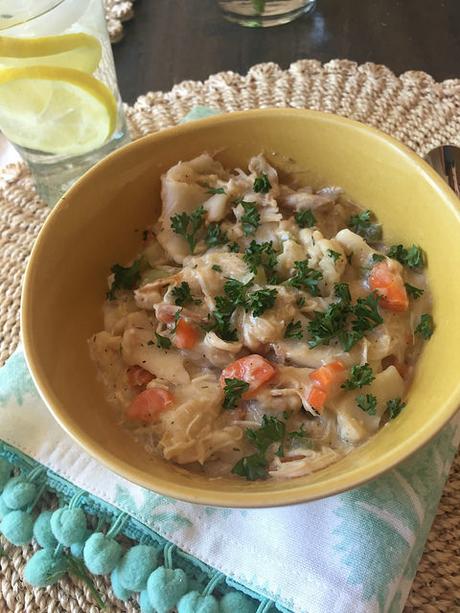 .
Quick Chicken & Dumplings
Makes 6 to 8 servings
Ingredients
2 to 3 pounds of skinless boneless chicken breast cut into chunks against the grain, or meat removed from one or two rotisserie chickens (depending if you prefer white meat only)
1 large onion, finely chopped
3 celery stalks, cut into 1/2 inch pieces
4 medium carrots, peeled and cut into 1/2 inch pieces
3 cloves of garlic, smashed with the back of a knife and finely chopped
1 teaspoon dried thyme or poultry seasoning
1/4 cup minced parsley leaves
3/4 cup frozen peas (optional. I love frozen peas.)
3 (plus) quarts low sodium chicken broth
1 small container of chicken bone broth
Mary B's Frozen Dumplings, 16 0r 24 ounce value pack
Directions
In a heavy bottom Dutch oven on medium heat add four tablespoons of olive oil.
Add the onion, celery, garlic and thyme. Sauté for about 5 minutes, but do not brown.
Add the chicken chunks and cook until the chicken begins to brown, unless adding the cooked rotisserie chicken later.
Remove cooked chicken and vegetables to a bowl and set aside.
Pour 3 quarts packaged low sodium chicken/bone broth into the pot and bring to a boil. I like the organic Pacific brand from Fresh Market, unless my local farmer has some on hand.
Season to taste with salt and pepper.
Following the directions on the package, cut the Mary B dumpling strips into 1/3 pieces. Add one package of frozen dumplings, laying pieces gently in water  one at a time, stirring often, creating the stew.
Let the dish return to a boil, stirring to keep the dumplings separated.
Add the peas and carrots, cover, reduce the heat and simmer on low for about 45 minutes. Keep stirring occasionally so that the dumplings don't stick. Prepare for some dumpling breakage. It's okay.
Add the chicken and other veggies from the bowl back to the pot. Turn the heat off and let the stew stand for about 10 minutes. The stew may thicken.  If too thick, add more chicken/bone broth a little at a time to get the desired consistency.
Ladle into a bowl and top with parsley.
Tip: Some home cooks use a can of cream of chicken soup to add thickness, chicken flavor and salt. Others use cream. Do what tastes best for yourself and family. I stick with to bone and chicken broth. Chicken tip: Cook 4 large chicken breasts covered in broth in an Instant Pot on high pressure for 10 minutes, quick steam release. Remove, add two pats of butter, shred, and cool in bowl to add to dumplings.