This Quick Cheesy Lasagna dish is made in the Instant Pot in less than 30 minutes. Simply mix cheeses and add before serving.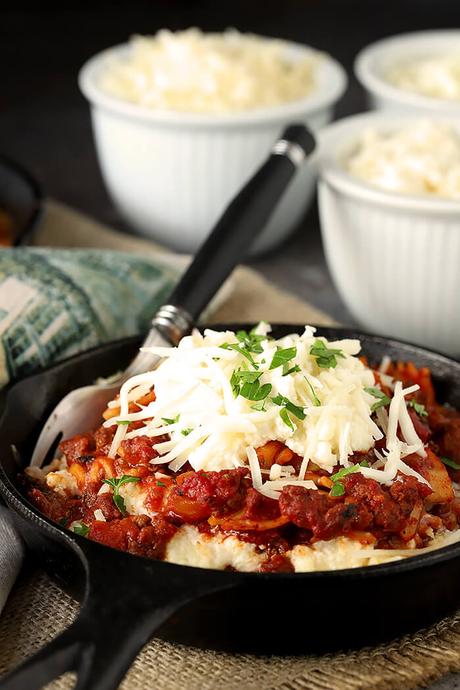 I admit it, I saw a photo the other day of lasagna soup made in an Instant Pot and while interesting, it was SO lacking for me. Adding noodles to some tomato sauces does not make lasagna anything, cheese is required and seriously...soup? Nope, I wanted something more like the real deal so I tried my hand and the result was this amazing Quick Cheesy Lasagna made in an Instant Pot.
Now I love my Instant Pot, enough that I've actually got two of them. I don't need two often but I've had neighborhood barbecues where it sure was nice, pulled pork like this Apple Cider and Brown Sugar Pulled Pork in one and a favorite rice recipe too; this Sun-Dried Tomato and Spinach Rice Pilaf.
I was hesitant at first about the need for one but I'm glad I took the plunge; they really are a great addition to the kitchen arsenal of appliances. Since you can make rice in them, they can replace a rice cooker and have considerably more functionality.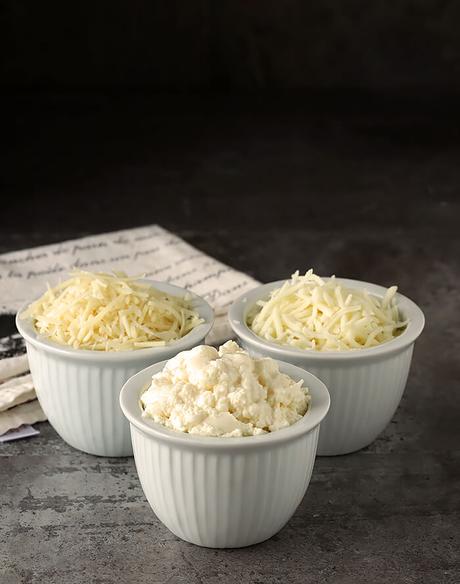 So...did I mention cheese? Seriously how could any recipe with lasagna in the name not include almost copious amounts of cheese. For this recipe it's a trifecta of:
Ricotta - Desperate? Use cottage cheese too.
Mozzarella - Or provolone or even Swiss; something melty is nice
Parmesan - I don't prefer dry but if that's your thing, do it. Parmesan, Pecorino...anything in that family is fine.
I did serve additional cheese in bowls if someone wanted more but for the mixture I was putting into the bowls it was easier to mix the combination together. I poured a scoop of the noodles and meat sauce into a bowl, dolloped the cheese all around the top of it and the added another scoop of meat and noodles on top.
I did put these skillets in the oven for about 5 minutes; just enough to get that layer of cheese really melty. If that's more of a pain than you want to deal with or if you have young kids and a hot plate would be a safety concern; use your judgement.
While you can definitely serve this without the one extra step I took, I do think just a couple of minutes in a hot oven took it from great to that really melted cheese nirvana. Everyone finished by topping their individual bowls if they wanted more. Yes, I used parsley but it's not a flavor necessity; more of a photo necessity. 🙂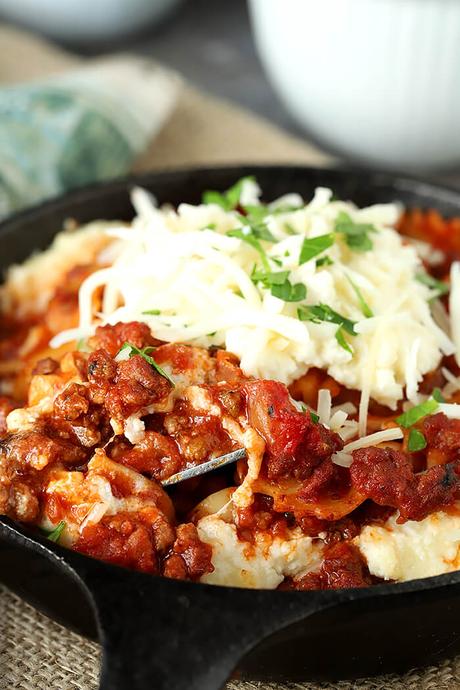 Honestly, this Quick Cheesy Lasagna was far better than I imagined it could be; especially when you factor in the ease. Of course if I had been smart, I would have portioned out individual servings and frozen them for later. But what I did instead was have a plate every night for dinner for a week; not kidding! I told myself each night...this is it, just this once more; until it was all gone.
I know we're all going though an unbelievable and sometimes difficult time right now. I'm still in somewhat a state of shock at the fact that food has become a difficult to find resource so until people quit hoarding and something closer to whatever normal is returns, we have to be resourceful.
Can you make this without beef? Sure...a great protein source when going meatless are black beans; they have a nice hearty look too so whether you're a vegetarian (use veggie broth in the recipe too) or simply having to cut back on beef, try this lasagna without the burger meat; it's still a great meal.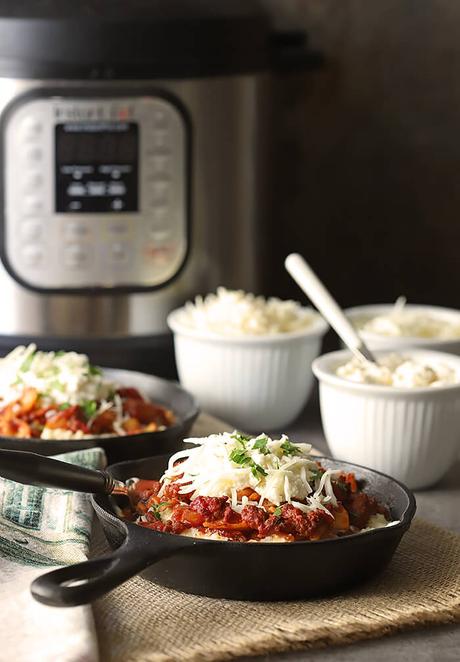 After this success, now I'm ready to do more pasta dishes...I hear plain spaghetti is ideal. Imagine simply adding a jar of marinara sauce to some spaghetti noodles and having the whole thing done for you in one pot without have to barely touch it...just a sprinkling of Parmesan when it's served.
Or you could make a bunch of these perfect meatballs like I do and freeze them and quickly heat them in the microwave to add to your spaghetti dish.
Honestly, if you don't have an Instant Pot; it is truly one modern convenience I can heartily recommend...and then make this lasagna!
More Instant Pot Favorites!
PIN IT! Quick Cheesy Lasagna from the Instant Pot (or Stove-top)