I don't know about you, but I do not have time to do everything I need to do to get better at tennis. When I have a match day, like today, it's hard for me to also fit in a real workout. And I think I need a real workout most days, even on match days, because I just don't think I get a very good workout by playing tennis. I actually devoted my most recent Tennis Quick Tips podcast episode to this dilemma and you can listen to that here: "How Many Calories Can You Burn Playing Tennis?").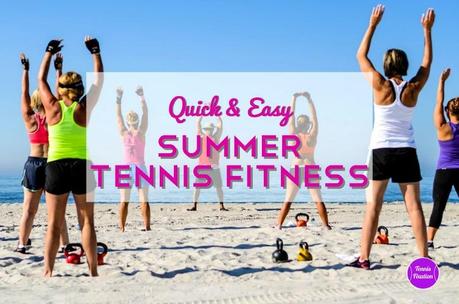 So, to solve my "no-time-to-workout-AND-play-tennis" problem, for this month, I'm adding some simple bodyweight exercises to my week days. These are exercises that I know will not only help me get into better physical shape, but will also help me become a better tennis player. I even put together a calendar showing what I'll be doing AND I hope you'll all follow along with me.
Here's my "Quick Summer Tennis Fitness" calendar for the month of August: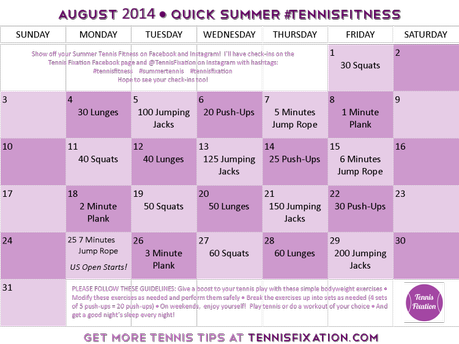 You can download a pdf copy of it by clicking here:
August 2014 – Quick Summer Tennis Fitness Calendar
This calendar has a weekday workout schedule with some of my favorite simple bodyweight exercises that are perfect for improving your performance on the tennis court. I hope you'll download this calendar and follow along with me throughout the month of August as I add a little extra exercise to my usual workout schedule. When performing these exercises, just remember to modify them as needed to perform them safely.
I'll be posting updates and photos on my Tennis Fixation Facebook page and on my @TennisFixation Instagram account with the hashtags #tennisfitness and #summertennis. I hope you'll check in there too and let me know how you're getting and staying tennis fit.
Let's get tennis fit in August!  Come on – it's going to be fun!

© Kim Selzman 2014 All Rights Reserved
The workout calendar and exercises provided in this post are intended for educational and instructional purposes only. As with any exercise, fitness or weight loss program, you should consult with your doctor and consider any current or past health conditions or injuries before participating. No liability is accepted or assumed for injuries incurred as a result of use of the workout calendar or the exercises it contains.
650 ? 650: true);" class="ois_box_14 container-fluid">If you enjoyed this article . . .There's plenty more!Sign up for FREE Tennis Fixation Weekly Updates and you'll receive my FREE eBook "10 Quick Fixes To Improve Your Serve: No Lessons Required!"