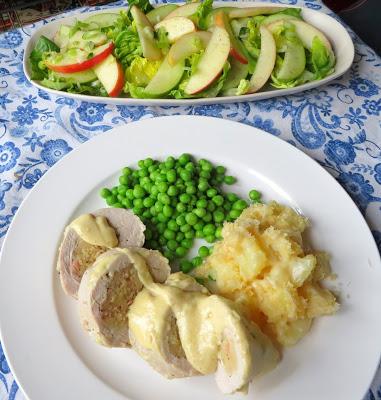 Today I wanted to share with you how you can prepare a delicious Thanksgiving meal for four people by only using your Microwave Oven. You might not think its possible to do such a thing, but I am going to prove that not only can it be done, but it can be done well. Using your microwave oven can cut down on the time needed to cook a fabulous holiday dinner. Your guests will be amazed and surprised when they realize that you used your microwave to cook the full dinner and they will be most appreciative and impressed when you sit them down at the table to eat it. Not only is everything very appealing to the eye, but everything is also incredibly delicious! Time saving, delicious and eye appealing. You just can't go wrong! 
The dinner is composed of three aspects. Fabulously stuffed Turkey Tenderloins with a rich Creamy Mustard Sauce, Cheesy Potato Casserole and a tasty Citrus Dressed Apple Salad. I have also cooked some frozen baby peas to go along with the rest of it. You can purchase ready-made bread rolls to serve along with your meal as well as a prepared dessert to serve at the end. (I chose to serve apple pie and ice cream.) Quick and easy to make, with minimal fuss and minimal clean up afterwards.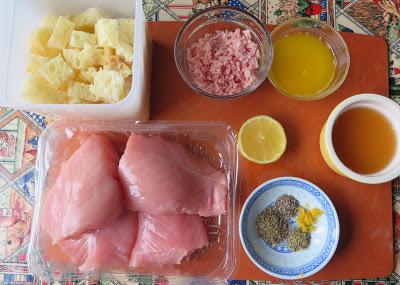 These Stuffed Turkey tenderloins are so delicious.  I had my doubts as to how they would turn out. I had never cooked anything like this in the microwave before.  I got the recipe from a Grocery store leaflet that I had collected in my Big Blue Binder many moons ago.  Back in the day when microwave cookery was the rage! We had an expert in Microwave Cookery back in Canada, named Madame Jehane Benoit.  I cut my teeth on the recipes of Madame Benoit as did many other Canadian girls!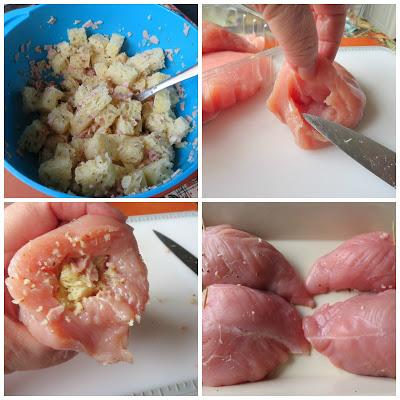 These were so very easy to make.  You make a simple stuffing, composed of cubed bread, chopped ham, lemon zest and juice, some butter and seasonings. Once you have the stuffing made you cut your tenderloins in half crosswise and cut a deep pocket into each.  You fill each pocket with some of the stuffing and then secure the edges with a couple of toothpicks to help hold it in.  You then place the tenderloins into a microwave safe dish, with the widest edges of the turkey facing outwards and the narrow ends facing inwards. You then just cover them with some wax paper or baking paper and they are ready to cook.  7 Minutes on one side, flip over and 7 minutes on the other side.  Done. 
I created a simple and deliciously creamy sauce to spoon over the finished tenderloins.  It is flavoured with Dijon mustard, and also goes together very quickly in the microwave.  It tastes fabulous with the turkey tenderloins!  I spooned a bit over to serve, and then passed the remainder a the table.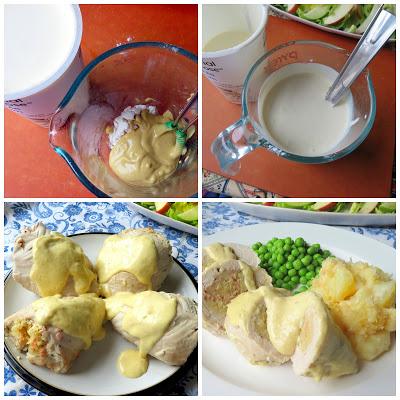 Cordon Bleu Stuffed Turkey Tenderloins
Yield:
Serves 4
Author:
Marie Rayner
Delicious perfectly cooked turkey tenderloins stuffed with a fabulously tasty stuffing and served with a rich and creamy sauce.
ingredients:
For the Stuffing:
2 cups unseasoned dry white bread cubes (about 4 slices)
½ cup finely chopped baked deli ham (about 4 slices)
½ tsp dried marjoram leaves
¼ tsp dried thyme leaves
¼ tsp finely grated fresh lemon zest
¼ tsp coarse black pepper
¼ cup chicken broth or water (60ml)
2 TBS melted butter
1 TBS fresh lemon juice
For the turkey:
2 fresh turkey tenderloins, halved crosswise (about 1 1/2 pounds)
For the sauce:
1 TBS plain flour
1 ½ cups whipping cream (355ml)
3 TBS Dijon mustard
¼ tsp black pepper
instructions:
How to cook Cordon Bleu Stuffed Turkey Tenderloins
To make the stuffing, place the bread cubes into a bowl and toss together with the ham, herbs, lemon zest and black pepper. Whisk together the chicken broth, melted butter and lemon juice. Add to the bread cube and ham mixture, tossing together to combine well and moisten.
Using a sharp knife, cut a deep pocket into each tenderloin piece, taking care not to cut all the way through. Stuff each tenderloin piece with some of the stuffing, dividing it equally amongst each and taking care not to over-stuff. Pin closed with a couple of toothpicks.
Place into a shallow rectangular microwave safe baking dish, placing them so that the wider ends are at the outside of the dish and the narrower ends in the center. Cover with a sheet of waxed paper.
Microwave on high for 7 minutes. Flip over and then microwave for a further 4 to 7 minutes on high, until the juices of the turkey run clear and the turkey is no longer pink. Cover tightly with plastic wrap and keep warm while you make the sauce.
To make the sauce, combine all of the sauce ingredients in a large microwave safe jug, stirring to dissolve the flour completely. Microwave on high for 4 ½ to 5 minutes or until the mixture comes to a boil and thickens, whisking well each 1 ½ minutes.
To serve, slice the tenderloins and place on four heated plates in a decorative matter, drizzling some of the sauce over each. Pass any extra sauce at the table.
Did you make this recipe?
Tag @marierayner5530 on instagram and hashtag it #EnglishKitchenCreated using
The Recipes Generator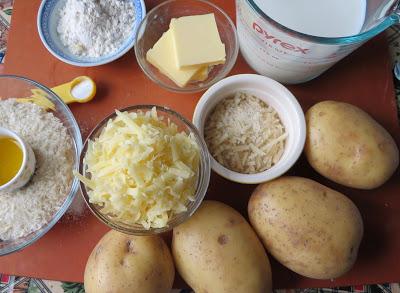 The Potato Dish is also a very simple dish to make and very quick as compared to a potato gratin done in the oven.  Simple ingredients put together in a concise and simple way, with fabulous results.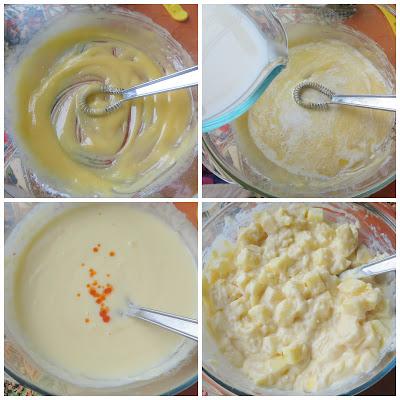 You make the sauce first.  Its a simple bechamel.  I like to add some hot sauce to my bechamel, especially if I am adding cheese as well. There is something about hot sauce and cheese that is like magic. Once the sauce is made you stir in the cheese and cubed raw potatoes and then continue to cook it in the microwave for about 15 minutes, stirring it every five minutes or so.  The finish is simply some buttered crisp bread crumbs.  If you wanted to brown them up a bit you could flash them under a hot grill, but it really isn't necessary.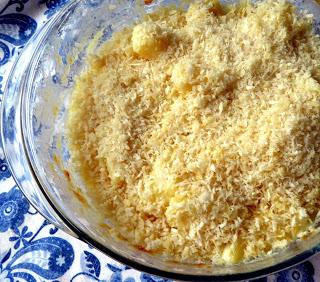 Cheesy Potato Casserole
Yield:
Serves 4
Author:
Marie Rayner
Hearty, creamy and rich.
ingredients:
3 TBS butter
3 TBS all-purpose flour
¼ tsp salt
1 ½ cups milk (355ml)
1 cup freshly grated sharp cheddar cheese (120g)
1/3 cup grated Parmesan cheese (60g)
4 medium potatoes, peeled and cubed into ½ inch cubes
1 TBS melted butter
1 cup dry breadcrumbs (120g)
instructions:
How to cook Cheesy Potato Casserole
Place the 3 TBS of butter into a 2-quart sized microwave safe casserole dish. Microwave on high for 30 seconds until it melts. Whisk in the flour and salt. Slowly whisk in the milk. Return to the microwave and microwave on high for two minutes. Whisk well. Return to the microwave and cook on high for a further 3 to 4 minutes, until thickened, stirring every minute. Stir in the cheeses and the cubed potatoes. Cover and microwave on high for 15 to 20 minutes, stirring once or twice until the potatoes are tender when pricked with the tip of a knife.
Melt the 1 TBS of butter in the microwave on high, for about 10 to 15 seconds. Add the breadcrumbs, mixing well together. Sprinkle over the cooked potatoes to serve.
Did you make this recipe?
Tag @marierayner5530 on instagram and hashtag it #EnglishKitchenCreated using
The Recipes Generator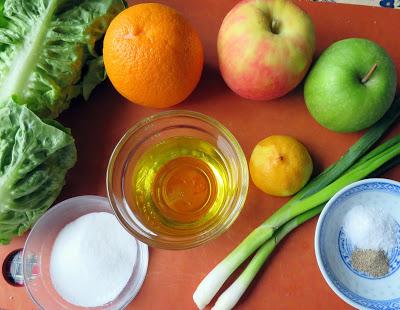 The salad is a very simple one, composed of two kinds of eating apples, laid out attractively on a bed of lettuce, and dressed with a simple, yet tangy, citrus dressing. You can make the dressing up to 24 hours in advance. I used one green eating apple and one red eating apple in the salad for color and contrast. You also need to chop some scallions/salad onions for in the dressing.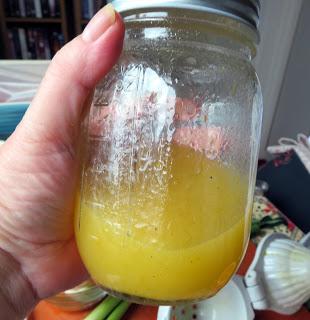 There are two kinds of citrus juices used in the dressing. Lemon and Orange, along with the grated zest of the lemon.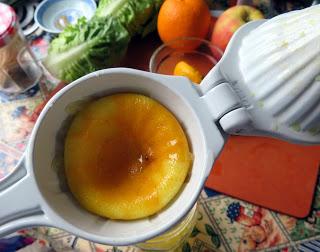 I find one of these citrus juicers comes in very handy when juicing my fruits. It makes it so much easier and helps to keep the pips out of the juices. There is nothing more annoying than having to fiddle through liquid picking out all the pips. No matter how hard you try, some always slip by. This handy tool helps to prevent that from happening.
This is a delightfully flavourful salad, with a tangy dressing and plenty of crisp slices of apples, both green and red eating apples.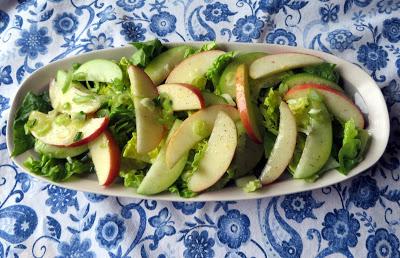 Citrus Dressed Apple Salad
Yield:
Serves 4
Author:
Marie Rayner
Any dressing that is leftover can be stored in the refrigerator to use on other salads for several days.
ingredients:
For the Dressing:
2 TBS white sugar
2 TBS minced scallions
½ tsp finely grated orange zest
1/8 tsp salt
1/3 cup canola oil (80ml)
¼ cup fresh orange juice (60ml)
3 TBS fresh lemon juice
For the salad:
1 medium green eating apple, cored and cut into 16 wedges
1 medium red eating apple, cored and cut into 16 bags
Leaf lettuce
instructions:
How to cook Citrus Dressed Apple Salad
Combine all of the dressing ingredients in a glass jar with a lid. Shake well together.
Place the lettuce on a platter and top with the apple wedges in a decorative manner. Drizzle some of the dressing over top and serve with the remainder of the dressing on the side.
Did you make this recipe?
Tag @marierayner5530 on instagram and hashtag it #EnglishKitchenCreated using The Recipes Generator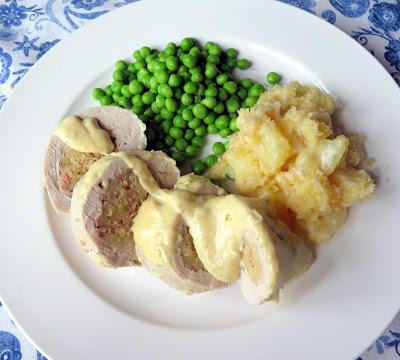 You may want to cook an additional vegetable to go along with the other parts of your meal. I did frozen petit pois.  They cook very quickly in the microwave and the pretty green color went very well with everything else, and really dressed up the plate!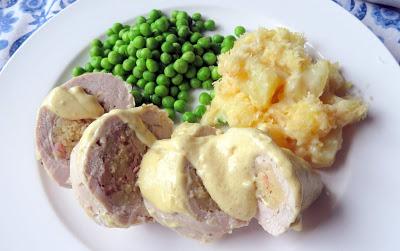 I cut each tenderloin diagonally into slices and laid them out onto heated plates, spooning a bit of that lush sauce over each, with the majority of the sauce being passed at the table.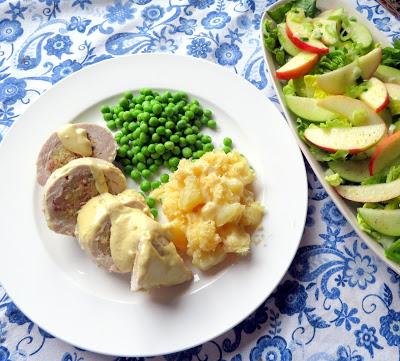 It really was a very delicious meal.  I was well pleased with how everything turned out and it took less effort than a traditional Thanksgiving dinner.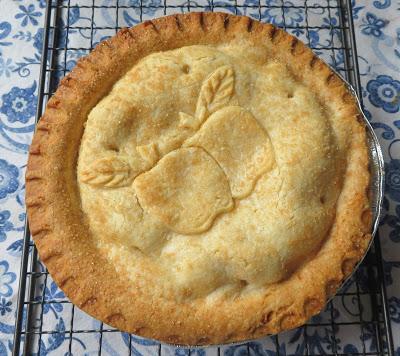 Dessert was simply a frozen apple pie that I had baked the day before.  I warmed it in a low oven while we were eating our main course and served it with some vanilla ice cream and wedges of good cheddar cheese. 
You can dress the table up with a relish tray holding some crisp vegetable sticks such as carrots, celery,  radishes, etc. I would also have some chutney or cranberry sauce on offer, along with some rolls and butter.
Here is a handy timetable you can follow to make sure everything gets to your table in a timely manner: 
24 hours before your meal: 
 Prepare your dessert. In my case I served an apple pie that I bought frozen and baked the day before the meal. You can serve this with a scoop of ice cream on top. Just pop the baked pie into a low oven when you begin your main meal and it will be nicely warmed and ready to eat when the main meal is finished. Scoop some ice cream on top and serve with some cheddar cheese wedges for a real treat!
 On the day:  
Two hours prior to serving
- prepare the dressing for the Apple Salad, cover and place in the refrigerator. Prepare and stuff your Turkey Tenderloins, cover and chill in the refrigerator. Set your table. 
One hour prior to serving
– Prepare and cook the Cheesy Potato Casserole. Leave off the topping until you are ready to serve them. In the meantime, cover and keep warm while you cook the Turkey Tenderloins. Core and slice the apples, tossing them with a few TBS of the citrus dressing to help prevent them from turning brown. 
Just prior to serving
– Assemble the salad. Warm your rolls and heat your plates in a low oven. Prepare and cook the sauce for the tenderloins. Sprinkle the crumb topping over your potatoes. You may want to serve some condiments as well, such as a good cranberry sauce or a chutney. You will also need some butter to serve with the rolls and a hot beverage such as tea or coffee to serve with dessert afterwards. If you are a wine drinker, you could serve a well-chilled white wine with this dinner.
We were both very pleased with this unusual and delicious dinner.  Even if you don't celebrate Thanksgiving, I think it would make a fabulous meal for entertaining when there are only four of you.  Its nice to know that with very little effort and not a lot of time you can serve a dinner that is delicious and that truly tastes like a celebration!