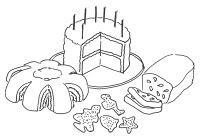 What do I like to do in my spare time? Lots of things, but especially cooking. The following is the story and quiche recipe that I prepared for the All Because of Grace cookbook. Enjoy!


In my freshman year in college, I met six other girls, including Kathryn, who became my roommate in my senior year. After graduation, our group remained close (we now refer to ourselves as the Magnificent Seven!) and got together periodically. We often met at Kathryn's house, and she always provided us with delicious meals, graciously sharing her recipes with us afterward. One day, two years ago, we received the terrible news that Kathryn's house had burned to the ground. Everything was lost. What could we do to help? We were too scattered to bring actual food, but we decided that the next best thing was to assemble the recipes she had given us over the years as a small step toward reclaiming her kitchen library. One of my favorites, which has become a staple in my menu rotation, is Quiche Noel. The "Noel" part comes from the garnish of parsley and pimiento, which gives the quiche a holiday flair, but I cook it year round. Whenever I make it, it reminds me of Kathryn and the bonds of friendship of our Magnificent Seven that have strengthened through the years.




Kathryn's Quiche Noel


Prepare pie crust for single crust pie. (I purchase these!)
Combine 1 ½ cups (6 oz) grated Swiss cheese with 4 tsp. Flour. Sprinkle into pie shell.
Sprinkle on ½ cup diced ham.
Combine 3 eggs, 1 cup milk or cream, 1/4 tsp. Salt, 1/4 tsp. Dry mustard. Beat until smooth and pour evenly over cheese and ham.
Bake 400 degrees about 45 minutes. Cool slightly and garnish with chopped parsley or pimiento.