I love dresses.  I love the fact that your top and bottom work together without having to think about it.
I particularly love red dresses.  And, to me, the perfect red dress represents the epitome of dress-ness.
So I've been searching high and low for the perfect red dress.  The dress that can go from work function to a sexy dinner date (not that I do, but that I COULD), and wow at every turn.  Confident and fun, feminine and bold.
I recently came across what seemed to be the PERFECTEST of perfect red dresses, the Marc Jacobs Mimi dress in lobster red.

And as it turned out I had just the ticket, or gift certificate, for it.  Because when I turned forty last month, I got forty customized gift certificates from my family, with exciting promises like "One complaint free seafood family dinner (excluding crab)," and "Window cleaning by Eli (only as high as can reach)".   I also got "One question-free purchase (must be presented in advance)," and so I presented it in advance.  Then I went online and purchased.
But now I can't decide whether this is really the way I want to redeem my one question-free purchase.  Here's what it looked like on me.  And what the other red dresses in my closet look like on me.  I actually think I like my H&M dress best.  So I am leaning towards returning my first and only Marc Jacobs purchase.  Somewhere Stacy and Clinton were giving each other raised eyebrows when I clicked "purchase." 
What do you think?  School marmy or chic?  Help!! 
PS taking a photo of yourself in the mirror with your cell phone is harder than it appears.  Hats off to the Congressman.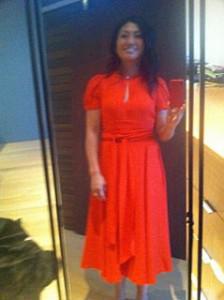 Marc Jacobs Mimi CDC Dress $598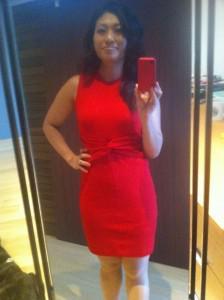 Robert Rodriguez, $320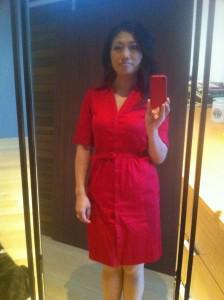 H&M, on sale for $25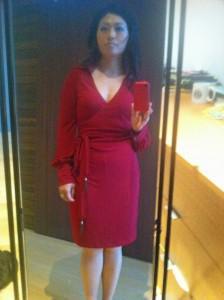 Laundry, Shelli Segal $120