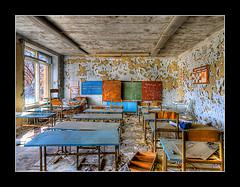 Image by Timm Suess via Flickr
Do you plan to go to enroll to a French language school for the next opening? I'm sure you already have your prospected school in mind. You might have searched it in the Internet or perhaps one of your friends enrolled in this school and you witness how he or she excelled in the learning.
But let me tell you that fame isn't the main factor that determines the credibility of a language school. There are some factors that an inspired learner like you should take heed of; and by doing so, you have to ask the following queries below.
Take a quick read of the following queries you should consider in selecting your French language school.
How many students are there per class? On average? The maximum?
The number of students should be considered upon choosing your French courses. General courses often have larger number of students compared to those customized ones with lesser number of students. Always consider this query because it is a big factor that contributes to your learning process.
Does the center have audio lab, VCR or a computer-assisted learning lab?
The more up-to-date the learning equipments are to be used by the French language schools, the more effective learners can comprehend their French lessons. Audio laboratories are very essential in French language learning, so taking note of this helps you choose the best language school of your choice.
What happens in case of illness?
Now this is something that most schools overlook. Students should consider if language schools will really extend their health support when the learner would encounter illness cases.
Where is the school? Is it downtown or on a campus outside the city?
The location of a French language school is very important. Fortunately, our language school particularly located in France is proud to inform learners that it is located in the city proper. It will be very accessible to stores and malls. Likewise, transportation will be a lot easier and less expensive.
There are actually lots of queries learners like you should really consider: the accommodation, the prices of every expense, the welfare of each student, and of course the credibility of the school along with its various French language courses. These things should be taken heed because advertisements can sometimes exaggerate the real quality of a language school. As a learner who promotes genuine learning system implemented by language schools, being meticulous is one attitude that should be considered.