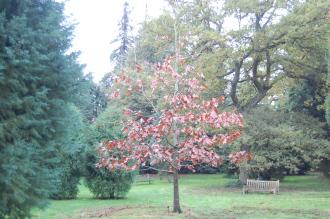 Quercus velutina (16/11/2013, Kew Gardens, London)
Position: Full sun to light shade
Flowering period: Spring
Soil: Moist, well drained
Eventual Height: 25m
Eventual Spread: 20m
Hardiness: 3b, 4a, 4b, 5a, 5b, 6a, 6b, 7a, 7b, 8a, 8b, 9a
Family: Fagaceae
Quercus velutina is a deciduous tree with a pyramidal habit when young becoming irregular as it matures. Its glossy dark green leaves are sharp-lobed with up to 7 lobes, up to 30cm long and 15cm broad. In autumn it leaves turn a bronze color and are retained on the tree throughout the winter months before they fall. Its brown/ black bark is deeply furrowed. Its trunk may achieve a diameter of up to 1m. Its green flowers are monoecious, the male appearing as catkins and the female appearing solitary. Its green fruit is an rounded acorn which is up to 15mm long and 20mm broad, these mature to a brown.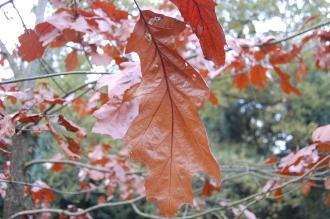 Quercus velutina Autumn Leaf (16/11/2013, Kew Gardens, London)
Quercus velutina, commonly known as the Eastern Black Oak or Black Oak, is native to east North America.
The etymological root of the binomial name Quercus is derived from the Latin name for an Oak tree, but some authorities believe it to be derived from the Celtic quer meaning 'fine' and cuez meaning 'a tree'. Velutina is derived from the Latin velutinus
The landscape architect may find Quercus velutina useful as an ornamental parkland tree.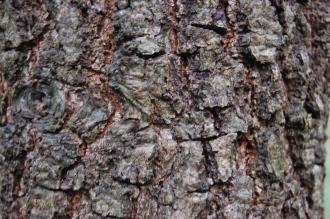 Quercus velutina Bark (16/11/2013, Kew Gardens, London)
Ecologically, Quercus velutina acorns are attractive to some birds and mammals.

Quercus velutina prefers moist, fertile, well-drained soils. It tolerates most pH of soil.
Quercus velutina requires little maintenance.