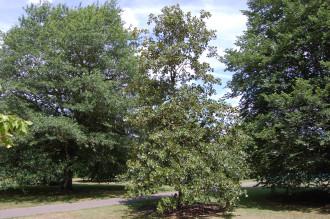 Quercus marilandica (18/07/2015, Kew Gardens, London)
Position: Full Sun to partial shade
Flowering period: Spring
Soil: Moist, well drained
Eventual Height: 12m
Eventual Spread: 8m
Hardiness: 6a, 6b, 7a, 7b, 8a, 8b, 9a, 9b
Family: Fagaceae
Quercus marilandica is a slow growing deciduous tree with an irregular habit. Its glossy dark green leaves taper from the base to a 3 lobed broader end, are up to 22cm long and 15cm broad. Its leaves turn yellow/ brown in autumn, these often remain on the tree during the winter months. Its trunk may achieve a diameter of up to 40cm. Its orange/ black bark is fissured. The male flowers are yellow green catkins and up to 10cm long. Its fruit is an ovoid acorn, 2cm long and 18mm across, in a half round cup.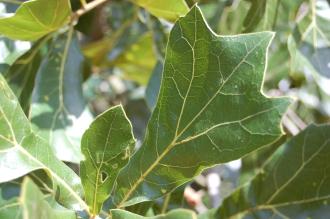 Quercus marilandica Leaf (18/07/2015, Kew Gardens, London)
Quercus marilandica, commonly known as Blackjack Oak or Barren Oak, is native to south east and central USA. In its native habitat it grows in poor, dry sandy soils, sometimes as an understory tree in Pine stands.
The etymological root of the binomial name Quercus is derived from the Latin name for an Oak tree, but some authorities believe it to be derived from the Celtic quer meaning 'fine' and cuez meaning 'a tree'. Marilandica is derived from the Latin meaning 'from Maryland'.

When available the landscape architect may find Quercus marilandica useful as a broadleaved evergreen specimen tree suitable for poor soils. Once established this tree is drought tollerant.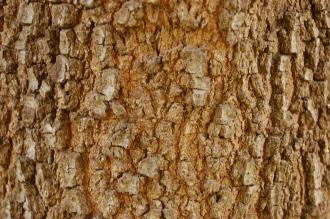 Quercus marilandica Bark (18/07/2015, Kew Gardens, London)
Ecologically, Quercus marilandica leaves and acorns are eaten by mammals and some birds.
Quercus marilandica  prefers moist, well-drained soils. It prefers an acid to neutral pH of soil and will grow in very acidic soils. This tree is tollerant of poor soils.
Quercus marilandica requires little maintenance.


Landscape Architecture