Quentin Tarantino was born in 1963 in Tennessee. Ever since a child, he adored movies, much more than school. He got a job at Video Archives, where he wrote the scripts of True Romance and Natural Born Killers.
He was only 29, when he came with his directorial debut "Reservoir Dogs", when Harvey Keitel read his script; he remarked "I haven't seen characters like these in years" and he signed on as actor and producer of the film. It is considered as one of the best cult films of all time, but his real gem is "Pulp Fiction", which he made in 1994.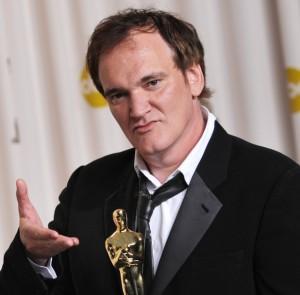 Pulp fiction is the rawest film ever made. He made a film that completely changed the perspective with which a viewer watches a movie; He took John Travolta, Bruce Willis, Samuel Jackson and Uma Thurman for this project.  Pulp Fiction lies at the 5th spot of IMDB Top 250.
With only two films, Quentin was known amongst the best filmmakers of Hollywood. Pulp fiction earned more than $108 million. He won the Academy Awards for Best Original Screenplay for Pulp Fiction that year.
In 1997, Tarantino directed "Jackie Brown", which was a crime thriller based on the novel by Elmore Leonard. After Jackie Brown,
In 2003 and 2004, he made "Kill Bill Vol. 1" and "Kill Bill Vol. 2" respectively; this film gave Uma Thurman a nomination in the Golden Globe.
During the filming of Pulp Fiction, he had promised Uma Thurman, that he will write a screenplay for her as a birthday present, which finally released some 9 years later.
Although, he was working on a World War II script ever since he finished with Jackie Brown, but only in 2009, he could his execute his plans. In 2009, he directed "Inglorious Basterds" starring Brad Pitt and Christoph Waltz.People gave mixed reviews about this film, and Tarantino was unmoved with any of the criticism. Eventually, he proved his point when Inglorious Basterds got 8 nominations in the Oscars that year, including two for Tarantino himself.
In 2012, Quentin made another great film, "Django Unchained", starring Jamie Foxx, Leonardo Di Caprio, Samuel Jackson and Christoph Waltz. In the film Django, played by Jamie Foxx, teams up with a bounty hunter, Christoph Waltz to find his wife. Tarantino won an Oscar for the best screenplay for Django Unchained.