Pull those dusty skates out of the back of the closet, and get ready for a fun time at the skate night series at the Chicago Athletic Association hotel. Queens on Wheels offers a weekend packed with skate sessions honoring influential divas who've defined the times and serve as an inspiration to many still today. Whether through music, performance, and of course, personality, Queens on Wheels pays tribute to magical mavens of all shapes, genders, and forms who've paved the way for decades.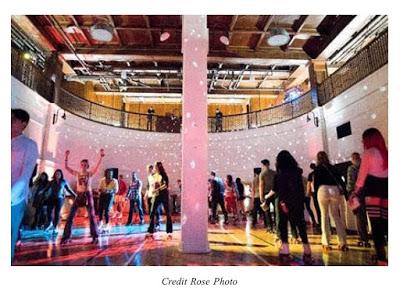 Back by popular demand, Queens on Wheels kicks off a evening of skating and fun at the Chicago Athletic Association Hotel, located at 12 S. Michigan Ave. in Chicago. And, there will be plenty of extra room to groove inside the hotel's newly-outfitted larger skating rink.  Queens on Wheels takes over Stagg Court Friday, September 8 – Sunday, September 10.
You're welcome to bring your own roller skates, or rent adult sizes on location, cash only. Plus, there will be Aacompanying concession food, and beverages will be available for purchase throughout each session. Note that when registering for specific sessions, there will be a 60-minute break between sessions to reset the room.
The Queens On Wheels Schedule:
Friday, September 8
·         Peach (7 – 9 p.m.): Peach is a pop-up party series dedicated to empowering LGBTQ+ women and femmes. With their diverse crew of DJs, hosts, and performers, this peachy skate takeover co-curated by CPR & Events will be extra sweet and juicy!
·         Femme's Room (10 p.m. – 12 a.m.): Voted Chicago Reader's #1 LGBTQ Dance Party 2017, Femme's Room is here to celebrate all identities and forms of femininity and femme expression with sexy house music from DJ Harry Cross, paired with sensual hosts from Chicago's diverse nightlife community in this session co-curated by CPR & Events.
Saturday, September 9
·         Bey Skate (6:30 – 8:30 p.m.): Whether Drunk In Love or a Single Lady, Queen Beyoncé and the leading ladies of music from the 2000s until now will fill the room and your soul.
·         Whip it to Whitney (9:30 – 11:30 p.m.): Big hair and bigger attitudes. Sing along to the divas of 70s, 80s, and 90s-wearing shoulders if you Wanna Dance with Somebody.
Sunday, September 10
·         Every Queen Needs a Pop King (5 – 7 p.m.): Don't stop us now, because we've havin' a good time. A queen can embody everybody; join in on this session to groove to power pop kings who aren't afraid to reign like royalty.
·         Head Over Heels (8 – 10 p.m.): Stand tall and proud in our final skate session of the weekend. Bring your 'A-GAME,' dancing queen.
                                                                                                     
Join The Queens on Wheels At The Chicago Athletic Association Hotel 
The Chicago Athletic Association hotel will donate a portion of all tickets sold to Transformative Justice Law Project, a local group of activists, social workers, and organizers who provide support and advocacy to transgender people in Illinois.
To learn more about Queens on Wheels and purchase tickets for one or several sessions, visit http://chicagoathleticevents.com/tc-events/queens-on-wheels/.