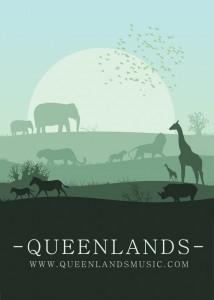 I was recently approached on Twitter by ambient musician, Reece Wellington aka Queenlands to design a poster to accompany his upcoming release 'How Long Does it Take?'
Reece was looking for a poster with an African wildlife theme… after a couple of drafts, we came up with something that he loved (pictured left) – what do you think?
In other news, I'm currently working on websites for Cardiff-based band Paper Aeroplanes (who I fell in love with at Terra Naomi's gig in London in February), Scottish fiddler Kristan Harvey, Nashville-based Ray Tarantino and Italian producer/music manager/all-round genius Giulia Bigi.
Lots of things in the pipeline, but as always, keeping an eye out for new projects! There are some changes ahead, also… excited about what the future holds. It's scary, but exciting. But the good things always are, aren't they?