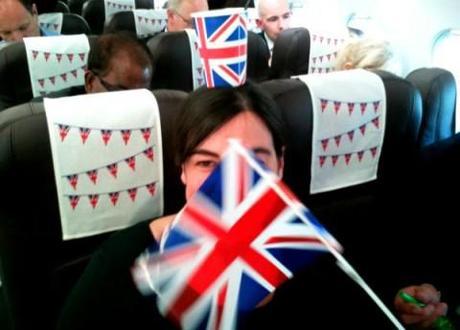 Getting into the spirit of things: A jubilee party on a BMI flight. Photocredit: http://flic.kr/p/bw8ecf Karen V Bryan:
The background
We're going to throw at least 10,000 street parties for the Queen's Diamond Jubilee, say official figures – that's twice as many as for the royal wedding, and more even than there were for the Coronation in 1953. The Telegraph reports that there have been 6,500 applications to close raods over 275 councils, and many more applications still to come. Most of them will be held on June 3, to coincide with the Diamond Jubilee Pageant, in which the Queen and senior Royals will go down the Thames in front of 1,000 ships.
Who will be the biggest?
The biggest, reported Clive Aslet on The Telegraph, is likely to be the one in Goring-on-Thames, Oxfordshire, which is joining up with Streatley in Berkshire across the river. It will "span two counties, occupy two whole days, contain eight different events." There will be a kilometer long table. Banbury in Oxfordshire begs to differe – they've invited Guinness Book of Records officers to see if they're the biggest.
The Scots are dour
However, reported The Scotsman, north of the border it's not such a rosy picture – there have been 15 applications in Edinburgh, and only 7 in Glasgow; Aberdeen only wants one. The Scottish Borders have had 55. Scottish Conservative deputy leader Jackson Carlaw was quoted: "There has always been less of a street party tradition in Scotland – perhaps the weather is less dependable."
Knees-ups and veggie lunches
Events, reported The Daily Mail, will range from "a traditioanl knees-up in Newcastle for 70 houses, to a vegetarian meal for 500 organised by the Sikh Cultural Association of Preston." The street party tradition, said the paper, goes back to Queen Victoria's reign, when she asked her daughter-inlaw, Princess Alexandra, to "feed as many of London's poor as she could."
Jubilee beats Olympics
We should all celebrate, said Robert Hardman on The Daily Mail. The Jubilee is the "opposite of the expensive, synthetic, logo-draped razzmatazz of the Olympics. It has been organised bottom-up." The whole thing is "happy proof that the British public can be a resourceful, convivial, generous bunch who are quite capable of organising a decent get-together at their own expense without official supervision. No doubt, the Dereks will be back in time for the next summer fete or carnival or veterans' parade. But, for now, let the party commence. Sausage roll, anyone?"
Why not tie some balloons to a chair?
Meanwhile, quasi-royal Pippa Middleton has given some top tips for hosting your own Jubilee Party on The Party Times: "Delegate dishes and responsibilities to different people or households. Everyone can bring a dish of something, whether it's a platter of sandwiches, a ready-made quiche, Victoria sponge or a Sherry trifle." She also suggested: "The colours of the Union Jack lend themselves perfectly to the festivities. Deck the table out in red white and blue with poppers, hats and blowers and have bunting all along the street. Fill balloons with helium and tie them to lampposts, garden gates or the backs of chairs."
Shut up, Pippa Middleton
Pippa's tips gave Tom Sykes on The Huffington Post a heart attack: "I know! Bake a cake! Get an ice bucket! Inflate some balloons – and tie them to the back of chairs! It's amazing and insightful stuff, we are sure you'll agree, and bound to ramp up the excitement for Celebrate, Pip's party planning book to be published later this year!"