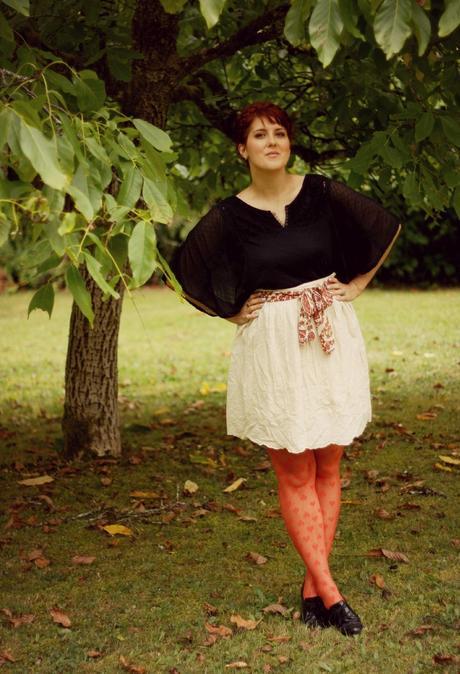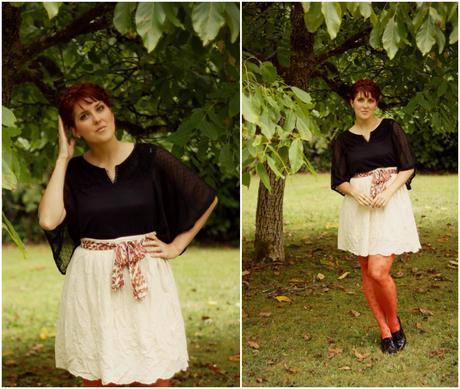 I feel so very fall today. We're moving for six months to house-sit this week, and I've decided only to take my fall/winter colored clothes, since obviously I don't want to take ALL of my wardrobe. So anything spring or summer is staying here, and all of my fall and winter items are moving with us. I've never been very good at wearing only seasonal colors but I have always wanted to, so this should help tremendously!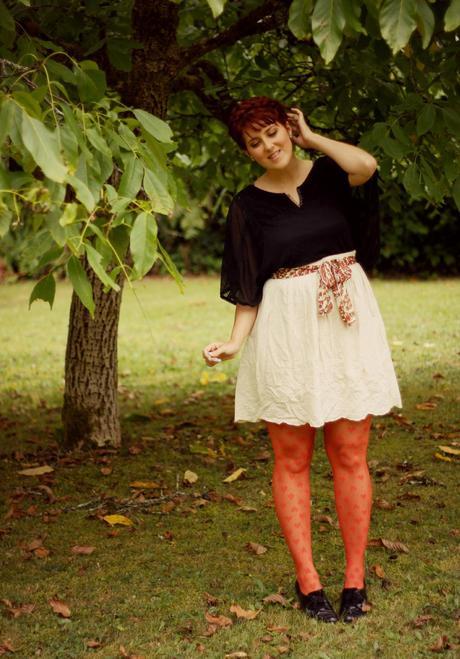 I got these tights last year when I was pregnant, and I never had the chance to wear them; aren't they the best? They remind me of the Queen of Hearts, only orange. I can't wait to style them more ways as the weather gets colder!
Are you guys excited for fall? I just suddenly got in the mood. I cannot wait for fall things – cardigans, tights, pumpkin everything, corn mazes, boots, oranges and reds and browns, pies, fall leaves, cool weather… ah! I think I'm starting to become more of a fall person than a summer person, for sure!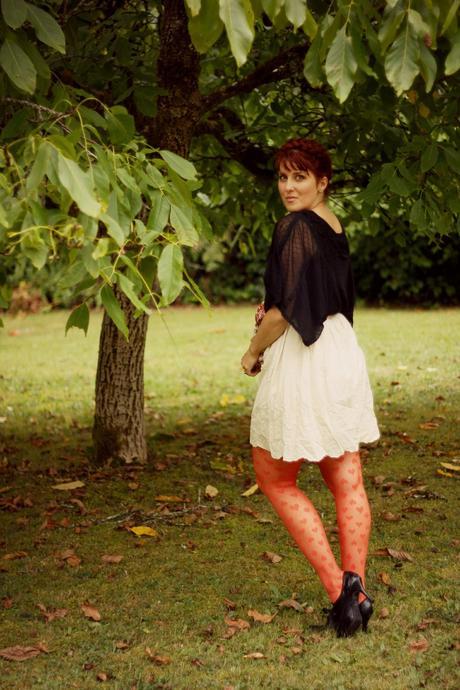 In an effort to retain the red as long as possible, I haven't been showering as often (which is actually normal as a mom… to not take as many showers, ha!) and I've been getting more creative with how I style my hair. This is the "hide the grease because I'm too lazy to shower" style. A must have with red hair, if you want to keep the color longer and shower less, is dry shampoo. Currently I'm using TreSemme, but I'm not sure how well it works. Anyone have recommendations on their favorites?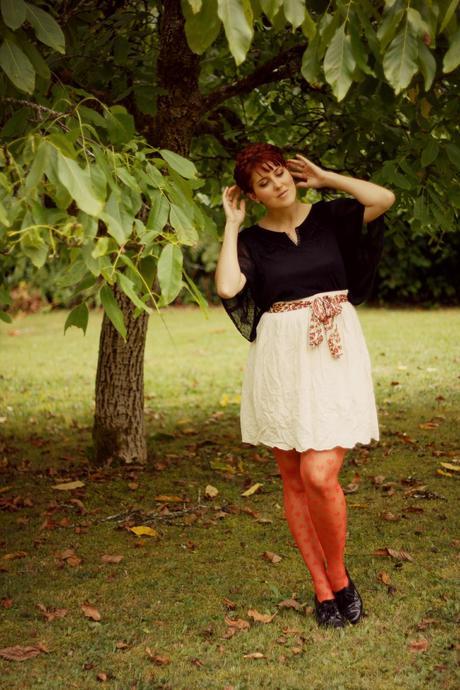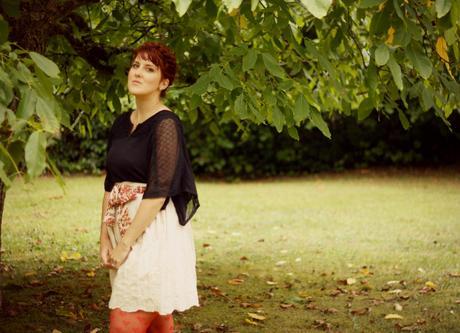 I am hoping to have the "how I dyed my hair" post ready this week! I was surprised by how many people really want to know how it's done, so hopefully I can provide you all with a good, information-filled tutorial. Do you have any specific questions aside from the usual "what color?" Let me know, so I can be sure to answer!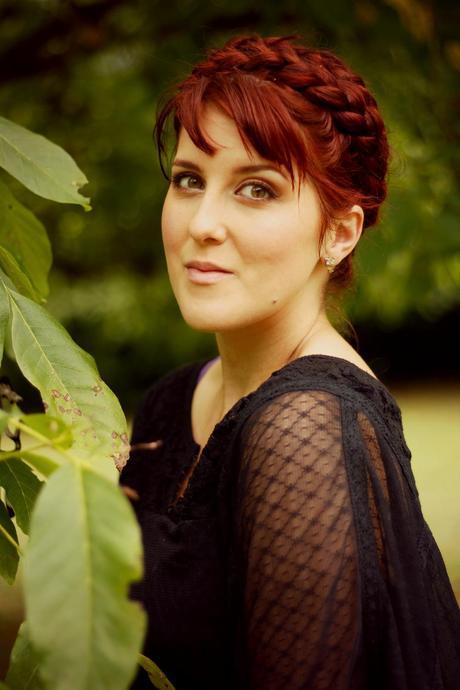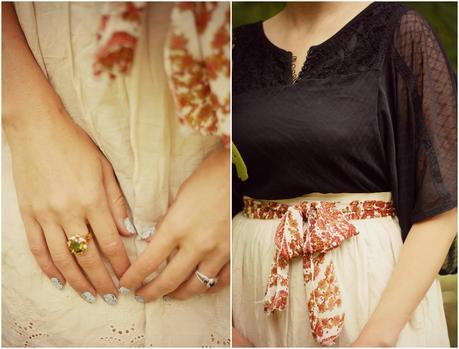 I bought this shirt on a whim at a garage sale, and paid more than I normally would because it is so, so pretty and makes me feel like a butterfly. Plus, the woman said it had never been worn, and she was so nice and gave Asa a free toy, so I kind of felt like I just had to buy it. Ha! But I'm super glad I did, because I can see myself wearing it with a TON of things in the cooler weather!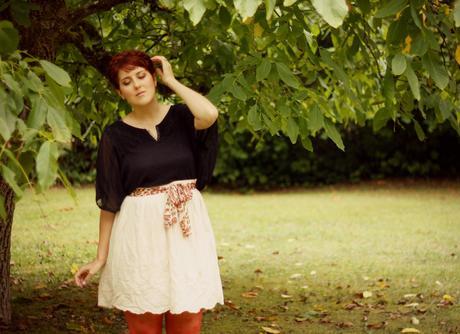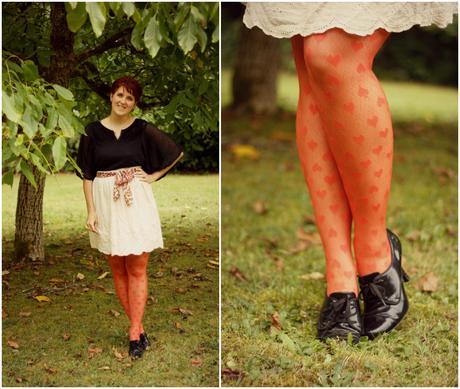 And this skirt, I should totally retire because the zipper is breaking and it's kind of stained, but I can't bring myself to get rid of it just yet. It's such a great staple; the perfect color of cream, with the prettiest lace at the bottom… I love it. I'll probably wear it until it just completely dies!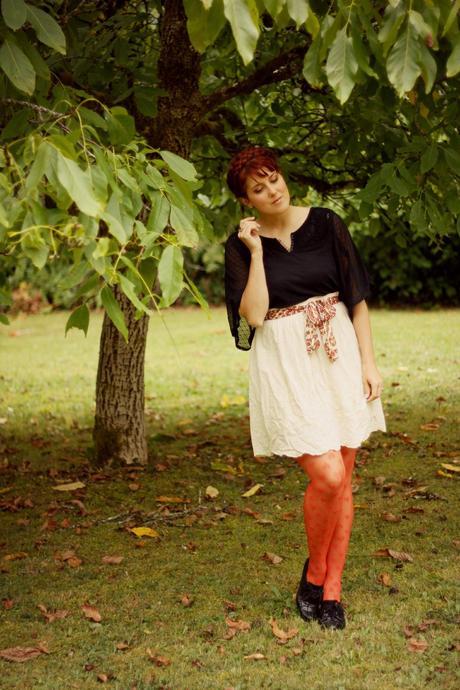 Skirt and shoes, thrifted | tights, Marshalls | blouse, garage-sale | scarf/belt, gift
I hope you all had a good weekend! I'm so, so impatient to share our short film, but it'll have to wait until October; we aren't allowed to share the video  publicly until it's shown at the festival.
And here's hoping your Mondays go well!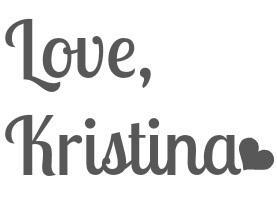 Bloglovin|Chictopia|Facebook|Twitter|Pinterest|Instagram|Fiction Press
|
Tumblr