If these shoes were human, they would be on par with someone like Tamsin Egerton. They are just so beautiful.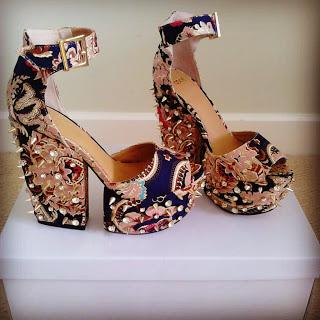 Tadaa! Recently, I have been living and breathing exams for what seems to have been a really, really long time. So when they finally finished I thought I would treat myself to a new pair of shoes.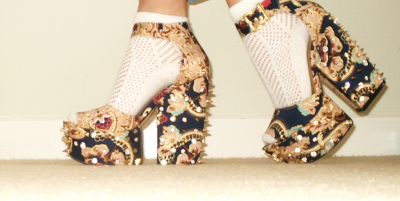 The shoes in question are these bad boys. ASOS HYPER PLATFORMS£75
 They are more expensive than what I would usually spend on shoes, but I did have some left over birthday money that I managed to save... until now!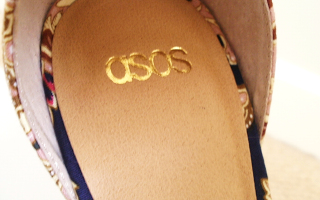 As you can see, the shoes are from ASOS. Again, absolutely nothing wrong with the service and everything was tip top.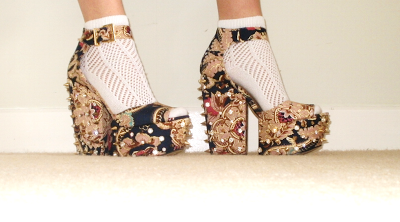 The soles and the heels of the shoes are covered in gold studs and small rhinestone embellishment. Normally, these components can come across as being rather tacky, but I think ASOS have pulled them off in a very stylish, sophisticated way. It helps that the top half of the shoe has been left, so it doesn't look too over the top sparkly. Due to this, you can admire the actual pattern of the overall shoe much better, which is a gorgeous 'scarf print' in a beautiful array of colours.  I thought I would pair them with some cute little white socks that come just above the ankle. It gives the look quite a pretty little twist, and contrasts well with all the blue's, red's, gold's etc..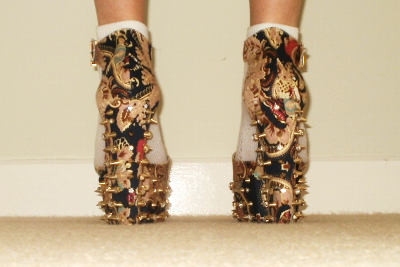 The heel height is actually 6", but you really can't tell once you've got them on. I mean, of course you can tell because you are taller, but you don't feel like your teetering about in them. I guess it's because the heel is actually quite thick, plus the platform keeps your foot from being at a steeper angle, which is where the struggle to walk in them would come in.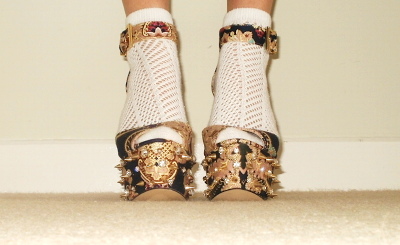 At first I had my doubts on whether or not to keep them. It wasn't because I didn't like them, but I was just thinking of what on earth I could wear them with! But after I had time to think, I managed to put them with quite a few outfits so they are most definitely here to stay. These shoes are by far my most outlandish, but I guess everyone has to have at least one pair of showstoppers.  I will hopefully get to show you a few outfits including these shoes in the near future.  What are your favorite pair of shoes? Or, what are your most statement pair?Leave a comment in the box below!Thanks for reading everyone,