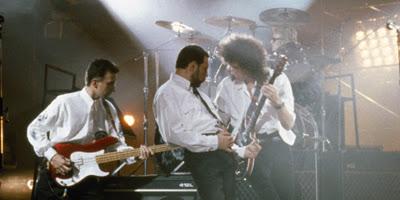 THE DEFINITIVE DOCUMENTARY ON THE WORLD'S GREATEST ROCK BAND IS COMING TO DVD AND BLU-RAY
~On January 31~
To Be Released by Eagle Rock Entertainment through Eagle Vision.
"This fantastic and moving two-parter tells the story of the finest live band in the history of rock. There's archive footage of past performances, interviews with the members and, best of all, plenty of insider anecdotes; the choicest being Elton John's reaction to Bohemian Rhapsody: "Are you off your head? You'll never get that played." The Guardian/UK.
In 1971, four college students got together to form a rock band. Since then, that certain band called Queen have released 26 albums and sold over 300 million records worldwide. The popularity of Freddie Mercury, Brian May, Roger Taylor and John Deacon is stronger than ever 40 years on. On November 6, 2011, in front of an estimated TV audience of 1.2 billion they were honored with the Global Icon Award at the 2011 MTV EMA.
But for Queen the journey was no bed of roses. No pleasure cruise. Queen had their share of kicks in the face, but they came through - and this is how they did it.
Set against a backdrop of brilliant music and stunning live performances from every corner of the globe, Queen: Days of Our Lives - available in both Blu-Ray and standard DVD formats, brings Queen's 40th Anniversary year to a close in suitably regal style.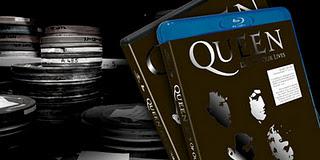 Days Of Our Lives began as a two-part documentary produced by long-term Queen collaborators and life long fans Rhys Thomas (the comedian who famously broke the Mastermind all-time record points score with a specialist subject of Queen) and Simon Lupton, and directed by the renowned director Matt Casey. After 10 years of making Queen DVDs, Lupton and Thomas were asked by the band to produce the definitive 40th Anniversary documentary and after almost a year of painstaking research and editing, this was the result.
Split over two episodes, Part One covering 1970-80, Part Two 1980 – present day, the documentary is a genuine rollercoaster of rock and roll history.
In this film, for the first time, it is the band that tells their story. Featuring brand new interviews with Brian May and Roger Taylor and unseen archive footage - including their recently unearthed first ever TV performance - it is a compelling story told with intelligence, wit, plenty of humor and painful honesty.
Rhys Thomas comments, "We set out to make the definitive Queen documentary. It's a funny, honest, inspiring and ultimately tragic account of 'a certain band called Queen', as told by the band themselves. We tell the story of four students who met in West London, slogged hard and conquered the world, ultimately changing rock music forever."
When originally broadcast in the UK on BBC 2 across two nights in May of last year, Queen: Days of Our Lives was the highest rated TV show on in its slot, beating every other channel and peaking with 3 million viewers. It has been widely regarded as one of the finest rock documentaries made and the critical reaction was outstanding. "Funny that," says Thomas, "considering Queen were always denounced by the press!"
"The Boys did a fantastic Job on this documentary ... with little interference from us! I think this one will set the bench mark for years to come," said Brian May.
Thomas explains the transfer of the original BBC documentary to DVD release: "When originally making the series it wasn't easy condensing 40 years of Queen down to just two hours. In fact, there was so much more to be said and so much more to be seen. Thanks to Blu-Ray and DVD, so much more of that story can now be told…As the two documentaries worked so well, we resisted the idea of making an epic 3-hour 'Extended Cut'. They are always boring, and as Freddie said to his manager Jim Beach in his last days: "Do anything you want with my music dear, but never make me boring!
"So rather than simply dump a load of 'deleted scenes' onto the DVD and Blu-Ray, Simon and I decided to edit them all with as much love, time and care as we put into the main documentary. What we have as a result is a great companion to the main story and some real gems, most notably covering the formation of the band and the making of the last three albums which was only touched upon in the televised version. For instance, we learn from Brian how John Deacon made a cut in 'Bohemian Rhapsody' for the record company and Freddie's reaction; the revelation that Freddie was not sober during the making of 'Spread Your Wings'/'We Will Rock You' in Roger's back garden, and a hilarious sequence about Queen and their love of Scrabble.
"As well as the new sequences, there are 7 new videos. Excerpts were featured in the main documentary, but we have completed them, and here on DVD and Blu- Ray they appear in full."
The Blu-Ray format allows for additional bonus material and therefore differs in content to the Standard DVD release. Please check credits for each release.
'Queen: Days of our Lives' Blu-Ray & Standard DVD content descriptions:
Documentary Part 1 – 59 mins
Documentary Part 2 – 59 mins.
ADDITIONAL VIDEOS – Blu-Ray and Standard DVD (24 mins):
Seven Seas Of Rhye 2011:
A compilation of all four Top Of The Pops and Rainbow Live performances from 1974 – all unseen
Killer Queen 2011
A compilation of two Top of The Pops performances, one the familiar 1974 Christmas Special, the other - discovered in the late British comedian Dick Emery's private collection, hasn't been seen since 1974, the original master tape wiped from the BBC archives.
Somebody To Love 2011
This is a new edit of the video using the four takes shot on the day, most of which has never before been seen.
We Are The Champions 2011
In 1977, cameras filmed Queen recording a new version of the song for the promo video. This video shows the band performing and mixing this unreleased version in two live takes. An instrumental version of this closed Part One of 'Days of our Lives'. Here for the first time the video can be seen in its entirety.
Crazy Little Thing Called Love 2011
A new edit of the video compiled from the rushes including outtakes and unseen angles.
Under Pressure 2011
A new video intercutting Queen's first live performance of the song in Montreal 81 and Queen + David Bowie at the Freddie Mercury Tribute.
Radio Ga Ga 2011
This new video includes unseen color footage from the 1984 Radio Ga Ga video shoot plus rushes and outtakes.
BONUS SEQUENCES – Blu-Ray (59 mins) / Standard DVD (21 mins only):
Queen: The Beginning
A detailed look at how Queen formed in 1971. Covering Smile, finding John Deacon, and the early struggles of the band.
Queen On Tour 1974-5
Featuring Queen at the Rainbow and unseen footage of the band touring Japan for the first time. Includes excerpts of 'Now I'm Here', 'Killer Queen' and 'In The Lap Of The Gods' live.
Bohemian Rhapsody
Brian reveals how John Deacon made a cut in 'Bohemian Rhapsody' for the record company, only to be dismissed by Freddie: "Either it's released in it's entirety or not at all!."
Working Together
The Band discuss their working relationship, including unheard archive of Queen having a 'creative discussion!'
Leaving John Reid
An in-depth account of how the band left manager John Reid and set up Queen Productions – plus the revelation that Freddie was not sober during the making of 'Spread Your Wings'/'We Will Rock You' in Roger's back garden.
Don't Stop Me Now
Brian and Roger discuss 'Don't Stop Me Now' and the 'Guitar Version' discarded by Freddie.
Flash Gordon
A short sequence on the making of Queen's first film soundtrack, 'Flash Gordon', plus an alternate promo video.
Making Videos
The band discuss the video making process, featuring lots of unseen outtakes.
Scrabble Wars
A hilarious sequence about Queen and their love of Scrabble. You will just have to watch!
From Magic to The Miracle
In the three years between A Kind Of Magic and The Miracle, the members of Queen went through some life changing experiences in their working and personal lives. This chapter sheds light on what went on behind closed doors.
Going Slightly Mad: The Making of Innuendo
In 1991 Queen hit the charts with a No.1 album and single, "Innuendo." Creatively the band were reinvigorated, their material better than ever, but beneath the surface, they all had to face the fact that Freddie was seriously ill and time was running out.
Made In Heaven
Roger and Brian talk about the making of the last Queen album, Made In Heaven, working with Freddie in his final weeks, as well and working with the material he had recorded after he had passed away and the emotional distress it caused.
Return To Imperial
Brian returns to Imperial College and shows us around the college where he and Roger first met, formed Smile and ultimately Queen.
BONUS INTERVIEWS - Blu-Ray (19 mins). Not included on Standard DVD:
The Bonus Interview section contains various interesting, funny and insightful footage that didn't fit into any particular sequence but was too great to leave on the cutting room floor.


Official website:


www.queenonline.com