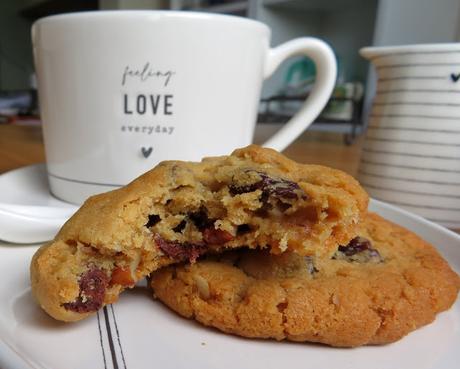 In my quest to downsize my favorite recipes today I have downsized an old recipe for what was called Ten Cup Cookies.  They were given that name because they were composed with 10 (1 cup in size) ingredients. 
Butter, creamy peanut butter, sugar, brown sugar, flour, chocolate chips, quick cooking oats, shredded sweetened coconut, chopped pecans and raisins.  Ten simple ingredients.  Ingredients most of us have on hand most of the time.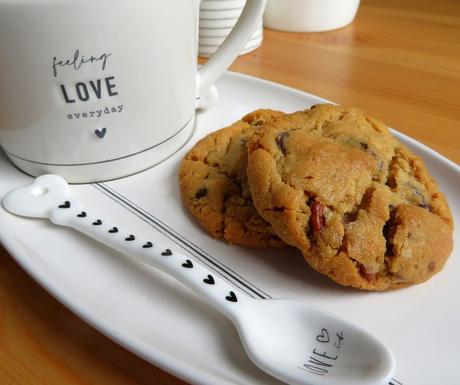 Oh yes, there are a few other things that you will need to put into a cookie to make it palatable as well. Soda, baking powder, salt, vanilla and eggs. (In the original recipe 2 large eggs, 1 tsp soda and 1/2 tsp of baking powder. 
Needless to say the original recipe made a LOT of cookies.  Seven dozen to be precise. We do not need that many cookies in this house. No, no, no. They have the awful habit of getting into my mouth and I just don't need that much temptation near me.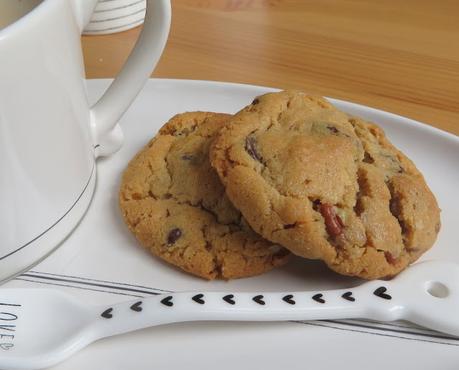 I am a person who has very little willpower.  Especially when it comes to things like cookies.  Especially when those cookies contain things like chocolate chips and peanut butter.
And don't get me started on my love of coconut, toasted nuts, raisins and oats  Especially when contained in a delicious buttery crisp edged chewy middled cookie!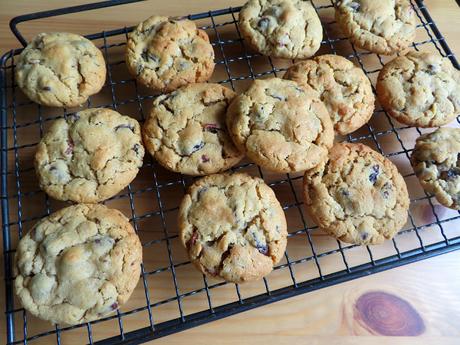 These were very popular in my home when I was raising my children. I didn't mind baking them then as I had so many other mouths to help polish them off. Now we are only two.
That many cookies would be dangerous to have around. Oh, I know, you can easily freeze these cookies. I have proven to myself through the years that I like eating frozen cookies just as much as I like eating room temperature cookies.  Two words. A LOT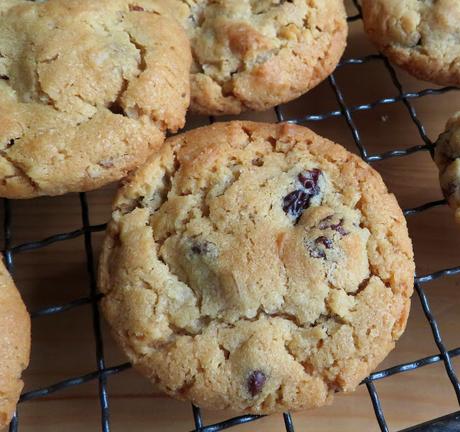 Yes, I am completely incorrigible, and a total and utter glutton. If it was a club I would be the president, as well as the secretary and treasurer! 
I do think that I would be joined with more than a few members however.  I know I am not alone in my love of all things delicious! This is a club with many, many members.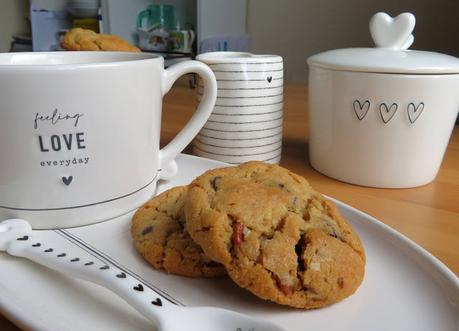 In any case, I have successfully managed to downsize this recipe so that it makes only 13 cookies.  Each one is crisp edged. Each one is buttery.  Each one is delicious.
And I hate to tell you this . . .  every one is every bit as delicious as the cookies in the original recipe. So they are just as dangerous and just as addictive.  The only difference is that there is not as many of them.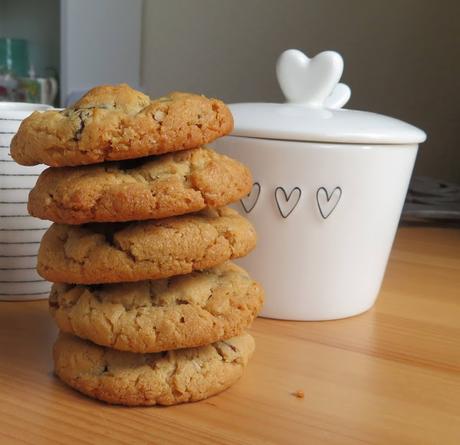 Every mouthful brings you a taste of your favorite flavours.  You get the savoury edge of peanut butter.  The caramel-like sweetness of brown sugar.  The rich chocolate chips. The sticky sweetness of raisins. 
Combine that with the wholesome nuttiness of oats and coconut, along with the crunch of toasted pecans, and you have a very moreish combination.  And its there.  In every tasty mouthful.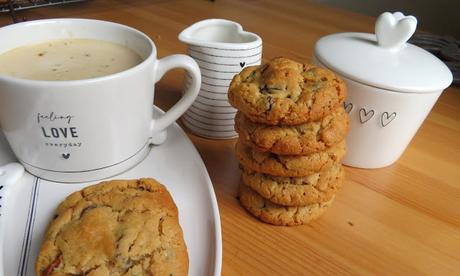 You could leave out things like the raisins if you don't like raisins. Feel free to substute something you do enjoy. Perhaps dried cranberries or dried sour cherries. (Now that would be good!)
There is no substitution for the oats I don't think, or the coconut.  Unless you add additional flour to take up their space, but then I'm afraid you are just messing with science and they won't turn out. So best to just leave them out altogether and see what happens.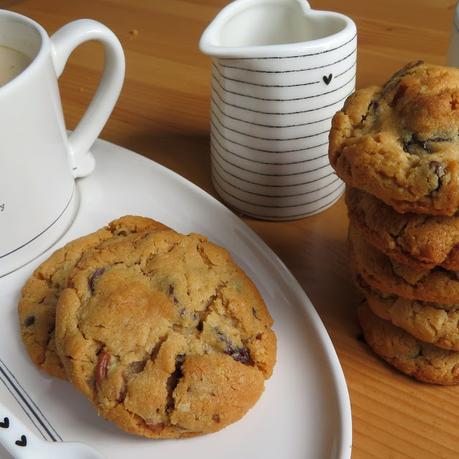 You could substute toasted walnuts for the pecans if you wanted to, or even macadamia nuts. You don't have to toast any of the nuts. It is just something I like to do when I am baking with nuts. 
Toasting serves to help enhance their nutty flavours and really bring them out. A few minutes on a baking sheet in a hot oven does the trick.  Make sure you let them cook before you use them.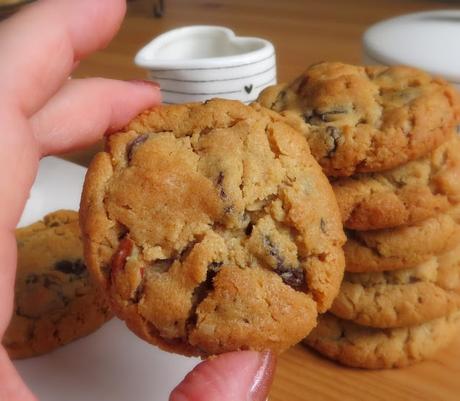 Look at how beautiful they are!  My trick for perfect round and beautifully sized cookies is to roll them into walnut sized (heaped TBS) balls. I just roll them between my hands.
I have been doing this for years and years.  They come out perfectly round every time. No need to squash them down onto the baking sheet. They will spread as they bake.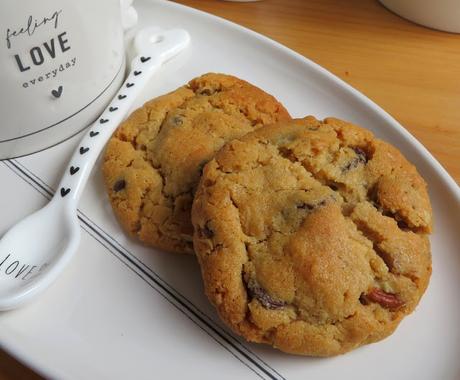 You do end up with perfectly round cookies, or as close to round as you can get without fiddling with them.  I have heard of some bloggers using round cookie cutters as soon as their cookies come out of the oven to knock their cookies into shape.
I don't think it matters if your cookied are perfectly round or not. Perfect roundness does nothing to affect or enhance the real taste of any cookie. In fact I think wonky cookies taste the same as perfectly round cookies.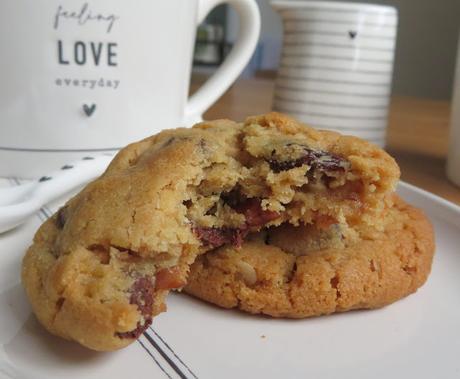 I suspect this is done more for the sake of the camera than for anything else. And if you are so inclined, then by all means knock your hot cookies into shape. 
Beauty is in the eye of the beholder and we do eat first with our eyes.  Maybe there is something to that.  Having perfectly round cookies. In any case, I have always rolled my drop cookies into balls and I have always ended up with nice looking cookies, no manipulation needed.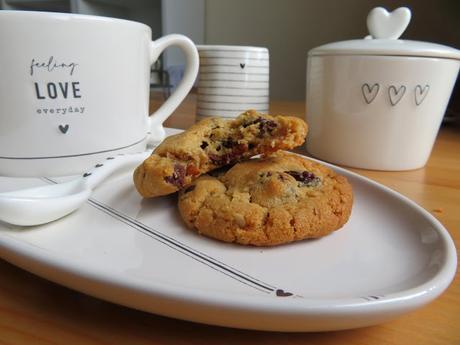 These cookies are incredibly delicious. You get exactly 13 cookies.  A baker's dozen as that is often referred to.  That hails back to the days when bakers often included one extra item in with your dozen of anything.
I don't think that happens much any more. Perhaps in smaller, family run, bake shops. If I had a bake shop I would always make sure every dozen included one extra, a Baker's Dozen. Its little touches like that which matter most.

Yield:
13 beautiful cookies
Author:
Marie Rayner
Print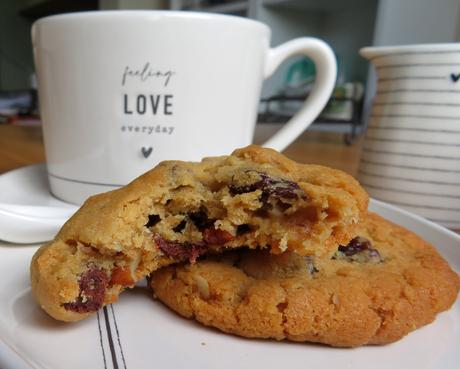 Quarter Cup Cookies
This a small batch recipe based on the original 10 cup cookies. In this recipe only 1/4 cup of each ingredient is required. Every mouthful is a delight!
prep time: 10 Min
cook time: 15 Min
inactive time: 5 Min
total time: 30 Min
Ingredients:
1/4 cup (60g) butter, softened
1/4 cup  (45g) of creamy peanut butter
1/4 cup (50g) granulated sugar
1/4 cup (50g) soft light brown sugar, packed
1 large free range egg yolks
1/4 tsp vanilla extract
pinch of salt
1/4 tsp bicarbonate of soda
1/8 tsp of baking powder
1/4 cup (35g) plain flour
1/4 cup (45g) chocolate chips
1/4 cup (20g) quick cooking oats
1/4 cup (20g) sweetened shredded coconut
1/4 cup (25g) chopped toasted pecan nuts
1/4 cup (40g) raisins
Instructions:
Preheat oven to 180*C/350*F/ gas mark 4.  Line a large baking sheet with baking paper.  Set aside.
Cream together the butter, peanut butter and both sugars until well blended.  Beat in the egg yolk and vanilla. Stir in the salt.  Sift together the flour, baking soda and baking powder.  Stir this into the creamed mixture, combining all well together.
Stir in the chocolate chips, oatmeal, raisins, nuts and coconut.
Scoop out heaped tablespoonsful and roll into balls.  Place 3 inches apart on baking sheet.
Bake until golden brown and set.  (12 to 15 minutes.) Leave to cool on the baking sheet for 5 minutes then remove to a wire rack to cool completely.
Store in an airtight container.
Did you make this recipe?
Tag @marierayner5530 on instagram and hashtag it #EnglishKitchenCreated using
The Recipes Generator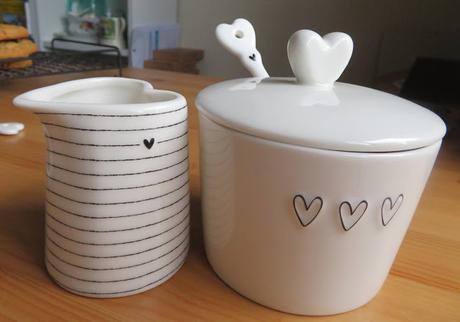 I just have to show you these newest dishes of mine that I am using, and no I have not been paid to say that.  I had to buy these just like anyone else. It is a part of my quest to up my food photography props.  They come from Scandanavian Pantry. I just adore the simplicity of Scandanavian design. If I had the money my whole house would be done Scandanavian Style. Its been like that since I was a child and fell in love with the art of Carl Larson. 

This content (written and photography) is the sole property of  The English Kitchen. Any reposting or misuse is not permitted. If you are reading this elsewhere, please know that it is stolen content and you may report it to me at: mariealicejoan at aol dot com 
 Thanks so much for visiting. Do come again!