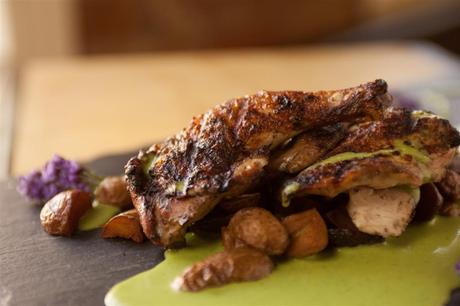 Developed by Chef Eduardo Ruiz
Course: Main
Number of servings: 8
Difficulty: ◊◊
Preparation time: 40 minutes
Cook time: 20 minutes
INGREDIENTS
For the Quail Marinade
* 8 fresh whole quails, one per person
* ¼ cup soy sauce
* 8 ounces of LAS PALMAS® Green Enchilada Sauce
* 2 tablespoons red wine vinegar
* 3 tablespoons ají amarillo paste
* 4 garlic cloves
* 1 tablespoon ground cumin
* 1 tablespoon dried oregano
* 1 tablespoon paprika
* 2 tablespoons olive oil
* ¼ cup Pisco (optional)
* 1 tablespoon salt
* 3 limes, sliced
For the ají verde sauce
* 20 ounces of LAS PALMAS® Green Enchilada Sauce
* 5 jalapeños, minced (remove seeds to make less spicy)
* 2 bunches of cilantro
* 5 garlic cloves
* 1 small bunch of chives, about 8 chive strings
* 4 tablespoon ají amarillo paste
* ¼ cup fresh lime juice
* 2 ounces queso fresco
* 1 cup crema mexicana
* 2 tablespoon olive oil
* 1 tablespoon salt, or to your desired taste
DIRECTIONS
1. For the quail:
* One day before cooking place into a blender all quail marinade ingredients except the lime slices - soy sauce, 8 ounces of LAS PALMAS® Green Enchilada Sauce, red wine vinegar, ají amarillo paste, garlic, cumin, oregano, paprika, olive oil, Pisco (optional), and salt. Puree until smooth. Set aside.
* Rinse the quail in cold water and pat dry with paper towels. Place the quail into a bowl and pour marinade over. Toss the quail gently to ensuring that the marinade fills every cavity. Store refrigerated in a glass or plastic container with lid overnight.
2. For the ají verde sauce: Place 20 ounces of LAS PALMAS® Green Enchilada Sauce, jalapeño, cilantro, garlic, chives, ají amarillo paste, lime juice, queso fresco, crema mexicana, olive oil and salt in a food processor and pulse until smooth. Set aside until quail is cooked.
3. Cooking the quail:
* Preheat grill on high. Remove quail from marinade and pat off excess liquid with a paper towel. Once all the quails are ready to grill drizzle a small amount of olive oil on each side.
* Set quail on grill skin side down making sure not to lift until skin begins to brown and char (about 5-6 minutes) flip and finish on bottom side for another 2-4 minutes.
4. Final step: Serve grilled quail on top of your favorite potato preparation (French fries, roasted, steamed), drizzle ají verde sauce on top of quail and make sure to save some for dipping!