QOTD: The Queen Of Lip-Synching Denies That She Lip-Synchs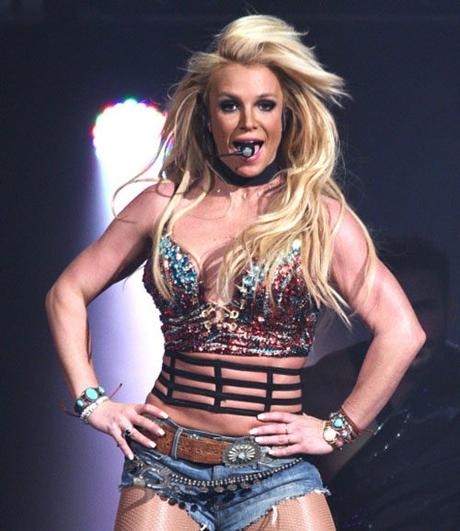 "That's not a picture of Sasha Velour." – all of the Sasha Velour fans who watched her lip-synch on the RuPaul's Drag Race season 9 finale.
Anyone who has seen a live Britney Spears performance has said for decades that the day she actually sings during a show is the day that water becomes dry, bears stop shitting in the woods and the Pope converts to Judaism. I went to see Brit Brit's show in Las Vegas and either she was lip-synching or her vocal cords are time travelers who can go back to the 90s, because her voice sounded a lot like her auto-tuned voice on her old albums. But Brit wants all of the hating bitches to stop saying she doesn't sing live, because she does. I'm gonna go ahead and type "GIRL, STOP" in all-caps so you don't have to.
Brit's doing a show in Tel Aviv and she did an interview with an Israeli television station (via Rolling Stone) to promote it. This is the same interview where Brit Brit mentioned the "London terrorist attack at a Selena Gomez concert." The interviewer must be new or was trolling her when they asked if she sings totally live or with a track. Brit was happy that the question was brought up, because she's madder than a horny possum stuck in tar over people saying she doesn't sing live. Never mind that trick got caught lazy lip-synching in Tokyo, she's the greatest live vocalist of our time, dammit!
"I'm glad you addressed this question because it's really funny. A lot of people think that I don't sing live. Because I'm dancing so much I do have a little bit of playback, but there's a mixture of my voice and the playback. It really pisses me off because I am busting my ass out there and singing at the same time and nobody ever really gives me credit for it."
Brit Brit is a master of deception and has told us the biggest lie we've ever heard. Or maybe it's her sound people who are doing the lying, and while she's thinking she's yodeling out live vocals to the audience, they've got her mic set firmly to OFF. It's for the best, because her fans wouldn't be able to take her high-powered dancing and her live vocals at the same time.
Exclusive: Britney in a new interview for the Israeli TV about her playback issue! pic.twitter.com/19NKnnRgH0

— Britney In Israel (@Stan4Godney) June 27, 2017
Pic: Getty
Source: QOTD: The Queen Of Lip-Synching Denies That She Lip-Synchs 
3 total views, 3 views today