By the time I upload this post, we are still waiting anxiously for the result. Yes, the Scottish referendum may not be important for most of the world, or especially me an Indonesian, I didn't even marry a Scotsman. What has this referendum got to do with me anyway???   Yes, I  married an English bloke; yes, we got married in Edinburgh, the capital of Scotland, but that's about it. For your information we live in Qatar, not even close to the UK, so what is so special about this referendum that I end up writing a post about it.

My colleagues when we gather together…
Well, as an expat working in the Middle East, I work in a multinational company who's employees consist of many nationalities. Our office is only a site office of a Qatar branch office, and in this site office there are about 80 personnel consisting of more than 10 nationalities and to most of us, Scotland does not even exist.  However, as most Scottish are very proud and nationalistic (…which national though, or the term is maybe ethnic conscious), they claim… I am not English, I AM SCOTTISH….. well you are still carrying a British passport, you are still British…
OK, forget about being racist or sexist or what ever, as that doesn't make any difference to us non Scottish people, however, to make life more interesting in 'exile', my Scottish colleagues (who are only 2 out of 80 of us) Mark, decided to send this circular email to the rest of us and attached to that was this ballot paper: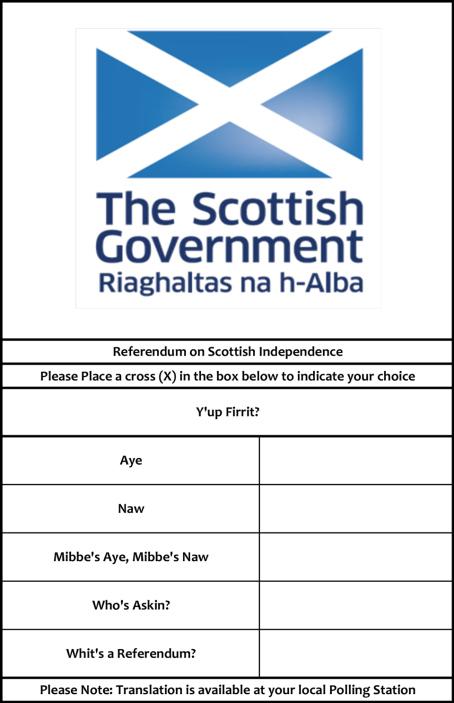 Mark's version of the referendum's ballot in Gaelic: English is our second language, what about Gaelic???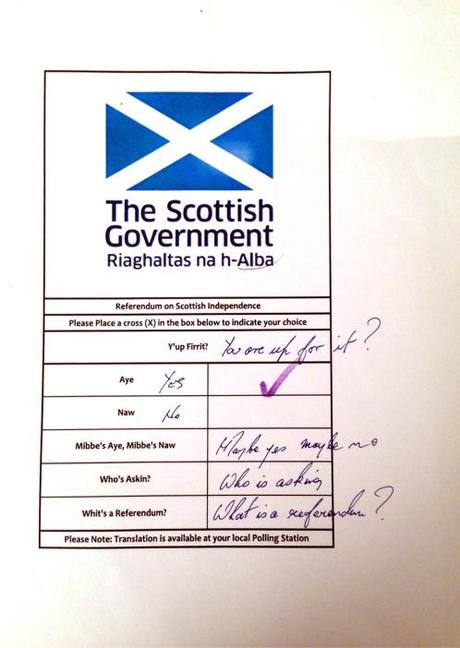 The translation of the Gaelic Ballot… Who understand Gaelic anyway… too hard!
The email is like this:
Dear all,
For those of you who may or may not know already Scotland is going through a very passionate referendum to see if they can become independent from the rest of the UK.
To assist Carolyn and myself in making an honest appraisal and for some fun we would like to invite you to our "mock" independence vote to be held next week on the 18th September 2014 in the main conference room. The polling station will be open from 1200 – 1330hrs and the result of the vote will be made public at 1500hrs if no irregularities are found.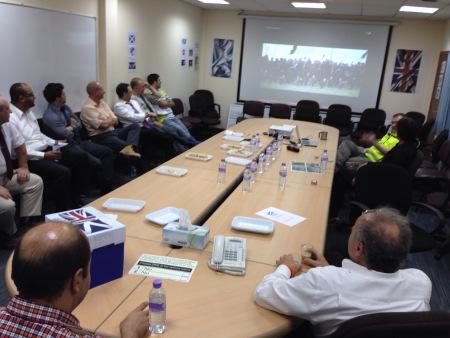 Our Qatar office voting period started with a video trailer of the movie Braveheart as an introduction to the centuries of England-Scotland face off
Please print off your Balott paper (attached) and place in the Balott Box on the 18th. As a reward Carolyn and myself offer you a small token of our appreciation in the form of a small gift from our home country on a first come first served basis. Please note this is subject to stock availability in MEGA MART.
To help you make an informed decision we note two of the most critical arguments (NO/YES) found on the internet that have spearheaded the recent campaigns for both sides, they are as follows;
We're Better Together Campaign Spokesman Mr Kipling wrote (NO Vote)
"Scottish Independence will have an impact on the world's supply of shortbread, a former confectioner has warned in a stark comment on the Referendum debate. Belgian bakers would "cheer loudest" and "the forces of dark confectionery would simply love it" if the UK broke up, Mr. Kipling said today. Allowing the West's premier baking power to be plunged into a "difficult and debilitating divorce" would be silly, he added.
Mr. Kipling said the international community was only just catching up with the exceedingly "full and dramatic implications" of a Yes vote in Scotland's independence referendum on September 18.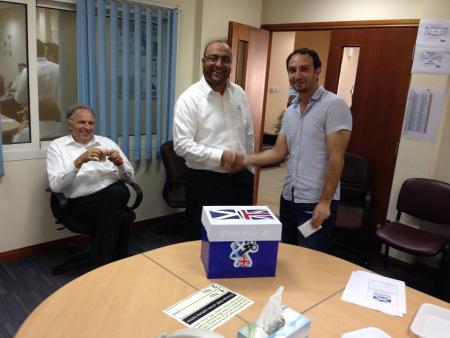 My Syrian, and Indian friends posing in front of the voting box, witnessed by my German colleague…
"If the United Kingdom was to face a split at this of all times and find itself embroiled for several years in a cake war, it would rob the West of a serious exceedingly good cake partner just when solidarity and nice buns are going to be vital.
"Nobody should underestimate the effect all of that would have on morning coffee times"
On that basis please vote NO!!!!
A Free Beaver for Every Scot (YES Vote)
Scottish First Minister has built on his lead from yesterday's debate by guaranteeing a free beaver for every Scot the moment Scotland achieves independence.
Speaking at a recent press conference, he said "We're sick of restrictions to public policy set by Westminster (i.e. England). We've done the sums and every man, woman and child in Scotland will receive a free furry North American dam building mammal. This will be non-means tested."
This bold move is thought to be widely popular, particularly among undecided voters as it serves to break the mold of a distrusted political model. However the no campaign spokesman has accused the Scottish first Minister of fictitious accounting by stating, "He's relying on oil revenues to pay for the 5.3 million beavers. These are the same oil revenues that he was going to use to offer every Scot an extra hour in bed in the mornings.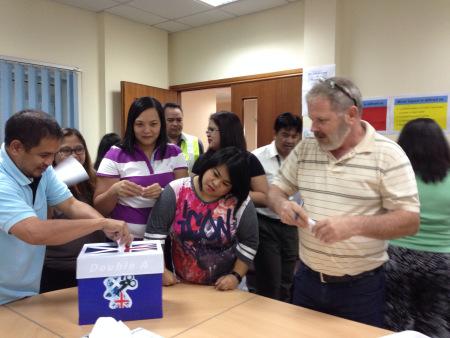 The participation to vote in the office….
Despite that confident rebuke, the better together party appeared floored by yesterday's question from a member of the audience at Kelvingrove museum who asked "If we're better together, where's my beaver?" which enjoyed rapturous applause from the audience.
In other news, Westminster looks set to make a number of compromises in the event of a no vote, including half a beaver for every Scot.
On that basis please vote YES!!!!
On behalf of Carolyn and myself we look forward to your informed decisions!!!!!!!!!!!!!!!!!!!!!!!!!!!!!!!!!!!!!!!!!!!!!!!!!!!!!!!!!!!!!!!!!!!!!
***
The truth is, no body understands Gaelic anyway, and according to Mark, its a dying language (hmmm good to know Mark!) and his explanation was too long to be sent to an office email where all of us are busy doing office assignments instead of reading dodgy emails; don't forget, most of us are not English speakers, so that email was a long-read by itself.
To our surprise, for the voting session, most of us turned up for the voting and out of 73 voters, almost all of them voted, even though I am sure they didn't really understand what they were doing, but…. thanks for the participation and enthusiasm, some of them were seriously following the news, just to try to understand what it was all about. Many of them were just ignorant, as Mark and Carolyn still had to explain what is meant by Aye and Naw…. And off course as this was not really serious, so why don't we all joke about it?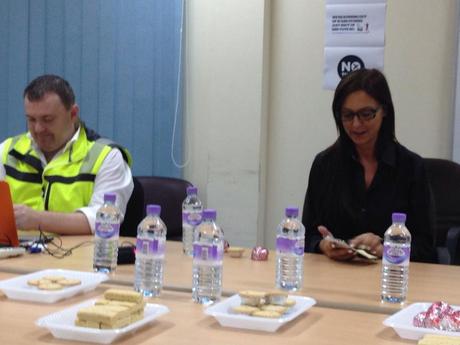 Mark and Carolyn when they started counting the votes
My husband has even got more serious, as he wants to stick together with the Scottish people, he photocopied his ballot papers 10 times to ensure the "Naw" result…. but Mark and Carolyn caught him trying to commit fraud to affect the result; Ruary as a typical Irishman, voted "Aye" just to annoy his mates as this was a mock vote anyway. Malcolm even wrote in the ballot paper, saying this referendum is good so that they will rebuild Hadrian's Wall (a wall built by the Romans to divide Scotland and England) properly.
However, the (Qatar) result was :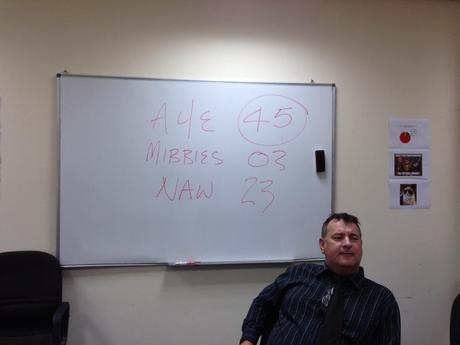 Surprising result….
But hey, don't take this seriously, as this will not affect the real result of the referendum in Scotland, this is only a mock vote prior to the referendum and as Scottish people living outside Scotland, Mark and Carolyn cannot vote…..
*Feature picture taken from whiskeypike.com