I've been trying to interview more and more people living in Bangkok to give people an idea of how others live. Today I got the chance to interview Stickboy Bangkok who runs his Bangkok news site here www.stickboybangkok.com
Can you tell me a little bit about yourself?
I'm 43, from Scotland, Inter Milan fanatic, retired DJ, father of Stick Jnr and…. what else do you want to know? Cock size? Boxers or briefs? Have I done a ladyboy? Come on… get your clipboard in order haha.
How long have you lived in Thailand and why did you move here?
This time around 4 years now and two years before back in 2006. I moved here for quite a few reasons and I'm not going spew the usual bullshit that I came for the food and the weather that we hear so often.
Yeah, the warm weather is on the list but way down ahead of getting raped by the tax man in the UK which sits near the top of my reasons, as does my preference for the local talent.
How do you earn your living?
I work online running a fair few websites and have been doing that full time since 2001 but my main focus right now is building up Stickboy Bangkok plus I do some social media work part time for a few BKK based companies.
Since you have been living here so long, do you have any opinion on the 'newer' expats who are swarming to Thailand?
I live in a bubble here of my own making and don't run into many expats so I haven't really met many, if any, newer expats to have formed any thoughts or opinions.
How much do you spend per month?
25k covers rent and all the other utilities including mobile etc.
About 30k going out, be it beer, eating, whatever. Some months more, some less.
Plus the other halves both work so they chip in for stuff too. In fact they buy all the grub and day to day supplies.
Other halves? So you mean there's more than one Stickgirl? How does that work?
Yeah, there's two. Its a complicated business and I've wrote about it for Stickboy but its still sitting in drafts yet to be published.
I'm thinking what to tell you now .. okay, Stickgirl #1 is 33, works hard and plans on opening a coffee shop mid 2015. I did joke about calling it Stickboys Coffee Club but we'll see. Stickgirl #2 is 21 and changes jobs on what feels like a weekly basis. She worked in a bank, then as a cheers beer girl then at her parents restaurant then an office and now back at the banks office. I leave her to it, she works and that's all that matters.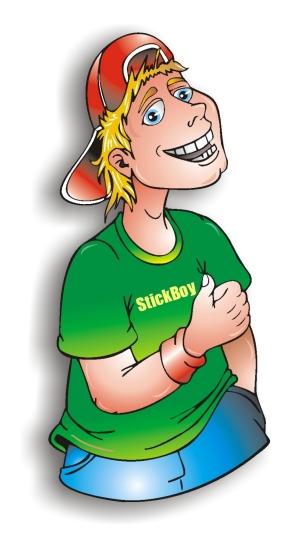 We stayed together for about a year but now separately. And I know what you are dying to ask so I will answer without you having to say a word. No, there were no threesomes, it wasn't like that. Sorry to disappoint your filthy mind but as a teaser Stickgirl #2 has a girlfriend …. next question?
Can you walk us through a day of your life?
Wake up 6.45am no matter what I've done or where I've been the night before. Fire up the notebook and see if anything major has happened overnight from a quick scan at my RSS & Twitter feeds.
99% of the time that means nothing so coffee and smoke as I read through news feeds and social media relating to Bangkok / Thailand saving what catches my eye or interest for later when my brain is actually awake. That takes at least 2 coffees plus a red bull & soda.
Hit the shower and eat something light for breakfast that Stickgirl will make for me. Then its head down and work all day that includes looking for news, pics, videos to turn into actual content for my site.
Late afternoon I go feed the fish at my local park, have a walk and take some time away from the computer. Home and sleep for an hour then back to it while someone fires up the pots and pans if we aren't going out for a feed.
A few nights a week I will head out and see whats doing and have a few beers on my travels. I go anywhere and everywhere, no two nights out are the same.
The nights I don't go out on my own I might go eat but depends what everyone else has on.
What would your advice be to anyone who is thinking about making the move to Thailand?
Buy medical insurance and always have enough cash for a ticket home should the shit hit the fan.
Where do you see yourself in the next 5 years?
Pretty much doing exactly as I'm doing now. I don't plan on doing anything different until I'm 50. At that point I'm off to relax at the beach, buy a dog and see where life takes me.
You best-est Thailand Travel Blog to follow?
I know you want me to say yours but you're a lazy twat and update once a week on a good week LOL so "a farang abroad" is out on this one… I really don't have a favourite, boring I know

Which one do you prefer, P4P, Thai dating sites or straight up approaching when it comes to meeting Thai women?
P4P is just business and yeah you can have a laugh and a good night out but at the end of the day the girls are there to work and earn a living. It is what it is. The two week millionaires who drop off their brains at left luggage and pick up a pair of blinkers upon landing dont see it for what it is. But I don't knock these guys. They have worked hard all year and put in the hours to save their cash to come and have a blast. They go home feeling great wee Lek thinks he is handsome and amazing in bed. Let them get on with it. If they are mug enough to send money for a sick buffalo and what not else thats not my problem. And there's no telling them anyway because the one they met is always "different".
I actually thought Thai dating sites would be a challenge but after an hour or two I realised its just too easy. And I'm not talking about hooking up with freelancers or gold diggers. Advance search is the way to go. No kids, stay in Bangkok, working or studying, live alone, etc. Too easy like many of the women you will meet. Plus lots of clingy stalkers… so be careful haha.
So I guess that leaves me with your third option but I wouldn't just pick out some random chick that caught my eye in a mall or on the skytrain and start hitting on her.
I know where you are going here but I don't think I'm gonna play. You want dirt and stories about my sexpolits.
Have you come across any troubles running Stickboy Bangkok?
Not really other than disgruntled managers and owners who don't take kindly to me saying what I see or know but its all via email and most people in the real world don't know who Stickboy is or what he looks like.
I like to call a spade a spade and all that sugar coating everything like 99% of Bangkok-centric websites do is living in fantasy land.
Mind you, they aren't being transparent about being paid for what they are writing and that is one thing that I hate. Tell the truth, if you are getting a payoff and a free meal to do a review just fucking say so. Good on you for getting business but to make out its anything other than it is to me is bad business practice and gives the site zero credibility.
What made you pick Bangkok over Phuket, Chiang Mai or Pattaya?
I just spent a month in Phuket – too many tourists for Stickboy, the roads are a nightmare with crazy drivers and without a bike or car its a pain to get around as public transport is almost nonexistent and taxis are just a bunch of robbing bastards. So you can keep Phuket. I'd much rather hop over toLangkawi where they have got their shit together so far as creating a tourist friendly getaway goes.
Pattaya is like Blackpool with hookers. I hate the place. In all my time in Thailand I've been twice. Once for an overnighter with a bunch of workmates most of which were woman so other than a a stroll through Walking St the trip didn't involve that side of what Pattaya has to offer. My second time there lasted ten minutes. Parked up, into a club to pick up an amp and then back to Bangkok. You can also keep Pattaya. Not for me.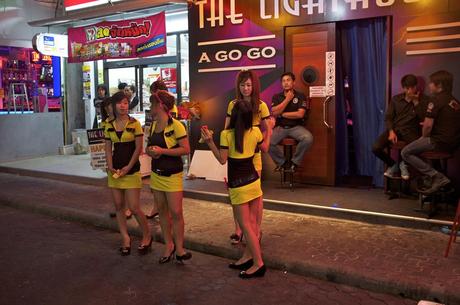 Chiang Mai. Nice but too many backpackers and hippies floating about. Its like KSR with nicer surroundings. Another pass from me.
I'm a Bangkok boy through and through.
Do you think you could beat up  AfarangAborad in a Burmese Street fight?
I wouldn't want my beer getting warm slapping you up and down Sukhumvit so I'd just pay Somchai and his brothers to do it for me.
Your best spot a beer, 'massage' and dinner in Bangkok?
I love drinking in those fairy light Thai bars as I call them down some back street or quiet road. Sitting next to Davie from Doncaster telling me how it all works here after 48 hours in the country is just mind numbing.
Massage is easy, I don't go and dinner, that would be Samboon Seafood near National Stadium BTS.
Stickboy can also be found on Twitter here: https://twitter.com/StickboyBangkok. Feel free to leave a comment below and if you would like to be interviewed on my website, send me a message. Hope you all enjoyed it!