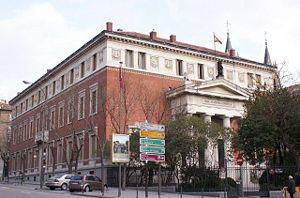 Real Academia Española's headquarters, in Madrid. (Photo credit: Wikipedia)
Learning Spanish language is fun; that is guarantee. In fact, it is too fun to the extent that students will be experiencing different things far too unusual to their own culture.
The experiences that students will have will really be memorable, especially when they go to a language school. There are arrangements and excursions that students will practice while they are under the school's program. Surely, when they learn Spanish at language school, they will experience more than just learning languages. The culture in itself is breath-taking.
Let's have a quick browse at the testimonials Spanish students had when they learned Spanish at a language school. These are in question and answer forms, and certain names of students are detailed, as its language site source specified.
Q: What have you learned from your experience in Spain?
"Spain has taught me to share, to wait, and to be patient." K. Dasilva
"Besides expanding my knowledge of the Spanish language, I've learned how to function out of my comfort zone – and love it." E. Miller
"So far, I've learned a lot of Spanish, and for the first time, I can hold a conversation. Also I've become much more open to the world outside the U.S."R. Abrams
"I've learned so many things that I couldn't possibly write them all down!" D. Eads
Q: What will your favorite memory be from this trip?
"My favorite memory from the trip will be Seville; this city has something "magical" that really got to me". K. Dasilva
"While it's difficult to pick out just one, I'd have to say exploring the Gaudi buildings in Barcelona." E. Miller
"…The last night in Madrid, when most of the group and all of the professors went out to dance at a salsa club together; I had a good time that night." R. Abrams
Q: When asked back home, how will you describe Spain in general, Madrid and Seville?
"It was a wonderful country offering different "cultures" and great architecture. Spain is a must-take trip!" K. Dasilva
"Madrid is very fast paced, kind of like New York. However, it is more beautiful. There is so much to do and see in Madrid. Seville is more laid back. The temperature is similar to Florida. Seville is very small, so you can walk almost everywhere." R. Goldman
"I loved the convenience of Madrid, but, despite the heat, I like Seville more, for its beauty and laid-back lifestyle." E. Miller
Q: What is your favorite Spanish food?
"Tortilla de patatas". D. Eads, R. Goldman, B. Langford
"Gazpacho" E. Miller
"Croquetas" M. Joseph
"Jamón Ibérico" C. Alkhal
Q: What is the biggest difference, in your opinion, between your life in the U.S. and here?
"Unfortunately Americans don't take 'siestas'!" E. Miller
"Food! I have never seen so much ham in my life". R. Goldman
"Air Conditioning!" R. Abrams
"Public transport and walking more (Spain) vs. cars (U.S.)" D. Eads
I'm sure you will be having more experiences that what students have been detailing here. Interested in learning Spanish language? Click about our Spanish language school learning section.