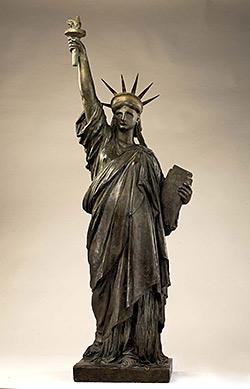 Frederic Auguste Bartholdi's Liberty
Question: Is American Art's Liberty sculpture one of the models made to raise money for the construction of the Statue of Liberty? If not, what is it?
Answer: The American Art Museum's sculpture Liberty is a model for Frederic Auguste Bartholdi's colossal sculpture Liberty Enlightening the World, more commonly known as the Statue of Liberty. Bartholdi made at least two terra cotta casts of this 4-foot model, which represents the sculptor's final design for Liberty. The sculptor or his assistants made the 4-foot model in his Paris studio in 1875. After measuring the model in hundreds of places, they created a 9-foot model, and from the 9-foot model they created a 36-foot model. The 36-foot model was divided into sections and each piece was enlarged until the full-size statue reached 151 feet from the top of the base to the torch.
American Art's cast came to the United States, and according to historian Edward L. Kallop, Jr., it was the sculpture that architect Richard Morris Hunt used in 1883 to display his various designs for the base of the statue. The model was exhibited in the U.S. Capitol Rotunda until around 1887 when it was transferred to the Smithsonian Institution.
The model in American Art's collection is not one of the reproductions made to raise money for the construction of the statue and its base. Although the Statue of Liberty was a gift from France, the United States was responsible for preparing the site and base of the statue. Bartholdi authorized the American Committee for the Statue of Liberty to produce and sell models. The tin statuettes came in three sizes and sold for one, five or ten dollars. Although Bartholdi held copyright and patents for the design of Liberty, unauthorized copies quickly appeared. The statuettes sold well but raised only a portion of the money needed. In addition to the reproductions, the American Committee raised money through subscription campaigns, amateur theater productions, art exhibitions, an illustrated book written by Bartholdi, and an appeal to Congress. Eventually they raised $300,000, enough to complete the project.
The Statue of Liberty was dedicated on October 28, 1886. Americans were already familiar with the image of Liberty from fundraising campaigns, newspaper reports and souvenir reproductions. The image of the Statue of Liberty spread throughout the United States and the world. You can see how artists, advertisers and the US Post Office have depicted the Statue of Liberty by searching the Smithsonian's Collection Search Center.
For additional information about the Statue of Liberty and its use in American art and culture, look for the exhibition catalog Liberty: The French-American Statues in Art and History, Yasmin Sabina Kahn's Enlightening the World: The Creation of the Statue of Liberty or the documentary Ken Burns' America: The Statue of Liberty at a library or bookstore.