This post is part of an ongoing series on Eye Level: "Q and Art," where American Art's Research department brings you interesting questions and answers about art and artists from our archive.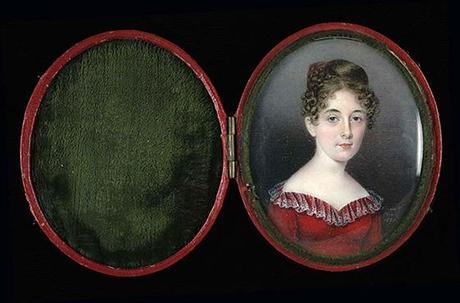 Woman in a Red Dress by Anna Claypoole Peale
Question: What can you tell me about the artist Anna Claypoole Peale?
Answer: Anna Claypoole Peale (1791-1878) was the first professional woman from her family of artists. She learned to draw and paint from her father, miniature portrait painter James Peale. Other artists in her family included her uncle Charles Willson Peale, cousins Rembrandt and Raphaelle Peale, and younger sisters Margaretta Angelica and Sarah Miriam Peale. Despite her influential family, it was Anna Claypoole's ambition and courage that led her to be a successful artist capable of financially supporting herself and her parents.
Peale sold her first paintings at age fourteen when she copied two works by French painter Claude-Joseph Vernet and submitted them to an auction. Around age sixteen she was apprenticed to her father and worked on the background and clothing details of his portraits. During Peale's time, women in her class were expected to remain at home and value privacy. However, anonymity was not an option for a portrait painter, and Peale advertised her name and address in exhibition catalogues. In 1811 she exhibited a still life at the Pennsylvania Academy of Fine art, and three years later she exhibited a group of three miniatures. Peale decided to specialize in painting miniatures, and by age twenty-six she was fulfilling numerous commissions from citizens of Philadelphia.
During her thirty year career, Peale traveled to Boston, Baltimore and New York to paint portraits. She also visited Washington D.C. with her uncle Charles Willson Peale for several months in 1818 and 1819. While in Washington, the two artists painted many important figures including President Monroe and General Andrew Jackson. In addition to many hours in the studio, their social engagements included breakfast with the president and receptions at the White House.
In 1829, Peale married Reverend William Staughton, moved away from Philadelphia and planned to give up painting. However, her husband died just a few months after the wedding. Peale soon returned to Philadelphia and to an active period of portrait painting. After her second marriage to Brigadier General William Duncan she stopped painting miniatures. Scholars believe she may have continued to make still life paintings, but little is known of these works.
Although her career was interrupted for marriage, Peale completed more than two hundred portraits. She developed her own style often painting with dark rich colors. Her portraits were praised for their accuracy, warmth and liveliness. She earned the respect of Charles Willson Peale who said that his niece attracted more commissions than he did. He also observed that she was required to raise her prices due to overwhelming demand. At times she had so much work to complete she suffered from inflamed eyes and fatigue. The portrait miniature declined in popularity around the same time as Anna Claypoole's career was ending, but she continues to be regarded as one of the leading miniaturists in the United States.
You can view portrait miniatures by Anna Claypoole and other Peale family members in the American Art Museum's Luce Foundation Center. Be sure to look for the portrait miniature by Claypoole's niece and student, Mary Anne Simes.
To read more about Anna Claypoole Peale and the Peale family look for the following book at a library or bookstore: Lillian B. Miller's The Peale Family: Creation of a Legacy 1770-1870.