The lovely
Natalia Kremen
, an artist with the
English National Ballet
, leads a busy and exciting life that many of us can only dream of. Within her busy schedule she managed to find a spare moment to endure a few Q&A.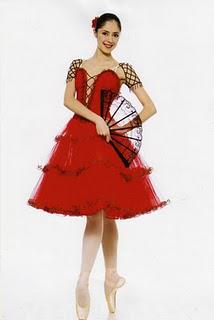 Ballerinablogger:
So you're a company member with the English National Ballet. How old were you when you first joined the company and what made you decide on that specific company?
Natalia:
 I am dancing with English National Ballet almost 5 years and my motivation to move here was quite simple. First of all I met my future husband David Makhateli ( Principal dancer with ROH) in London while I was on tour with my previous company, Stanislavsky and Nemirovich-Danchenko Moscow Music Theatre (where I was on soloist position). I audition to English National Ballet and Wayne offered me a permanent contract.
And second of all I always wanted to have much wider repertoire. I wanted to get opportunity to dance in ballets by MacMilan, Ashton, Nuriev, Lifar and other great choreographers.
Ballerinablogger:
At what age did you begin dancing?
Natalia:
About 7 and at the age of 10 I went to the Moscow Ballet Academy.
Ballerinablogger
: What are some of the roles you've played in the past? If you had to choose a favorite what would it be?
Natalia:
I have danced many soloist roles and I love them all. But the most inspiring and challenging for me was to dance with my husband David. After all his great partners like Darcey Bussell, Tamara Rojo, Nina Ananiashvili and others you want to be on the same level. My favourite is Giselle, Raymonda and the Romeo and Juliet pas de deux.
Ballerinablogger:
Do you have any tricks-of-the-trade regarding pointe shoes? Any specific techniques that you use to sew them or prepare them for a show?  
Natalia:
I danced for the long time in Grishko Shoes. Which I think are one the most elegant and beautiful pointe shoes. Later under various circumstances I had to change them to Bloch. Which fit my feet perfectly. But I am still representing the Grishko and dancing in their costumes and ballet clothes.
I don't have any specific techniques to sew them. Just breaking them in, making them soft in the specific parts and sewing them in my way, which I can't really describe.
Ballerinablogger:
How many hours a day/how many days a week do you dance?
Natalia:
For example, one of the last weeks which was very busy with the shows. It was around 7 hours (that includes ballet class) a day and 6 days a week.
Ballerinablogger:
What made you realize that you wanted to be a ballet dancer?
Natalia:
My father was a ballet dancer. Somehow he never wanted for me to follow in his foot steps. But I passed all the exams to enter the Moscow Ballet Academy very easily and all his friends from the ballet world said that we couldn't lose this chance and I have all facilities to become a ballet dancer. I was like a Bambi at that age. Looong legs and arms so I had to work twice as hard to put them all together.
Ballerinablogger:
Is balancing a full-time career and relationships/social life difficult?
Natalia:
I think all relationships are hard work. To create a happy family you have to work every day on it. We are working in the different companies so it means we have a different schedule and of course it's very difficult specially to plan our holidays or to dance together in galas. But it helps to keep our relations fresh.
Ballerinablogger:
Do you have any upcoming performances? If so, what is your role?
Natalia:
Next on schedule is Ballet Gala "Ave Maya" (Tribute to Maya Plisetskaya) which will take place in April, Athens, Greece. I am very much looking forward to share the stage with such a big Russian Legend and other great dancers.
Ballerinablogger:
What would your dream part be?
Natalia:
 I would choose the role of Manon or Tatiana (from Eugene Onegin)  
Ballerinablogger:
Do you have a pre-performance ritual that gets you in the zone for a show?  
Natalia:
Just trying to concentrate on the role and stay calm.  
Ballerinablogger:
What is the best piece of advice you could offer to aspiring dancers?  
Natalia:
Learn, research, watch, read and analyze all ballets, dancers, technique, ballet history and traditions.    
Thanks so much to Natalia! Here's a video of Natalia performing as Juliet with her husband as Romeo.      
Thanks for reading everybody!  
Ballerinablogger~