Chrismas Holidays bring families closer, brighten up our lives, bring hope and joy to all and bring out the little kid inside us all, who is just waiting for a present for him/ her.
Holiday time also brings out the pyjama wearing pigtailed girl from our past and as the winters get colder and the fireplace warms up, there is no shame in snuggling up in a little flannel set!
Yes, as many times as people might make fun of the pyjama sets or remind us how wearing a cute little squirrel or a dog on a tee is so high school if not younger, we might not care less about their views after we have slept, draped in those cozy flannel pieces.
So, here's to us and to these cute little night suits that have been as much a part of growing up and holidays as egg nog and ginger bread cookies. And for those of you who want to sex it up a little try the comfy pyjama shorts with a tank instead. Or get cozy in a cute little romper or capris!!!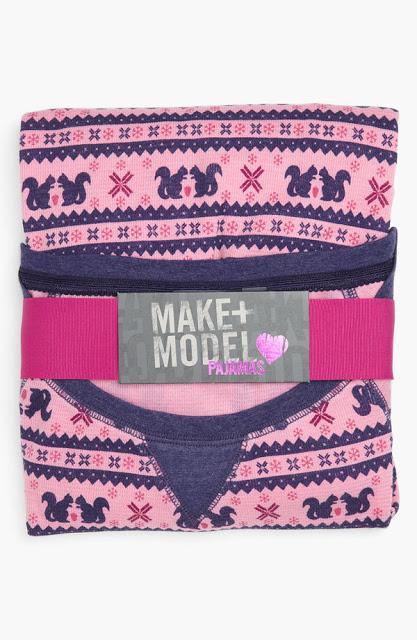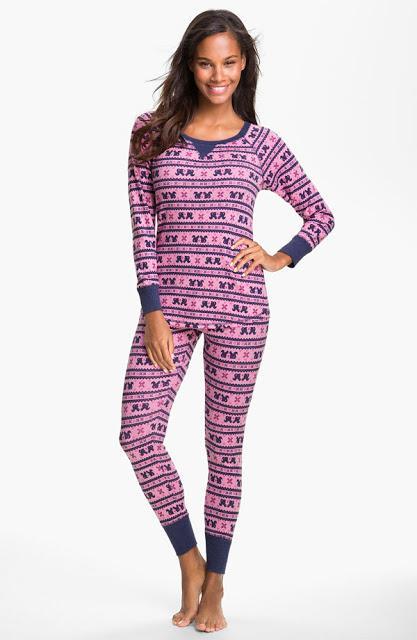 The above featured set is fron the Nordstrom Online store and is by Make + Model   In their own words- (from the Nordstrom Site)   Make + Model Pattern Thermal Pajamas Whimsically patterned thermal-knit pajamas are cut for a figure-skimming fit and finished with wide ribbed cuffs and contrasting topstitching.Pants have faux fly with elastic waistband. Approx. length from shoulder: 26".
Approx. inseam: 30".
Cotton/polyester; machine wash.
By Make + Model; imported.
Lingerie.
CAD 49.83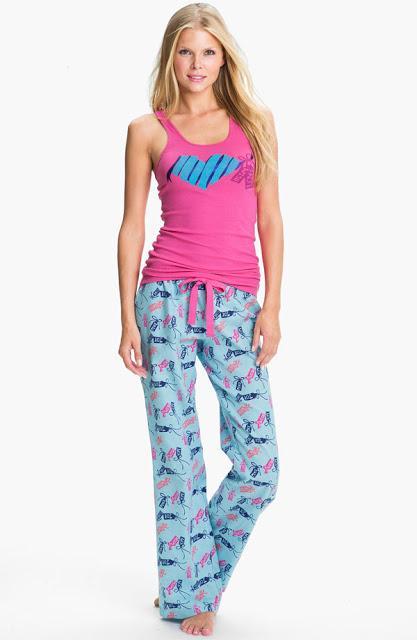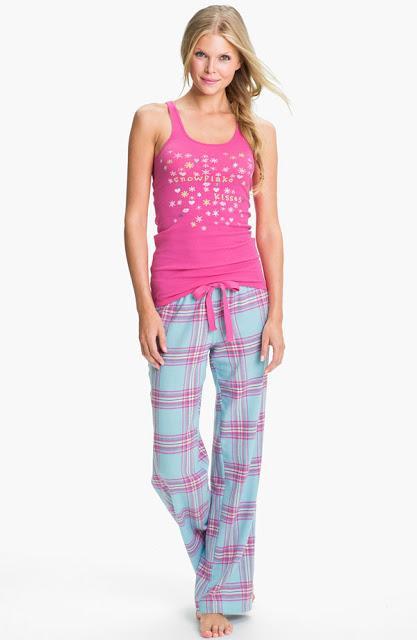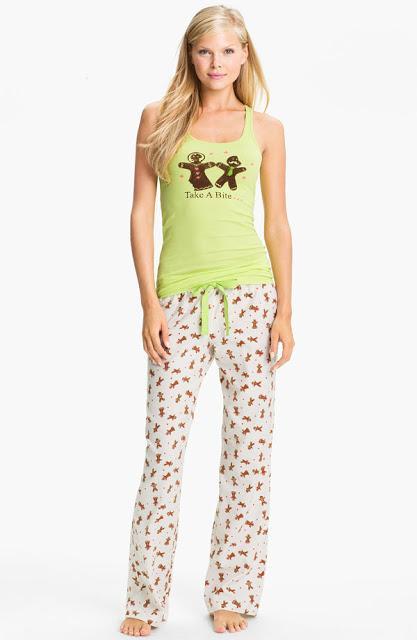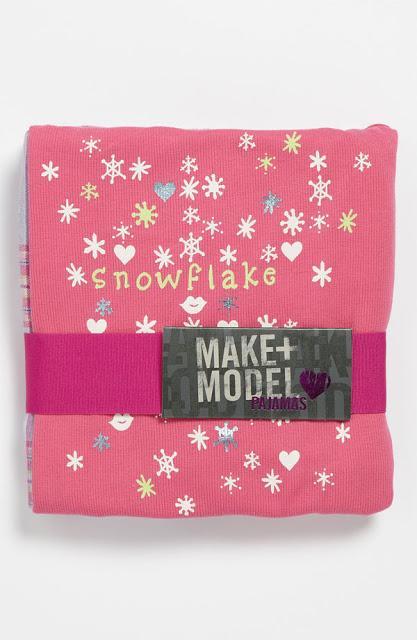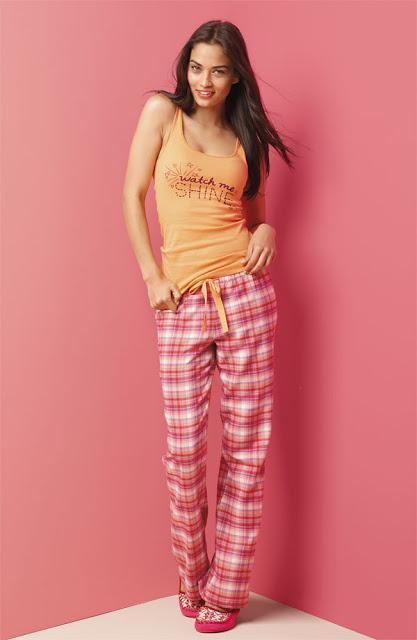 All of these above featured sets are again from the Nordstrom Store and are by Make+Model   In their own words- (from the Nordstrom Site)   Make + Model Flannel Pajamas Gift set Warm welcomes are guaranteed with a gift-ready pajama set of cozy flannel pants and a coordinating printed knit tank.Approx. length from shoulder: 27 1/2". Approx. inseam: 31".
Cotton/spandex/polyester; machine wash.
By Make + Model; imported.
Lingerie.
  Was: CAD 49.83 Now: CAD 39.45
20% OFF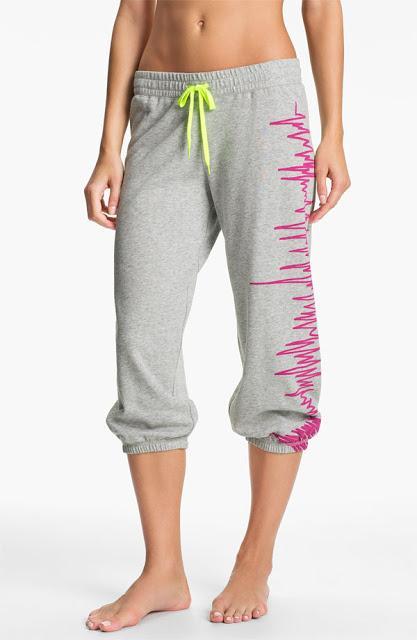 The romper and the capris are both by Steve Madden and are available at the Nordstrom Store   From the site itself- (product description taken from Nordstrom)   Steven Madden 'Mad Crazy Dreams' Romper Dream big in a logo script-emblazoned tank romper bloused with a drawstring at the elastic waist for an easy, lounge-ready fit.Approx. inseam: 1 3/4". Cotton/polyester; machine wash.
By Steve Madden; imported.
Lingerie.
  CAD 41.52     Steve Madden 'Heart Throb' Lounge Capris Fall in love with cozy, comfy capris with a playful pulse readout down one leg.Elastic-drawstring waist. Approx. inseam: 22".
Cotton/polyester; machine wash.
By Steve Madden; imported.
Lingerie.
CAD 45.67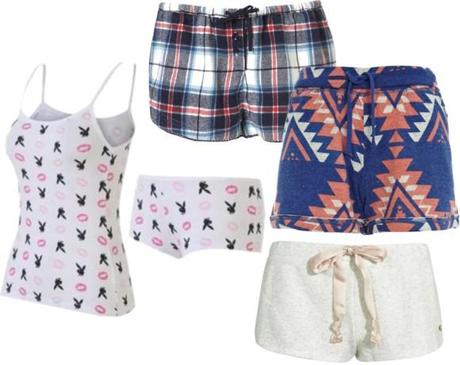 holiday brings out the pajamas in all of us! by stylescribbles featuring juicy couture




River Island printed shorts
19 CAD - riverisland.com



Juicy couture
72 CAD - harrods.com



Blue/Red Check Pyjama Shorts
24 CAD - topshop.com



White pajamas
sports-warehouse.net

   



All the pictures and product descriptions




taken from the

Nordstrom Online Store

and the set made on

polyvore