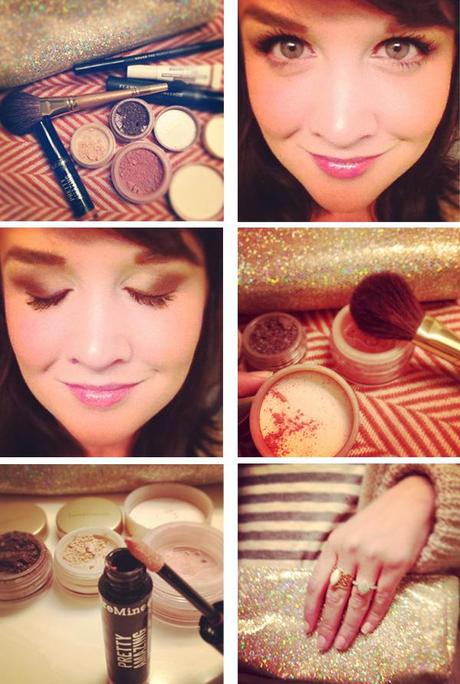 As you may or may not know—I moonlight as the resident Bare Escentuals expert over on the lovely site Beauty Bets. I love delivering the dish over at BB, but sometimes there are just so many great products coming out that I have to highlight a few of them here, as well. And such is the case with the Putting on the Glitz kit from Bare Escentuals. The dazzling 10-piece collection retails for $54.00 and is available exclusively through Sephora for holiday (which means it won't be available for long).
I spent yesterday playing with the entire kit—but if I'm being honest I've been sporting the eye-colors on the daily for the past few weeks. The kit is glorious.  I can't say enough about it. Do the pictures speak for themselves? I hope so. To keep this short and sweet (cuz I could literally ramble on forever) I'm going to break down what is in the kit—remember, you get all of this for $54.00, but I'm going to put the "cost" of the product next to it so you can get an idea of the value:
Prime Time Primer Shadow in Toasted Almond ($18.00)- Acts as a fabulous base for your eyeshadow—helps it last all day and all night but these new "primer shadows" also offer some color and sparkle.You can wear them completely alone (fast and easy) or layer them with shadows for a dramatic look.
Glitz Eyecolor ($13.00)- This color appears really sparkly in the container (seriously I could just stare at it) but when its buffed on it goes pretty matte—which is 100% okay with me. It offers the most beautiful plum smoky eye of all time.
Glamtastic Eyecolor ($13.00)- This fabulous neutral shade offers a great base or brow highlight. Again, it is very matte but does an amazing job of brightening up the eye area.
Round the Clock Waterproof Eyeliner in 5pm ($14.00)- It is unreal how "waterproof" this pencil liner actually is. I'm not super excited about having to purchase a pencil sharpener (doesn't twist, no sharpener attached) but the color is fabulous and the staying power is impressive.
Flawless Definition Volumizing Mascara ($18.00)- Any mascara made my Bare Escentuals gets my thumbs up! I'll admit, I'm not going to switch from their Buxom Lash to this Volumizing formula permanently, but it's an amazing mascara and you can definitely notice it's volumizing properties.
Gorgeous Blush ($18.00)- Pretty, petunia pink that gives you just enough color without being overwhelming.
Luxe Radiance All-Over Face Color ($18.00)- Radiances are my best friend. A lot of people skip over them—but you shouldn't. You know when you see someone who literally looks like they are radiated a healthy glow? This is what that product does. Blush gives your cheeks a bit of color, and radiance goes over the top to provide that "glow". Buff it into the apples of your cheeks and other high points of your face to highlight.
Pretty Amazing Lipgloss in Perky ($16.00)- I like to describe the Pretty Amazings as a hybrid between gloss and lipstick. It goes on like a gloss, but has the opaque finish of a lipstick. Either way, this color is by far my favorite and is only available in this kit.
You also get:
Luxe Cheek & Eye Brush ($24.00)- Who doesn't need more brushes? And this one is amazing. I don't know what it is made out of but it is by far the softest brush in my collection. It has an all-purpose blush brush on one end and the crease defining eyeshadow brush on the other. The crease defining brush is my all time favorite brush for making a smoky eye. It makes it absolutely effortless and blends it perfectly every. single. time.
Sparkling Clutch ($8.00? lets pretend)- Trust me, this bag is so cute that you will never want to pack it full of your makeup. Mine is totally acting as my clutch on New Year's Eve.
The values listed by the products merely represent the cost of the product if you bought it individually in the store. As you can see the kit is a tremendous value (it would cost over $160.00 separately) and rest assured, everything in this kit is full-sized. Putting on the Glitz definitely gets my vote as this year's holiday kit of choice. You can purchase it from Sephora right here (shipping is FREE). Questions? Feel free to post or send them my way: [email protected]