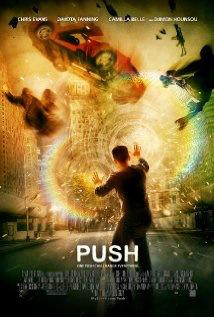 Director: Paul McGuigan
Writer: David Bourla (Screenplay)
Starring: Dakota Fanning, Camilla Belle, Chris Evans, Djimon Hounsou, Cliff Curtis
Plot: Two young Americans with special abilities must race to find a girl in Hong Kong before a shadowy government organization called Division does.
There may be spoilers the rest of the review
Verdict: Invisible Super Powers Yay
Story: Push starts by going back in time 10 years where we meet a young Nick who is on the run with his father who gives him a message about his future. Nick will be given a flower by a girl and he will have to help her. Nick's father is killed by a group called division lead by Henry Carver (Hounsou). Now we get to hear about how the world is filled with people with different abilities from Cassie Holmes (Fanning) who is a watcher someone who can see the future. We learn how the people are being studied to be turned into weapons to be used in war. We end up seeing an experiment on Kira (Belle) who is the first person to survive the tests only for her to escape.
Oh god another time lapse, 2 days from now, we meet grown up Nick (Evans) who is trying to use his abilities to cheat on illegal street gambling but rather unsuccessfully. Nick isn't having the best day because after losing his gambling he gets a visit from Division who are looking for someone before Cassie comes along to confuse his life by offering him a chance to get $6 million. Nick finds himself becoming the center of attention when a third party are also after him.
We see how Kira is what everyone is after as she learns to how her powers are getting more powerful, we watch how the unlikely couple Nick and Cassie start searching for her, while Carver is also looking for her. Nick, Kira and Cassie must team up with people they can trust to take down Division once and for all.
Push is a film that tries to capture what 'Heroes' had in its story but really doesn't reach the same levels. We problem I found was with the very generic and boring characters that just seem to join the fight like you would expect. The only good idea the film has is that we have many different powers that multiple people actually have. The story doesn't really go too far because we end up seeing the old reluctant hero team up with soldier before making it his mission to get revenge for his own father's death. We get it, it is easy to put together but does it really come off original? No, shame we didn't get that this time around. (5/10)
Actor Review
Chris Evans: Nick Gant a man with the ability to move thing with his mind, he has been keeping under the radar while Division has been after him. Nick teams up with Cassie and Kira to try and take down division once and for all. Chris shows that he could end up leading an action film but that he needs to be able to bounce off the supporting cast. (7/10)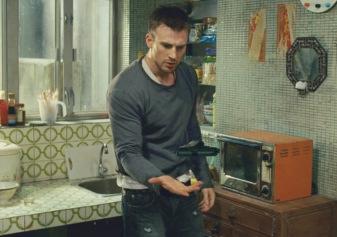 Dakota Fanning: Cassie Holmes is a 13 year old who has the ability to see the future, she sees a way to find a suitcase that could end the war once and for all, leading her to team up with Nick. Dakota showed that she was still a rising star here but doesn't shine like previous films. (6/10)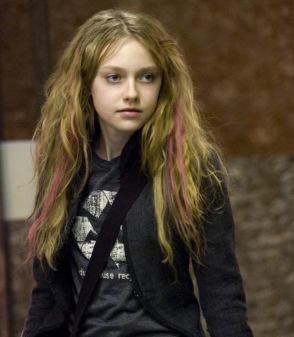 Camilla Belle: Kira Hudson is the girl everyone is after because she has been given a power boost making her the only one to have survived the treatment. Camilla really was the weak link in this film, she constantly looked out of place and really disappoints. (2/10)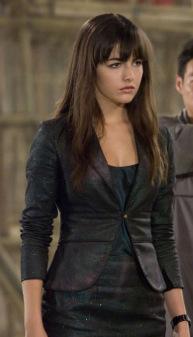 Djimon Hounsou: Henry Carver is the leader of division who is hunting down the people with abilities but has taken a big interest in Kira. Djimon does a solid job in the lead villain role but doesn't have too much to work with. (6/10)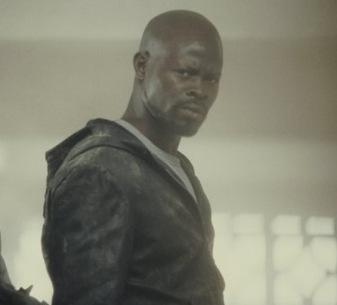 Support Cast: Push has a support cast of friends and foes each with their own ability which does work for the story showing us just how many people have the skills.
Director Review: Paul McGuigan – Paul does a solid job with the film saving the best action scene for the finale but nothing to original leading up to it. (5/10)
Action: Push has very basic action scene until we get to the end. (5/10)
Sci-Fi: Push enters us into a world with super powers nicely without it being any different than our own. (7/10)
Thriller: Push tries to keep you guess but never truly pulls you in. (5/10)
Settings: Push uses the busy streets of Hong Kong for its setting making it feel like all the action is tight together. (7/10)
Special Effects: Push doesn't really uses too many special effects as it tries to make you believe these powers don't need them. (5/10)
Suggestion: Push is one to try, don't think it will be special just enjoy it. (Try It)
Best Part: Final Action sequence.
Worst Part: Camilla Belle.
Action Scene Of The Film: Final scene
Believability: No (0/10)
Chances of Tears: No (0/10)
Chances of Sequel: Nope
Post Credits Scene: No
Similar Too: Heroes TV show
Oscar Chances: No
Box Office: $49 Million
Budget: $38 Million
Runtime: 1 Hour 51 Minutes
Tagline: One push can change everything.
Overall: Push is an action film that saves too much action for one sequences and tries to throw in twists too often.
Rating