Its guest blog time - and our friends at First World Failure came back with this...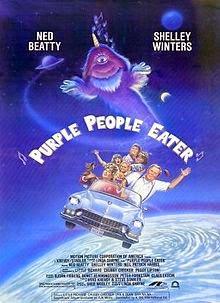 The year was 1988. I wasn't old enough to watch PG-13 movies. Neil Patrick Harris wasn't the household name "Dougie Howser M.D." Dustin Diamond wasn't Screech in "Saved By the Bell." Throw in a post-Deliverance, pre-HomicideNed Beatty, Little Richard, and an oversized muppet that will give you nightmares, and what do you get? The movie inspired by the 1958 novelty song, "Purple People Eater."
Purple People Eater
is billed as sci-fi, comedy, family film and was written and directed by Linda Shayne. You may know Linda better from such roles as "band member" in Munchie and "Bootsie Goodhead" in Screwballs (which she also wrote). What I'm saying is, when studio execs wondered who they could trust with such a radical idea, they got the best.
This is Billy. He collects stray animals, which is important to remember because when he sees a huge space alien his first thought isn't "BURN IT WITH FIRE!" it's "yeah, you should come live in my garage."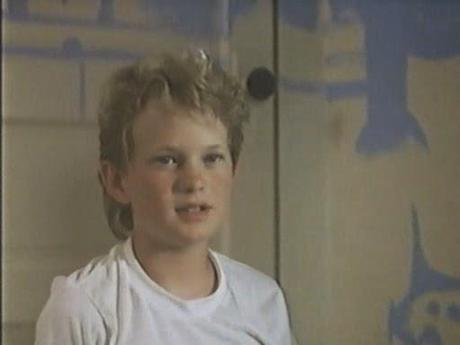 Billy is being taken care of by his Grandfather this summer, and Grandpa isn't what we call "competent." Veiled in the guise of seizing the day, Grandpa dupes Billy into helping him paint his apartment.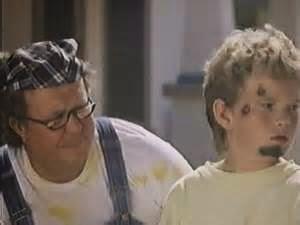 What Grandpa doesn't have in children supervising skills or money, he makes up for in old records. One night, Billy plays Sheb Wooley's only hit, and the Purple People Eater appears from outer space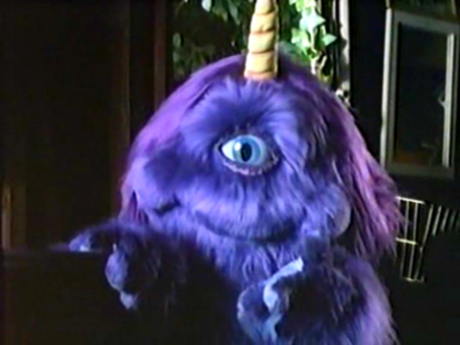 Instead of running for help, Billy's all "move in to my garage. My parents are gone for the summer."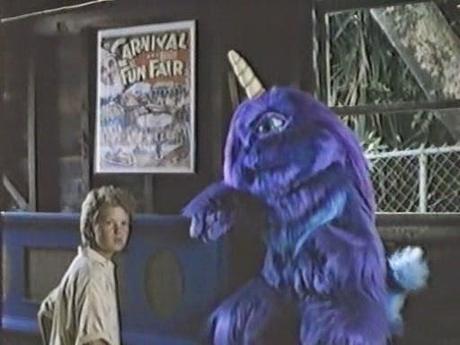 When Gramps finds out, he's not the least bit alarmed. He's all, "You should start a band with the space alien. Don't worry about being EATEN." 
Is anyone else noticing the HUGE plot holes in this movie? Over Billy's right shoulder? That's Screech.
Also, perhaps the Purple People Eater is an allegory for how we exploit immigrant workers in this country. Yes, Linda Shayne was way ahead of her time.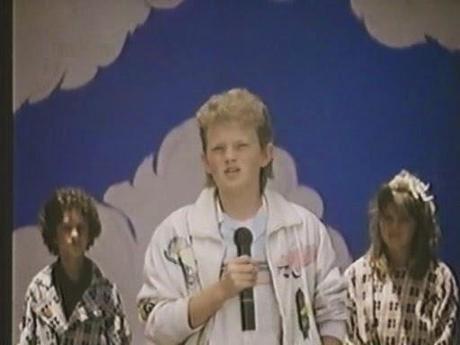 Billy, unaware that he's letting aliens take all the good jobs from American band members, plays with his new band all over town. It should be noted that their first gig is a wedding and nobody is put out that an alien who plays music through his horn is taking center stage. Then again, Chubby Checker was there...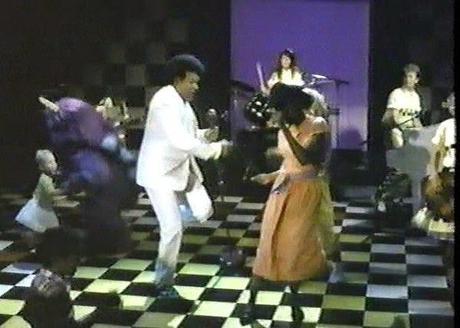 Really? Nobody is worried that young Thora Birch is going to be murdered by a Purple People Eater? Oh, the main antagonist is a landlord named Mr. Noodle? Sure, sounds plausible.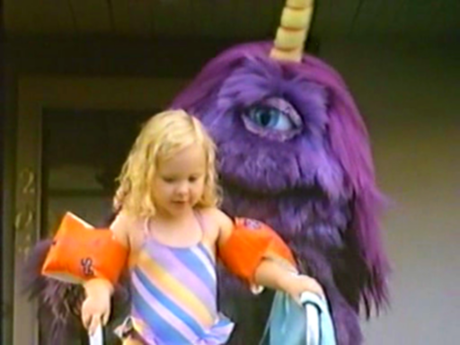 Gramps has a bee in his bonnet because Mr. Noodle is selling his apartment building and all the old people will need to find a new home! Could someone introduce him to the computer and show him what Craigslist is? Problem solved. There's about 50 minutes you can cut from this movie. 
Guess it's easy to get the laws changed and save Grandpa's apartment when Little Richard is the mayor. Way to fight against GREED Billy!
And the townspeople still refuse to treat the monster from outer space as the threat he is because he can play music and hasn't eating anyone yet. A likely story.
 


This movie has a 63% positive rating on Rotten Tomatoes, which can only mean that 63% of people are idiots. 


Remember, "like" our page on Facebook for updates and for a safe place to discuss your own craptastic movie choices.
And to follow my random adventures, follow me on Twitter.