Nowadays we can't underestimate the importance of customer support in any kind of business. We have to provide reliable customer support in order to solve our customer queries and problems so that we can build trust.
And especially in an online business, we should provide live chat support to our visitors so that it can solve their queries right away. If you're one of them who is not offering live chat support to your visitors then you're missing out some great leads and sales as well.
Live chat feature not only solves your visitor's queries but it also helps you in engaging your visitors to your services and products. And this simple strategy can help you in getting more sales and leads.
Don't worry here we are going to introduce a legitimate Live Chat Software that you and your visitors will love.
Here in this post, we have featured PureChat Review 2019 that includes all the detailed insights about its pricing, features and more. Let's get started here.
PureChat Review 2019: A Free Live Chat Solution
About PureChat
PureChat is powerful live chat software that designed to add live chat functionality to any website. Basically, it is created to help organizations to have better conversations right with their website visitors at the moment when it is actually needed the most.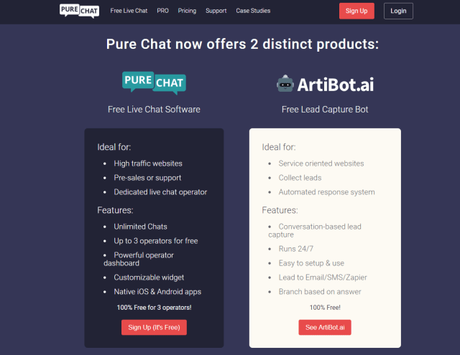 Here they generally eliminate the per operator costs and chats limits to ensure that your entire team can easily leverage the power of live chat. The best part about this software is that it easily integrates with many website manage2ment platforms including WordPress, Squarespace, Shopify, and Joomla.
This software is strictly focused on live chat and it allows business to simply connect their online audience. PureChat is for both customer as well as the agents and it also includes many customizations so that it can match the look and feel of your brand.
And the best part about this tool is that it offers KPI tracking and monitors tools right for administrations in order to have a business overview at all times. Here this tool offers a limited free version along with the pro version as well. Actually, they are offering a two-tiered service plan, here both tiers are offering features like unlimited chats, branded widgets, and one-year limited or unlimited chat transcripts histories as well.
Key Features
Actually, they are offering free and well as the paid plans for its users. And here I'll be discussing the features of free as well as the pro plans too.
Free Plan Features:
Pro Plan Features:
How Does PureChat Works?
The working of this software is straightforward. You can simply use this software in order to have conversations right with your website visitors and uncover additional details through the real-time analytics and contact history.
Using these two tools you can get insights into the traffic trends, user experience, marketing campaign effectiveness and more. And also you can use this information to simply identify promising leads and then you can use the visitors alerts features and triggered-based chat functionality in order get to monetize your prospects that will results in increased sales right for your business.
Why You Should Choose PureChat?
You can simply increase sales and customer happiness right with PureChat. Here the pro plan is ideal for the advanced sales and marketing teams. Let's find out why you should choose PureChat over other plans:
Integrated Solution: A full features live chat product that generally incorporates all the real-time visitor's analytics and contact history as well.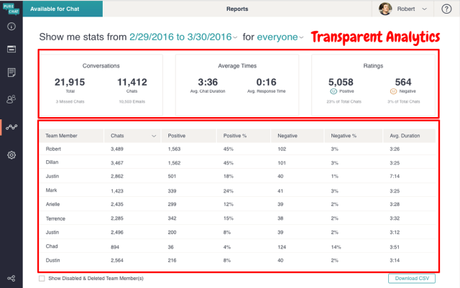 Value: Just improve your bottom line with the real-time sales support right without per user or per contact nickel and diming as well.
Transparency: This platform is fully transparent and you need not worry about anything else. And also when your organization grows there will be no hike in their pricing and that's quite impressive.
Customization: Live Chat is like an extension to your brand that will have complete control over how will your chat widget look on your website. You can easily customize each and everything of your widget so that you can match the look and feel of your website.

30 Days Money Back Guarantee- The best of all here if you don't like its services then you can claim your money back. As they are offering 30 Days money back guarantee right for you.
Support: PureChat offers reliable customer support for you and when you 'll need them they will be there for you. They have a dedicated team that can provide high-quality support for you.
Pricing Plans:
As I have mentioned earlier PreChat offers LiveChat for free. But they also have much than just Live Chat. They are offering too many flexible and advanced features right for you. Let me discuss its pricing plans.
The is free plans that will offer some limited features but if you want to get more functionalities then you should choose the pro plan. The Pro Plan generally comes at $79/Month (When You Choose The Yearly Plan). In the pro plan you will get more features and functionalities and also all of the free features are also included.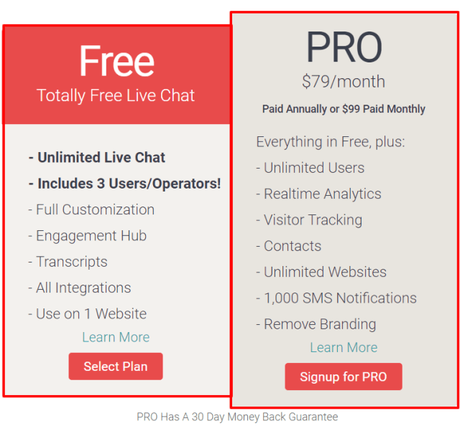 1)Free ($0/Month)
Pro Plan ($79/Month):
Here all of the free plans features also included.
Customer Support
Right with PureChat you don't have to worry about customer support as they offer reliable customer support right for its customers. And if you're new who requires step by step installation guide then they also offer these installation guide for you.
They also offer video tutorial for its users so that one can easily familiar with this platform without wasting any time. You can contact them 24/7 whenever you want they have a dedicated team of professionals who can help you out from any situation. So, you don't have to worry about its customer support.
Quick Links:
Conclusion: PureChat Review 2019
PureChat is one of the powerful live chat software that can help you in adding live chat functionalities to your website. They have powerful features that you can use in order to provide reliable live chat support to your visitors and get more leads and sales. PureChat comes with a free plan but if you want extra features then you should get started with their Pro Plan.
The best part about PureChat is that it offers 30 Days Money Guarantee. Somehow if you're not satisfied with its services then you can get your money back. So, what are waiting for, just make a move and get started with PureChat now.
We hope this PureChat Review suits your purpose well. Feel free to tell us which live chat software you use, leave a comment in the comment section below. If you do like the post, then make sure you share this post on any social media platform of your choice like Facebook, Twitter, and LinkedIn.