I consider myself quite clever and switched on when it comes to financial reporting.  A few years ago I went through a very painful experience of watching my global employer literally meltdown in a multi-million dollar collapse.  I felt that if I had been able to understand the signs from the information I had access to I could have avoided the day when I left the building with my cardboard box under my arm and signing on with the DSS.  So I enrolled in the ACCA Financial Management course, a two-year part-time study that took in elements of Risk Management and Regulatory requirements (go on just ask me about the finer details of Sarbanes-Oxley Act 2002, section 404) so next time I would be older and wiser.
I scraped through the exams and coursework, gaining 51% overall, with a pass mark required of 50% and thus gained one of the highest financial qualifications you could get without being an auditor or an account. Never again would I be embarrassed in picking up a financial statement or annual report and not knowing what unliquidated damages were, or the difference between amortization and depreciation.  That was until I met Kieron O'Connor.
Kieron is possibly the most influential writer in the world of football on its finances.  To the thousands (18,216 to be precise as of 10am today) he is better known as The Swiss Ramble.  He is an award winning writer (as opposed to a blogger) who has been mentioned as one of the most authoritative sources of financial analysis by none other than Liverpool owner John W Henry, who described him via his Twitter feed as "Consistently remarkable, excellent analyses on the business of football".  He is frequently featured in the Independent and The Guardian Football Weekly and to top off a fine year last weekend he was voted the Best Blogger of the Year by the Football Supporters Federation at their annual awards.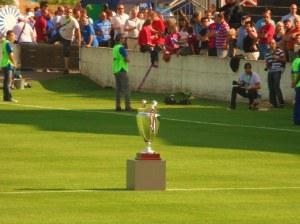 What relevance does this all have.  Well, Kieron is also a top chap and great company.  Living in Zürich sort of precludes him from our normal regular meet ups but when the opportunity arises he is as keen as mustard for a game in a random part of the countryside.  As luck would have it (and I genuinely mean that) a work trip to Zürich coincided with the Uhren Cup.  What do you mean you have never heard of it?  It is in its 50th year and includes two Swiss teams and two from elsewhere in Europe.  Each team plays two games and the winner is the one with the best record.  This year the teams invited were Young Boys Berne, FC Basel, Hertha Berlin and West Ham United.  Unbelievable Jeff.  My club playing just short hop on a train from Zürich.
So after paying an incredible €72 for a 70km return train ticket to the village of Grenchen I met up with Kieron on the train and we got stuck into the conversation about all things football.  Second co-incidence of the night – one of Kieron's previous bosses was actually my boss now and he outlined in detail how he ended up inspecting football's finances in such detail.  But it is not all about football.  A random trivia fact he threw at me was that his hand was once stood on three times by Bono at a gig at the LSE just before the band became famous (he did confirm he has washed it since).
The train rolled along the Swiss valleys, with the Alps to the north before it pulled into a small station and we were greeted by the sound of Bubbles drifting from the stadium down the road.  This was to be Sam Allardyce's first game in charge of the Hammers.  For someone who has been so outspoken about the way the club has been run in the past eighteen months I have kept my silence on his appointment for the fear that when I lift the lid I will not be able to stop my anger spilling over.  So for now let's just say I am not an Allardyce fan.
Supporters of all four teams were milling around, and after paying our 32CHF (£25)  to get in we thought at least we could grab a beer. Wrong.  The beer was very clearly "Kein Alcohol".  As if to thwart any thirsty fans strategy for an outside pit stop the stadium announcer came over the speakers and said:-
"If you leave the stadium to get beer you will have to pay to come back in again.  Hahaha" We specifically loved the Swiss humour at the end.
Previous winners of the Uhren Cup had included VfB Stuttgart, Shaktar Donestk and Ipswich Town, although it has been won by a Swiss team on over 35 occasions in its half century.  And based on the team that "Big Sam" (who ironically didn't move from the bench in the whole game) there was little suggestion that West Ham were going to add their name to the foreign winners.
Young Boys Berne 2 West Ham United 1 – Stadion Brühl, Grenchen – Monday 11th July 2011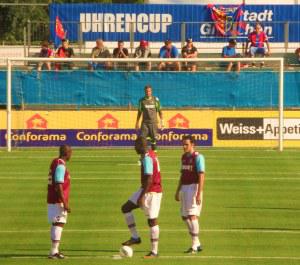 It was with a mixture of cheer and desperation to see the team Allardyce had put out.  Pre-season tournaments are designed to test out new players and formations so there was no surprise there were a couple of trialists lining up alongside new signing Abdoulaye Faye at the back. In midfield the very promising George Moncur, looking so much like his Dad John in terms of his style of play, and Cristian Montano were their to remind everyone that the "Academy" is still very alive and kicking. What was disappointing was seeing Luis Boa Morte not only starting but captaining the side as well as want away and Lazio target Julian Faubert at full back.  YB Berne, coached by former Spurs manager Christian Gross put out a strong team that featured such stars of the recent UEFA Under21′s team that reached the European Championship final as Costanzo and Affolter.  They had also been in pre-season for over a month and from the first whistle looked the stronger of the two teams.
In fact as early as the second minute they should have been ahead when the very impressive Degen literally wandered through the middle of the Hammers defence and fired in a low shot that Ruud Boffin did very well to save.  The couple of hundred West Ham fans in the stadium breathed out a sigh of relief but if they thought it would improve they were left disappointed.  As the almost customary flags from Upminster and South Benfleet fluttered in the wind, and half a dozen or so parachutists slowly glided down to earth behind the stadium YB Berne took the lead.  Schneuwly found himself in acres of space and had time to pick his spot in the corner of the net.  The sound system blasted out a disco version of "We all love Young Boys" which those crazy Swiss sang along to whilst the West Ham fans pretended to look at their phones.
In pre-season all teams have hope abound and amazingly just four minutes later it would be "Bubbles" streaming out of the speakers as Nouble powerfully headed home a Sears cross.  Game on.  We were going to win the league.
Just before half time I felt a bit peckish.  I saw numerous people wandering across the terrace with a single slice of brown bread with a dollop of mustard on, holding a white bag.  Not one to offend Kieron with my ignorance I decided that such a delicacy must be a staple in the mountains where meat was at a premium.  Eventually I asked him why, and he explained that in the bag was a sausage, and the intricacies of the bite, dip, dollop, wipe process you had to go through. Far too complicated for my English head.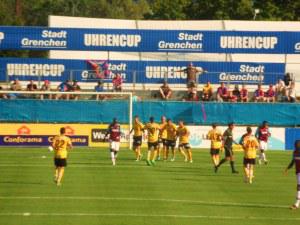 Thirty seven minutes gone and Berne restored their lead as Affolter scored again unchallenged in the area.  Worrying defensive times indeed.  So much so that at half time off came Faubert, Faye and Jordan Brown at the back with James Tompkins and Illunga coming on to add some experience.
The second half failed to excite even the most placid Swiss man.  Star of the show was Belgian Ruud Boffin in the Hammers goal who pulled off a number of excellent saves including one from close range from Mayuka who was left scratching his head as to how he missed.  It was hard to pull many other positives out of the game.  The sun shone, the setting was picturesque and after all it was only the first pre-season game.  It's not like they have more tough games coming up right?  Only FC Basel and Danish Champions FC Copenhagen in the next ten days.
With ten minutes to go the noise levels outside the stadium started to rise.  Marching down the road came the two thousand bare-chested FC Basel fans who had been shipped in on an old fashion football special. They fancied their chances against a Hertha Berlin team who were preparing for their return to the Bundesliga and featuring an ex-Hammer with Radoslav Kovac, whose absence from London meant we would lose a chance to see his wife in the stands at Upton Park.
Hertha Berlin 0 FC Basel 3
Game two was even more one-sided than the West Ham game as the Swiss's impressive pre-season form continued with an easy win over the Germans.  Both sides appeared to put out strong line ups with the Swiss including Under21 star Yann Sommer in goal and veteran Alex Frei up front.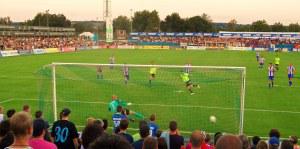 The only surprise is that it took over thirty five minutes for them to go ahead when Alex Frei smashed the ball home from the penalty spot after Streller had been needlessly brought down by the Hertha keeper when running the ball wide.  So what musical treat did we have in store for the goal.  None other than a blast of "Simply the Best" by Tina Turner.  They don't do half measures here in the Swiss Alps I can tell you.
One became two just before the interval as Frei volleyed home at the far post.  The ex-Swiss internationals, with a very impressive goal ever other game ratio on the highest stage looked sharper than he had in previous years.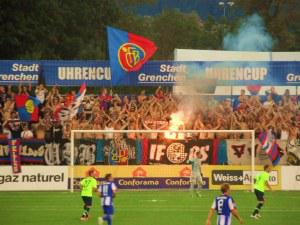 In the second the Swiss stepped up a gear by bringing on a few substitutes including the highly rated, and talked about Shaqiri as well as other Under21 stars Fabian Frei and Granit Xhaka.  But it was the elder Frei who stole the show with his third goal in the 53rd minute when the Hertha defence simply couldn't clear the ball.
The Basel fans responded with a couple of flares which had the locals tutting in distaste but it was all good, harmless fun.  Over 8,200 had squeezed into the ground for the second game and with just a tiny little station to try to get them all away at full time we headed off with ten minutes to go.
A thoroughly enjoyable evening all told, sampling the culture of the Swiss highlands with one of the modern genius' of the game today.  And it was only Monday.  Roll on the rest of the week!
You can follow Kieron on Twitter here and visit his excellent website here.
For more pictures from the evening head on over here.