Image source:bbc.co.uk
Looking for a different way to donate to Children In Need this year?
After years of donning an eye patch and a garish yellow getup, Pudsey bear has been given a luxury fashion makeover. This year, a number of British designers have been given a charity challenge to create a posh Pudsey bear in their own signature style. Several well known designers have stepped up to the challenge including Louis Vuitton, Mulberry, Giles Deacon and Pringle.
Bow ties, plaid and fancy florals are just a few of the trends that Pudsey will be sporting. Those looking to take away a piece of fashion history can pick up a trendy teddy by bidding for their favorite design on Ebay. Always a sucker for shiny things, my favorite teddy from the couture collection is Giles Deacon's lovely silver leather bear.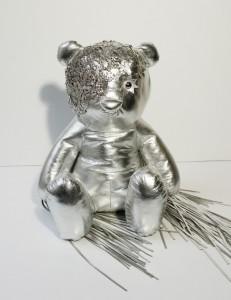 Which is your favorite posh Pudsey bear? You have until 19th November to get involved in the auction.
Happy Bidding! x.x.x