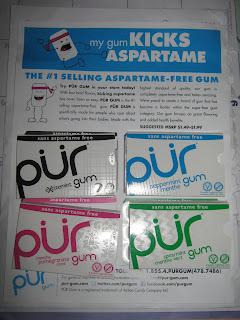 Pur Gum
contains no aspartame, it's vegan and glutten free, dairy free, diabetic friendly, and nut free. The fact that it contains no aspartame was a plus for me, I can't stand that 'aspartame-y' taste that sugar free products usually have. Another plus is that it contains no dairy, both my mother and brother are lactose intolerant!
Pur Gum comes in 4 flavours, Pomegranate Mint, Peppermint, Excitement, and Spearmint. My favorites were the Spearmint and Peppermint, my brother had to try them all asap, what kid doesn't love gum? He loved them all, of course but his favorites were also the Spearmint and Peppermint. The flavours were all very good!
If you are vegan or diabetic, or can't eat glutten, dairy, or nuts I highly suggest you check out Pur Gum, you won't be disappointed!
You can check out the
Pur Gum
 website to find an online retailer or find a retailer near you! Don't forget to follow them on facebook and twitter!
*I received product in exchange for an honest review, all opinions stated are 100% my own.*