Crisp patties stuffed with spicy potato and pea filling
Samosa is a popular street food or snack of Northern India. Samosas from Punjab are very popular and special for their big size and their authentic flavor.
There are many variety of filling  which can be used to stuff in the samosa ,you can be experimental and creative to make many different types of samosas but nothing can beat the taste of original Punjabi style of potato samosa.Though every state and house hold have their special touch and version of the filling.
The main specialty of Punjabi samosa is the use of fresh roasted spices in the potato filling and the big, crisp and flaky samosa.
I have already posted the-
Cauliflower and lentil samosa recipe
and an quick version of samosa-
Potato Spiral pinwheels
You can also add raisins and cashew nuts to make it rich for special occasion. The main trick to make crisp samosas is to add perfect amount of oil or ghee /moyan to make the dough and the dough should be firm so it will easily hold the shape and you can easily stuff it and the fried samosas will remain crisp for a long time.If you make soft dough then you will not get so crisp samosas.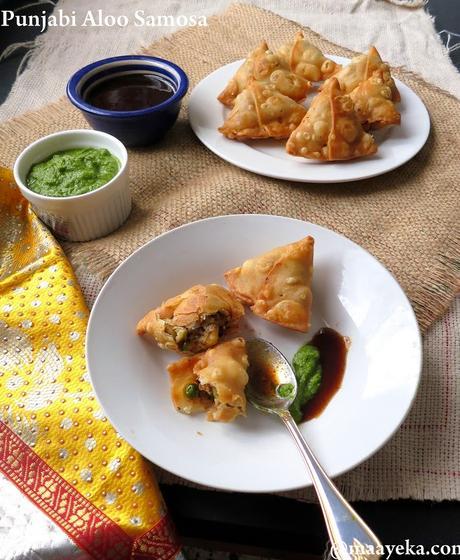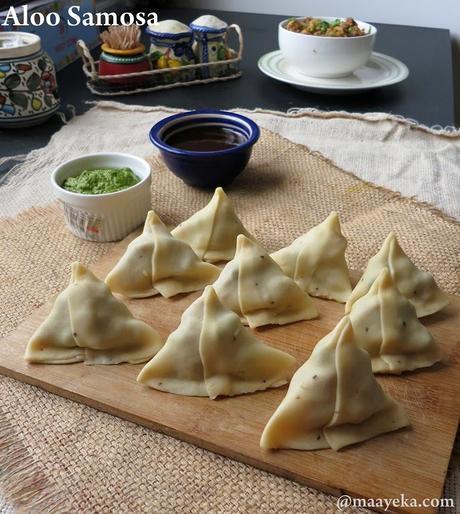 Prep time-40 min
Cooking time-40 min
Difficulty level-medium
Spice level-medium
Cuisine-North Indian,Punjabi food
Type- snack,street food,starter
Serve-8
INGREDIENTS-
For the samosa pastry dough-
Refined flour /maida - 2 cup/325 gms
Cooking oil or ghee - 4 tbsp
Lemon juice- 1/4 tsp
Carom seeds/ajwain- 1/4 tsp
Salt - to taste
Potato filling-
Boiled potatoes- 5 medium
Boiled green peas- 3/4 cup
Green chilies,chopped- 1tsp
Ginger,grated- 1.5 tsp
Cooking oil- 2.5 tsp
Cumin seeds- 1tsp
Red chili powder- 1.5 tsp
Mango powder- 1.5 tsp
Coriander powder- 1tsp
Garam masala- 1/4 tsp
Salt- to taste
Fresh coriander.chopped- 3 tbsp
Dry roast
Whole coriander seeds /sabut dhaniya- 1tbsp
Dry pomegranate seeds /anardana - 1.5 tsp
Cumin seeds /jeera - 1/4 tsp
PROCEDURE-For the stuffing-
Dry roast coriander seeds, anardana and cumin and crush them coarsly.
Peel and mash potatoes roughly,don't make a paste,
Heat oil in a pan and add cumin seeds.
When cumin become golden then add ginger,green chilies and boiled peas and saute for 1 minutes.
Now add chili powder,coriander powder,salt and mango powder and stir to mix.
Add mashed potatoes, crushed and roasted powder,garam masala and saute for 2 minutes on medium heat.
Take out in a bowl and add fresh chopped coriander.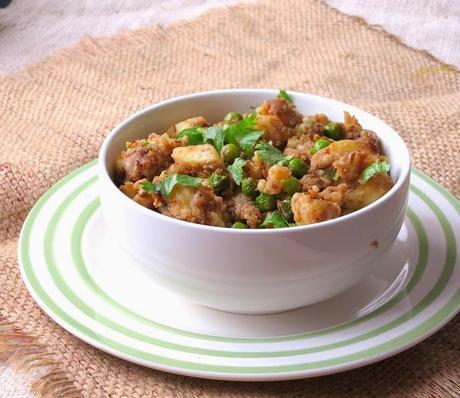 For the samosa dough-
In a big bowl take refined flour,ajwain and salt and mix it .
Now add cooking oil and rub it well with your fingers.
Add lemon juice and mix again
Now add cold water and make a stiff dough like we make for poori.
Cover the dough and keep aside to rest for 1 -2 hour.
Rub it well to make it smooth.
Make equal size of balls from the dough and keep them covered with a moist muslin cloth.
Roll the ball to make a slightly oval shape poori/disc of medium thickness.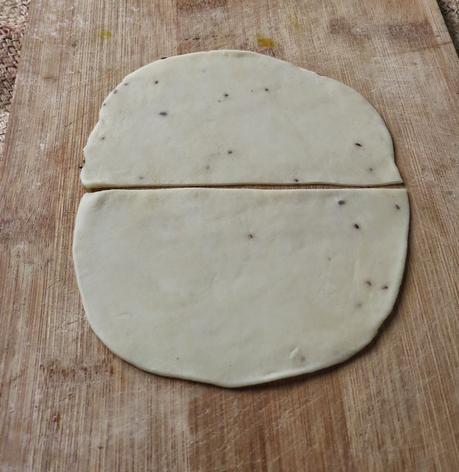 9- Cut it from the center to make 2 pieces.      10 - Apply water on the sides and fold it like a cone.      11- Give a fold on the other side of the poori,it helps to retain the shape and stand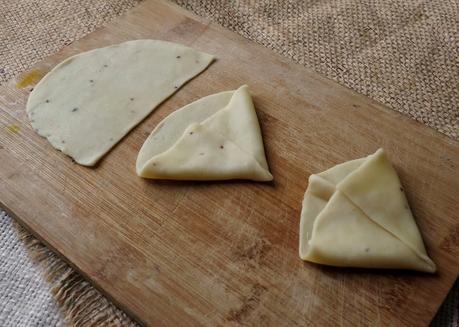 12 - Now stuff the cone with the prepared potato mixture till 3/4 .     13 - Now apply water from your fingertip all around the the opening.     14 - Press both the sides together to close it completely.     15 - Make all samosas this way and keep aside.     16 - Now heat enough oil in a deep pan.     17- Add few samosa in the pan and fry on low heat till they become crisp and golden.     18 - Drain on a kitchen towel and repeat with the remaining samosas.
Notes and Tips-
The samosa pastry dough should be firm to get crisp samosa.
Seal them perfectly otherwise they can open up while frying and spoil all the oil.
Deep fry on low heat ,if you fry on high flame then they do become golden from outside but will not become crisp and get uncooked from inside.
You can add raisins and chopped cashews at step- 4
Can also add some mixed vegetable along with potatoes to make a healthy version.
Though Punjabi samosa are quite big in size but you can make according to your preference ,I have made medium size samosas.
Use cold water to make the dough.
The poori should not be thick or very thin.
Can use lemon juice if mango powder is not available.
You can make and fry them slightly and then keep them refrigerated for 1-2 days and then again deep fry them while serving.
For a healthy low fat version-you can bake them at 180 degree for about 30- 35 minutes.
Serving suggestions- Best served with
khajoor imli ki chutney
and
Green mint chutney