This post may contain affiliate links. Please read my disclosure.
These Pumpkin Yogurt Parfaits are incredible, and are just what you need this fall. Old fashioned oats, cinnamon, pumpkin spice, vanilla, pumpkin puree, and honey give you a perfect breakfast, snack or dessert!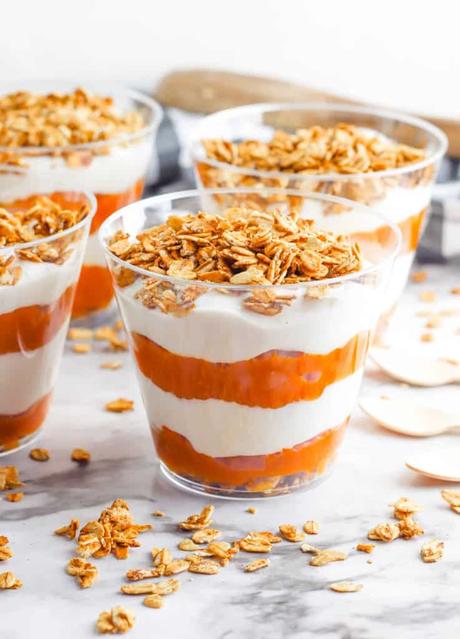 I can't help but get super excited at the first sign of fall. Pumpkins, fall colors, cozy sweaters, and tailgating are some of my favorite things about the season. Now that I've started making these amazing yogurt parfaits, I have found a new love this autumn!
Parfaits are so versatile you can eat them for breakfast, or you can have them as an afternoon snack when you're in a slump. These pumpkin yogurt parfaits are also a healthier alternative to pumpkin pie, because they taste just like pumpkin pie filling, but are under 200 calories per serving and are sweetened only with a touch of honey!
Tools and Equipment You'll Need
Recipe Ingredients and Notes
Oats: For the homemade granola topping of course! You could always use store bought granola, but I like making it at home because then you can control the amount of added sugar that goes into it. I recommend rolled oats for the granola!
Yogurt: I used plain, lowfat regular yogurt but for even more protein, use Plain Lowfat Greek Yogurt
Honey: You can also use maple syrup, or omit entirely if you want this to be more of a healthy breakfast vs. a brunch treat or light dessert.
Spices: Fall spices are the way to go here! I used cinnamon and pumpkin pie spice, but you could also use or add nutmeg, all spice, ground ginger, or even ground cardamom!
Step by Step Instructions
Step 1: Preheat the oven to 350 degrees. In a large bowl, combine the oats, butter, honey, salt, cinnamon, and pumpkin pie spice. Stir to coat the oats.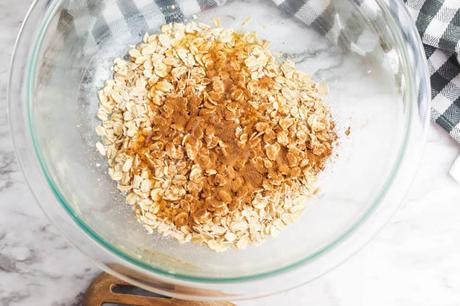 Step 2: Spread the oats over a baking sheet and place in the preheated oven. Bake for 30 to 40 minutes, stirring occasionally. When the oats are golden brown, remove them from the oven and allow them to cool.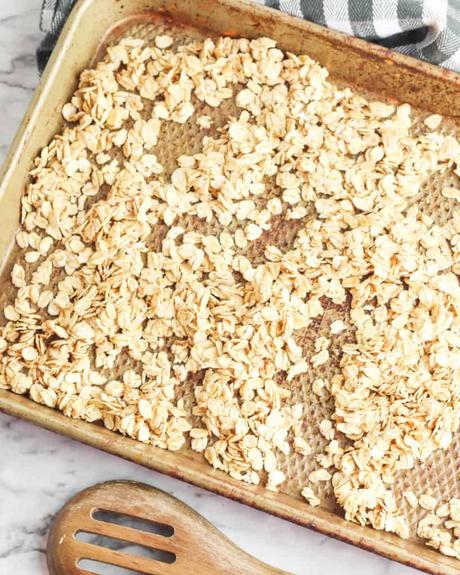 Step 3: When the oats are cool, prepare the yogurt and pumpkin. To make the yogurt layer, combine the plain yogurt with one tablespoon honey and ½ teaspoon vanilla. Use a hand mixer to blend the ingredients until smooth.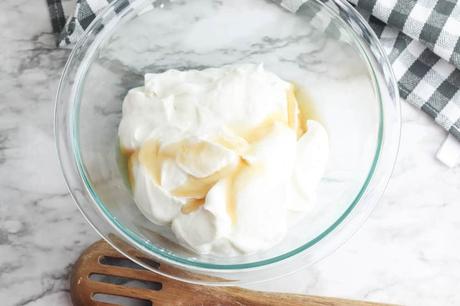 Step 4: In a separate bowl, combine the pumpkin, one tablespoon of honey, pumpkin pie spice, and cinnamon. Whisk to mix.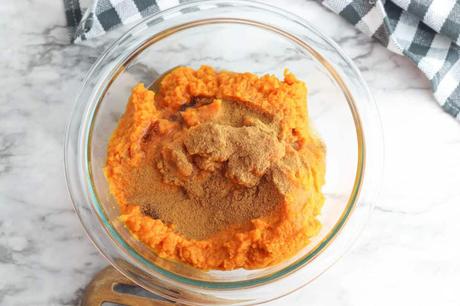 Step 5: Use 8-ounce cups to build the yogurt parfaits. Start by adding a layer of granola on the bottom of each cup.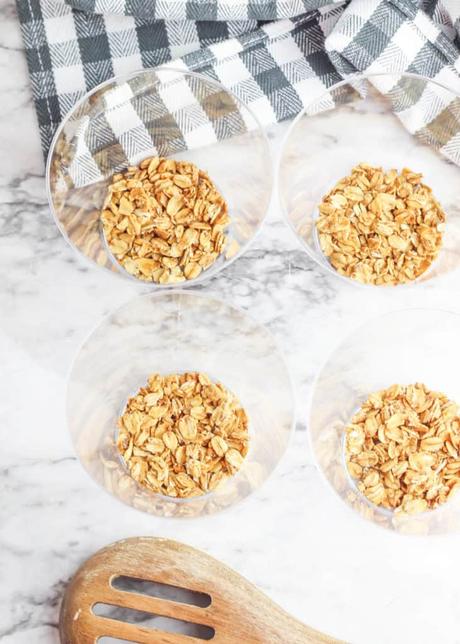 Step 6: Top the granola with a layer of pumpkin and a layer of yogurt, and another layer of pumpkin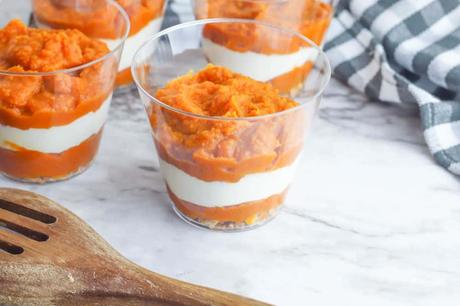 Step 7: Then add another layer of yogurt.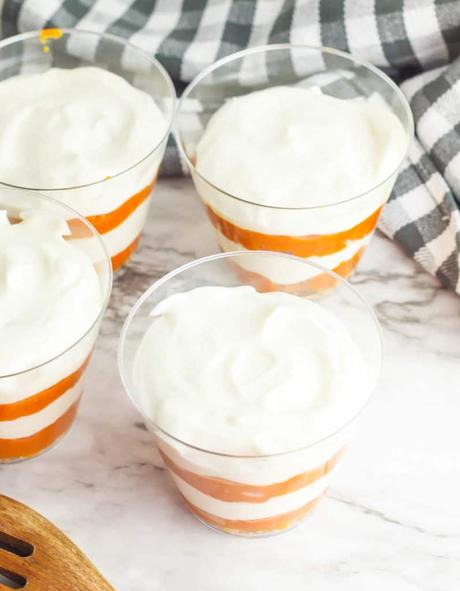 Step 8: Finish by sprinkling the remaining granola on top of each cup. Serve immediately or refrigerate until ready to serve.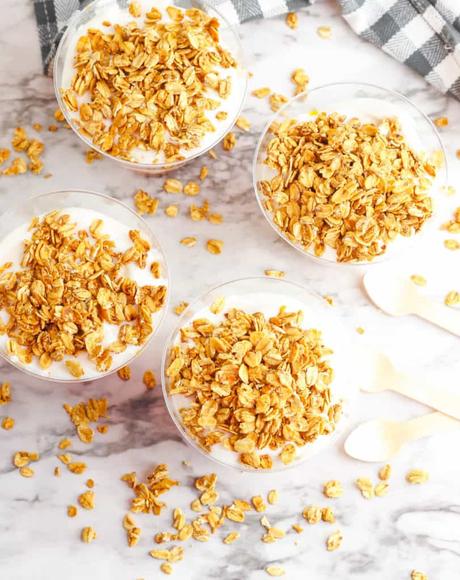 What Makes These Yogurt Parfaits Healthy?
Protein: Each yogurt parfait has almost 10 grams of protein! Protein is essential to keeping you full and satisfied. For even more protein, use low fat Greek Yogurt instead of plain yogurt.
Fiber: You'll get almost 5 grams of fiber in each serving - which helps keep you full and is great for digestion and heart health.
Vitamins and Minerals: Besides the fact that these parfaits taste so yummy, there are many vitamins and minerals that you will also be getting. Vitamin A, vitamin K, folate, calcium, iron, potassium, and magnesium are just a few of the nutrients you will get with every serving.
Will Kids Enjoy These Pumpkin Yogurt Parfaits?
These yogurt parfaits are super kid friendly! The flavors of pumpkin pie combined with the creamy cool yogurt and rich pumpkin will keep them happy and satisfied.
These look like mini desserts, and kids tend to love individually portioned treats, so it's a win-win! You can also mix up the toppings based on your kids' preferences (and switch out the pumpkin for fruit). This is an excellent snack for your kids to enjoy any time of day or first thing in the morning to give them some energy.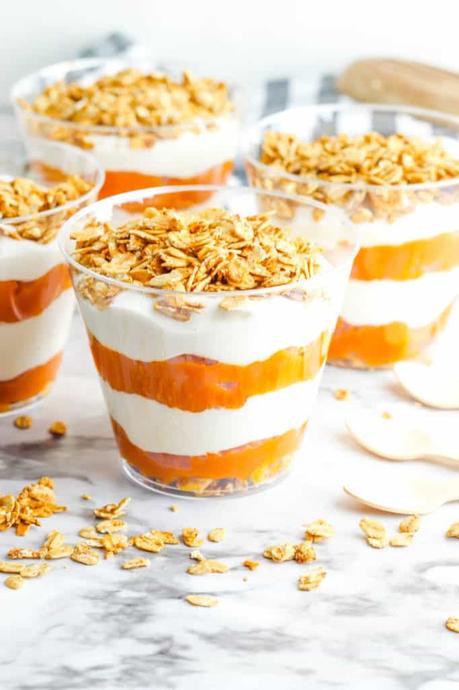 Recipe FAQs
Can I Make This Pumpkin Parfait Ahead of Time?
Absolutely, and in fact, these yogurt parfaits may even taste better the next day as all the flavors will have more time to blend together. If you do decide to make it ahead of time, keep the granola topping separate and top the parfaits right before serving.
The rest of the layers you can store, assembled in an airtight container or mason jar in the fridge. They are fantastic for meal planning, so you can always have some on hand when you need a quick and simple breakfast or dessert.
How Do You Store Yogurt Parfaits?
Yogurt parfaits should always be stored in an airtight container or mason jar in the fridge. They will last up to 3-4 days in the fridge. If you're looking for a grab-and-go breakfast option, mason jars are the way to go!
Note: I don't recommend freezing yogurt parfaits. While technically you can freeze them, when yogurt is frozen and then thawed, it won't have the same consistency as if it were fresh. So while it's safe to freeze and then thaw parfaits, I think they actually taste much better fresh.
Are Yogurt Parfaits Healthy?
Typically, if you're ordering a parfait at a restaurant, it's going to be much closer to a dessert than a healthy breakfast option because parfaits typically have a lot of added sugar. But if you make it at home, you can control both the quality of ingredients and the amount of sugar you use, which makes for a much healthier parfait!
What Type of Yogurt Is Best For Making Yogurt Parfaits?
I used plain, lowfat yogurt for this recipe but you could also use plain Greek yogurt for a higher protein option. I recommend plain yogurt because flavored yogurts often have too much added sugar! You could also use dairy free yogurt to make this recipe vegan friendly.
Top Tips For Making Yogurt Parfaits
When making the homemade granola, I recommend using old fashioned rolled oats vs. quick cooking or steel cut oats because they toast up the best in the oven (and hold their texture)
Feel free to adjust the spices as you see fit. Add a little more pumpkin pie spice or back up on the cinnamon; or try all spice, ground ginger, ground nutmeg or ground cardamom.
For extra protein, use low fat Greek yogurt instead of plain yogurt.
Feel free to mix up the layers of the parfait with any mix-ins you like! Switch the pumpkin for fresh berries, or stewed apples, or even a mixture of nuts and seeds! For toppings, dark chocolate chips, pecans, walnuts, and other kinds of seeds would also be delicious in this parfait recipe.
To make this vegan friendly, use a dairy free yogurt, vegan butter or coconut oil for the granola, and maple syrup instead of honey.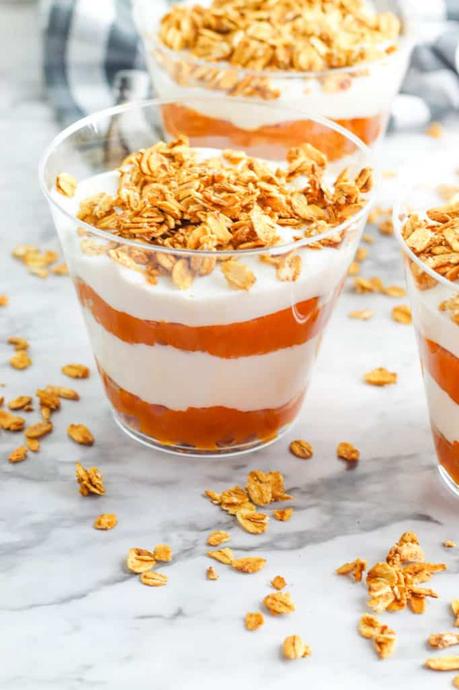 If you have tried this Pumpkin Yogurt Parfait Recipe or any other recipe on my blog, then please rate it and let me know how it turned out in the comments below! You can also FOLLOW ME on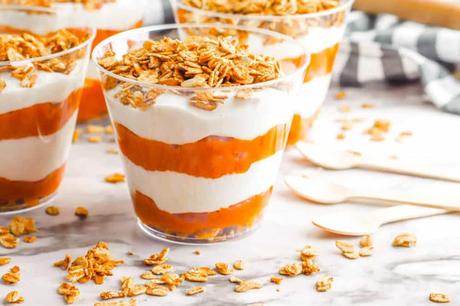 FACEBOOK
,
TWITTER
, INSTAGRAM, and
PINTEREST
to see more delicious, healthy, family friendly food!
Check Out These Other Tasty Breakfast Recipes!
Pumpkin Yogurt Parfaits