These Pumpkin Spice Latte Brownies are homemade pumpkin brownies infused with coffee and topped with a whipped pumpkin spice latte frosting. This shop has been compensated by Collective Bias, Inc. and its advertiser. All opinions are mine alone. #FallFlavors #CollectiveBias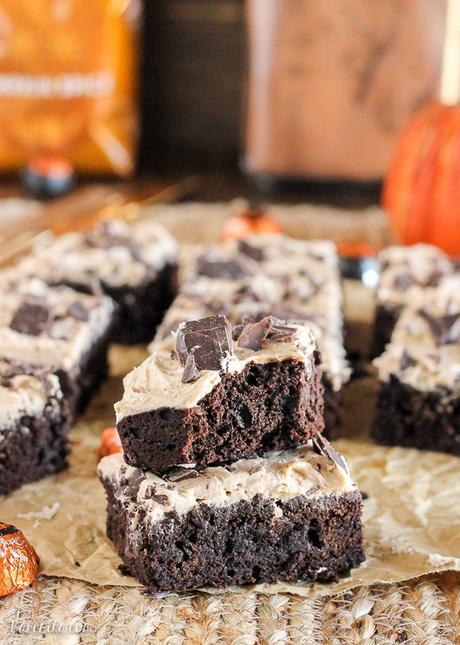 Fall is officially here, complete with leaves turning shades of red, brown, and yellow and a slight bite of chill in the air, forcing me to embrace my boots and scarfs for the rest of the year. I personally love it, and I've been waiting for the chilly weather all through this past sweaty summer.
Now that it's here, I'm all about everything fall related. My bed has been piled high with warm cozy blankets, candles are lining my bookshelves and making my house smell like warm maple & hazelnut, and the warmth of my morning coffee is even more coveted on the chilly mornings.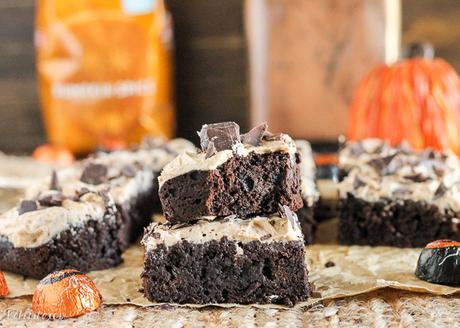 Though I love everything made with apples during the fall, I also can't resist the other standout fall baking ingredient: pumpkin. And when you think pumpkin during the fall, you can help but think of a Pumpkin Spice Latte. It's a classic drink and helps warm your soul on these chilly days.
I love the PSL, and all of the flavors that stand out from it. The pumpkin flavor and spices pair so deliciously with the bold coffee flavor and I could help thinking of the other flavor that pairs so well with coffee: chocolate.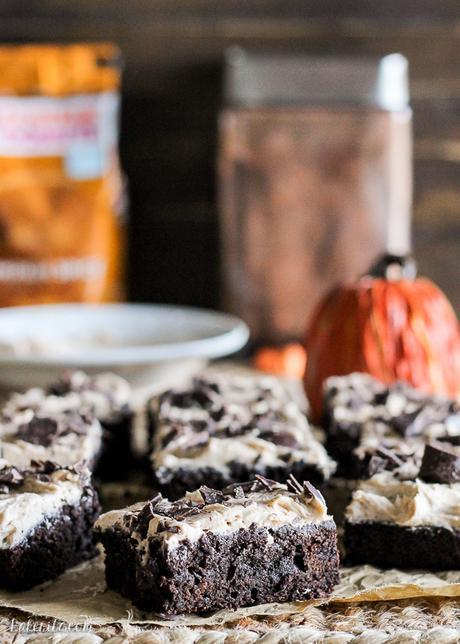 It's no secret I love chocolate, and in these Pumpkin Spice Latte Brownies, the flavors of the pumpkin spice latte meet chocolate in the best possible way. The brownies are rich chocolate brownies that have added pumpkin puree, pumpkin pie spice, and a bit of Dunkin' Donuts® Pumpkin Spice Coffee for that added coffee kick.
The brownies turn out with the perfect texture – fudgy, and just a teeny bit cakey. They taste of pumpkin, warm fall spices, and rich chocolate. The Pumpkin Spice Coffee helps bring out each of those flavors in the brownies.
Where that Pumpkin Spice Coffee really shines though, is in the pumpkin spice latte frosting. To get the coffee flavor without the texture of ground coffee in the frosting, I quickly infused the Pumpkin Spice Coffee into heavy cream and then strained it, leaving strong coffee flavored cream to use in the frosting. Pumpkin pie spice added a little extra flavor to the creamy frosting.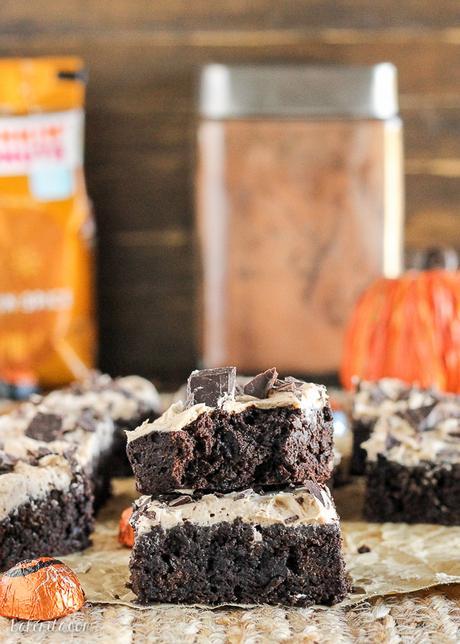 This pumpkin spice latte frosting makes the perfect topping to enhance the flavor of the brownies. To top it all off, I added DOVE® Dark Chocolate Pumpkins on top of the brownies. I chopped them up and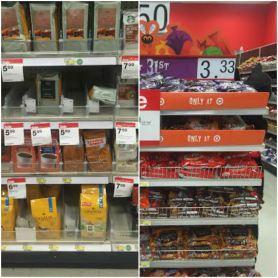 the rich dark chocolate chunks make these brownies the ultimate pumpkin spice latte brownies! It's delicious.
I picked up the DOVE Dark Chocolate Pumpkins and Dunkin' Donuts Pumpkin Spice Coffee from Target. It's embarrassing how often I'm there, but I can never resist the Dollar Spot for fun little knick knacks or the candy aisle, where they always have fun, seasonal treats like these. Find the Pumpkin Spice Coffee in the coffee aisle, and find the Dark Chocolate Pumpkins with the with other seasonal candy, only at Target!
Pumpkin Spice Latte lovers unite – this one's for you!

Pumpkin Spice Latte Brownies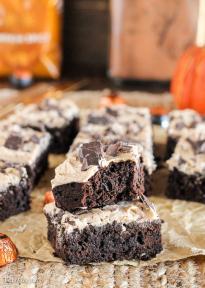 Save
Print
Prep time 20 mins Cook time 25 mins Total time 45 mins   Author:
Rachel Conners
Serves:
16 brownies
Ingredients For the brownies
⅓ cup unsalted butter
1 cup granulated sugar (7 oz)
¼ cup light brown sugar (1.75 oz)
¾ cups plus 2 tablespoons unsweetened cocoa powder (2.5oz, or 70g)
1 tablespoon Dunkin' Donuts® Pumpkin Spice Coffee
¼ teaspoon salt
⅓ cup pumpkin puree
1 teaspoon pumpkin pie spice*
1 teaspoon vanilla extract
2 large eggs
½ cup all-purpose flour (weighing nearly 2.5 ounces or 65 grams)
½ cup chocolate chips
For the frosting
1 tablespoon Dunkin' Donuts® Pumpkin Spice Coffee
4 tablespoons heavy cream
⅓ cup unsalted butter, room temp
1¼ cup powdered sugar
1 teaspoon vanilla
1 teaspoon pumpkin pie spice
DOVE® Dark Chocolate Pumpkins, to garnish
Directions
Preheat oven to 325ºF. Line an 8x8" baking pan with parchment paper or aluminum foil. Spray with cooking spray and set pan aside.
In a large microwave-safe bowl, combine butter, sugar, cocoa, salt, and heat on high power to melt, about 45 seconds. Stop to stir, and heat in 10-second bursts until mixture has melted and can be stirred smooth (mine took 45 seconds + 15 seconds). Batter will be very granular.
Add the vanilla, eggs, and stir vigorously until batter is thick, shiny, and well blended. Add the flour and stir until just combined. Pour the batter into the prepared pan and spread evenly.
Bake until a toothpick in the center emerges slightly moist with batter, about 22-25 minutes. Check with a toothpick - your batch may need a few minutes longer. Do not bake over 30 minutes or brownies will be prone to scorching, burning, turning dry, or setting up too hard. Brownies will firm up as they cool.
For the frosting, microwave the heavy cream for 1 minute. Add the pumpkin spice coffee and let it sit for about 2 minutes. Strain the heavy cream into a small bowl and discard the coffee grounds.
In a large bowl or stand mix, whip the ⅓ cup butter for 1 minute until creamy and smooth. Add the powdered sugar, vanilla, and pumpkin pie spice and whip for 1 more minute. Add two tablespoons of the coffee infused heavy cream, and whip until completely smooth and combined. Spread on the cooled brownies.
Cut frosted brownies into 16 equal squares with a very sharp knife.
Brownies will keep in an airtight container at room temperature or in the refrigerator for up to 1 week, or in the freezer for up to 3 months.
Notes *Pumpkin pie spice replacement: ½ teaspoon cinnamon, ¼ teaspoon nutmeg, ¼ teaspoon cloves 3.4.3177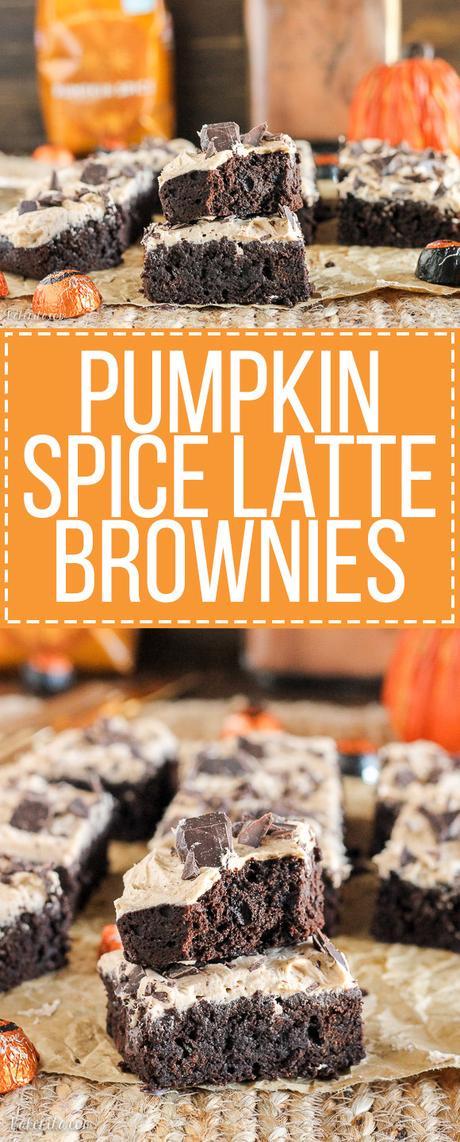 Hungry for more? Check out some of my similar recipes!
Vegan Pumpkin Spice Latte Muffins
Pumpkin Crumb Cake
Pumpkin Carrot Cupcakes with Cinnamon Cream Cheese Frosting
Latte Cake with Boiled Fudge Frosting
Coffee Chocolate Chip Streusel Muffins
Pumpkin Dulce De Leche Baked Doughnuts