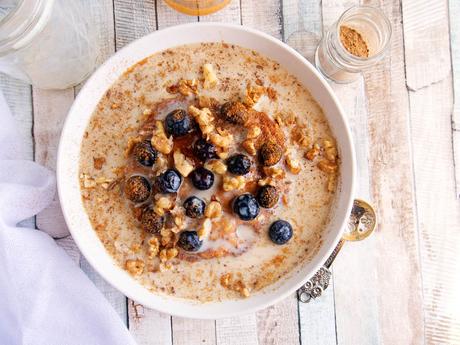 Oatmeal is a total staple in my diet. It's one of those tried-and-true comfort breakfasts that goes all the way back to my childhood. My typical breakfast is always oatmeal with some sort of mix-ins: apples/pears, nut butters or nuts, banana, berries, ground flaxseed, yogurt, the list is endless! But when I want to switch things up, I love making this pumpkin pie oatmeal.
Whether it's pumpkin season or not, you can pretty much have this year round thanks to organic, canned, pureed pumpkin that's available at any local grocery store! Just be careful not to buy "pumpkin pie filling" - which is packed full of sugar and other preservatives that you don't want to be starting your morning off with.
Not only does this dish come together in less than 10 minutes, but it's super healthy and super easy! It will keep you full all the way until lunch thanks to the fiber from the oats, pumpkin and berries and added protein from the nuts and milk.
It's also kid-friendly too. Both of my kids like adding banana into their oatmeal, and I like mine a little less sweet so I tend to just add berries. And thanks to the warm spices like nutmeg and cinnamon, this will literally taste like dessert for breakfast!
The Ingredients:
1/2 cup rolled oats
1 cup water
1/2 cup lowfat milk or organic unsweetened vanilla soy milk
1/2 cup pureed pumpkin (make sure there is no sugar added)
1/4 tsp honey
1/4 tsp pumpkin pie spice (more to taste)
1 pinch salt
1 pinch cinnamon
1/4 cup fresh or frozen blueberries
1 tbsp crushed walnuts
1/4 of a banana, mashed (optional)
The Directions:
Step 1: Make the rolled oats according to the package: you can either make them in the microwave or on the stove. For the microwave, I combined the water + oats and microwaved on high for 2 minutes (more if the oats need to get fluffier before serving)
Step 2: Add the rest of the ingredients: milk/soy milk through walnuts (or banana if using) and stir to combine!
And there you have it! The perfect, dessert-for-breakfast, pumpkin pie oatmeal that's only 300 calories, is super satisfying, is kid-friendly and adult-approved!
Pumpkin Pie Oatmeal