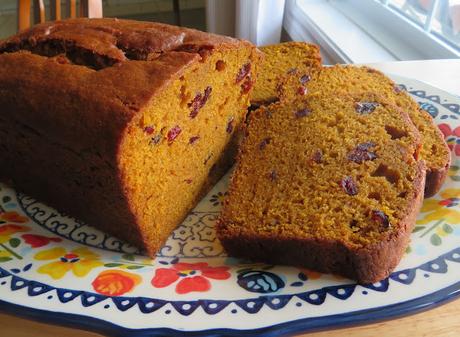 Its that time of year again! Pumpkin season.  The time of year that we all enjoy baking with pumpkin. Nothing says Autumn more than a pumpkin bake, and this simple recipe makes for the best pumpkin bread you could ever want to eat! 
Its an adaptation of a recipe I received from my Canadian Mother in Law back in the 1970's.  It started off pretty plain and basic, but through the years I have gradually fiddled with it to create something of my own.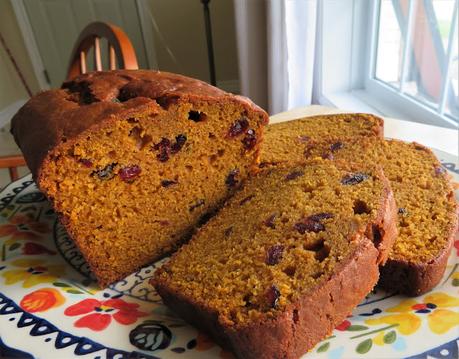 It was moist and pretty delicious back then, but I have to say it is even more delicious now!  And I don't mean to sound like I am bragging when I say that, but its true.
When I first moved over to the UK tinned pumpkin was a very difficult thing to find in the shops.  I remember the first year I was there I had invited some Missionaries over for Thanksgiving dinner and I wanted to make them a traditional pumpkin pie for dessert.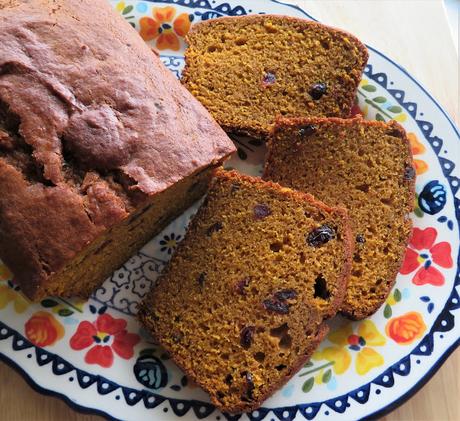 I could not find pumpkin anywhere at all. I ended up roasting sweet potatoes and pureeing them to use for the pie. It worked out well, but it was not really pumpkin pie.
Then when I worked at the Manor I used to use pumpkin which I bought from an American food supply company. It came at a premium price, but was worth every penny to me at the time.  
Gradually pumpkin became more and more available and by the time I left there you could pretty much buy tinned pumpkin most of the time and in many of the shops.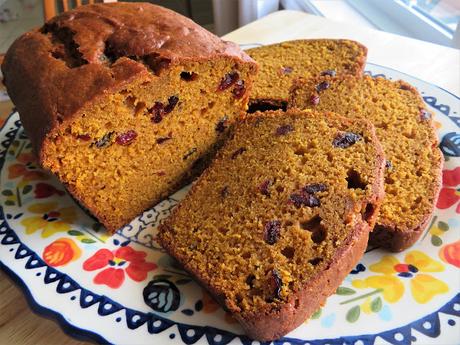 You can of course make your own pumpkin puree from scratch but it is very labor intensive to get it to the right consistency. You need to first roast your pumpkin.
Then you need to puree it.  Once pureed you then need to strain it and squeeze as much liquid out of it as you can. This is where all of the labor comes in.  Tinned pumpkin is very dry and if you don't get your homemade pumpkin puree just as dry, the integrity of your bakes will be ruined.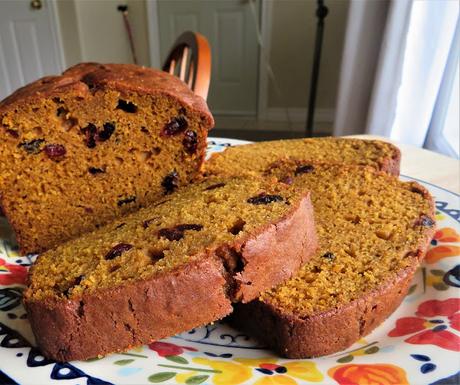 It is just so much less work to use the ready tinned pumpkin. Trust me on this.  Tinned pumpkin comes in handy for many things. Pies, cakes, cookies, breads, etc.
My boss at the manor used to ask me to make pumpkin soup with it every American Thanksgiving.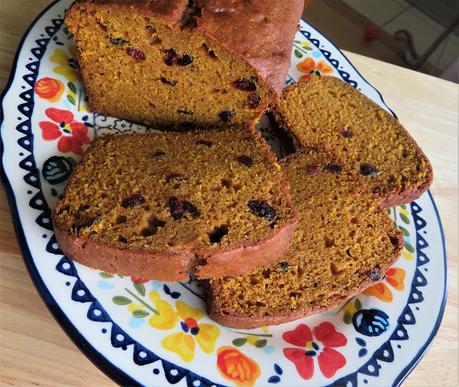 This pumpkin bread recipe makes the best pumpkin bread ever and that is all down to my mother-in-laws secret ingredient, which is frozen orange juice concentrate.  Yes, frozen orange juice concentrate.  This was not something I could get in the UK either, but it was an ingredient that I learned to adapt.
You can do this either one of two ways. One, you can take fresh orange juice and boil it down to make a very concentrated form ( again, labor intensive) or two, you can take a fresh orange (peeled and segmented) and puree it in a blender until smooth.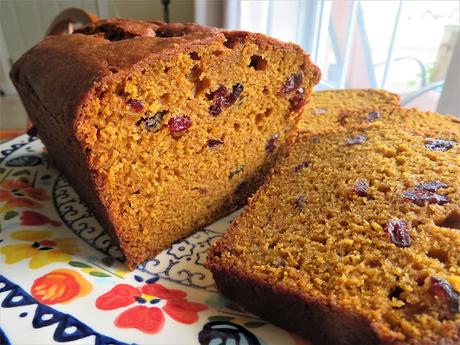 I will choose to puree the fresh fruit over boiling down juice every time. It is just so much easier and quicker.  In any case, don't skip it because it is what makes this an incredibly tasty and moist loaf! 
There is also plenty of spice in the loaf, but not obnoxiously so.  My mother in law used to just add cinnamon to hers. I added some nutmeg and ground cardamom, which we always loved.  I also added some vanilla.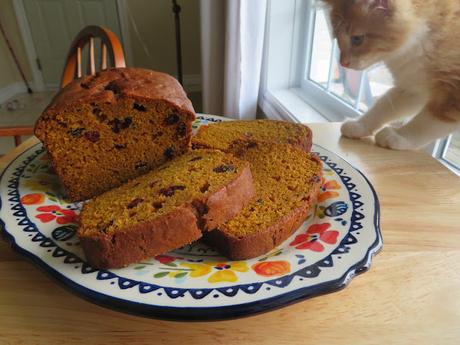 On a side note, now that the kittens are jumping up onto things they are a bit of a nuisance when it comes to taking my food photos. haha. Not quite the same as Mitzie. She liked to hold onto the edge of the table and watch.
She couldn't actually jump up onto the table. I think I must have had to take this little monkey down a bazillion times while I was taking these photos. I think its time to buy a squirt bottle.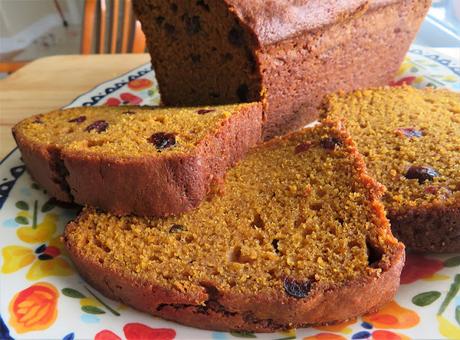 My mother in law used to add raisins to her pumpkin bread.  I switched them out for dried cranberries a number of years back.  Cranberries are a very autumnal thing and the dried ones work very well in this delicious pumpkin bread!
You can also use dried cherries (chopped) or even toasted walnuts, pecans or yes, even chocolate chips.  Also raisins if you want. I love this with the cranberries.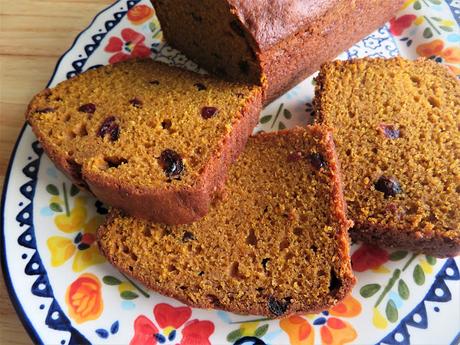 I know that everyone thinks their pumpkin bread is the best, but I think mine is the very best and that is for a number of reasons.  One it always turns out. I have
never
had this fail. 
Two, it is incredibly moist and dense, without being soggy. This means that it cuts into perfect slices every single time. 
Three it is very family friendly, not too spicy and not too sweet.  I know that young mums want to make sure their children are not eating too much of the sweet stuff. This loaf has a perfect balance.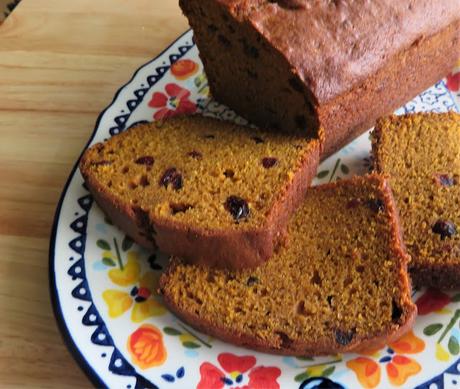 Another reason that I really love this loaf is because it is totally freezable. You can make it ahead, or make several loaves of it when you have the pumpkin and freeze them. 
I like to cut mine into slices and place the loaf, pieced back together with a piece of wax paper in between the slices and the whole thing popped into an airtight freezer container.  That way I can take out a slice as and when I want to indulge myself.
It will keep for several months this way.  I can tell you it is really awfully nice to have this in the freezer ready to take out when a friend stops by unexpectedly.  10 seconds or so in the microwave and you have something incredibly tasty to enjoy with a hot drink.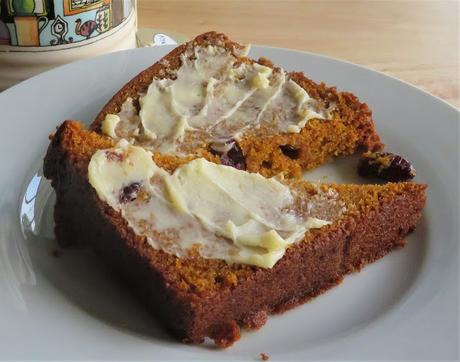 Or course like any true Nova Scotia gal I enjoy mine sliced and spread with softened butter.  That's how I like all of my quick breads like this one.
Banana bread, date and nut loaf, even lemon loaf.  I know it is a bit hedonistic, but you only live once.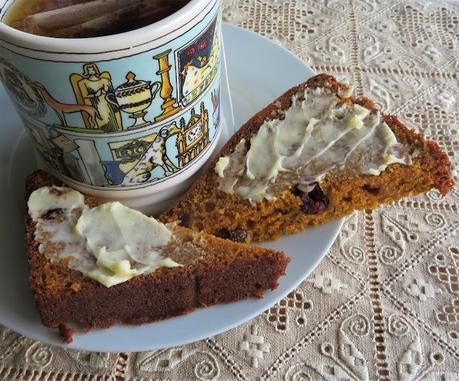 I really hope that you will bake this loaf and that you will enjoy it as much as I do.  To me, its quite simply, the Best Pumpkin Bread ever invented.  
Its even better on the second day. In fact I usually bake it on one day and leave it to ripen overnight before cutting into it.  It always cuts into beautiful slices and the flavor is even better on the second day.  Trust me however, first day, second day, even third day, you are going to love this delicious pumpkin bread!  '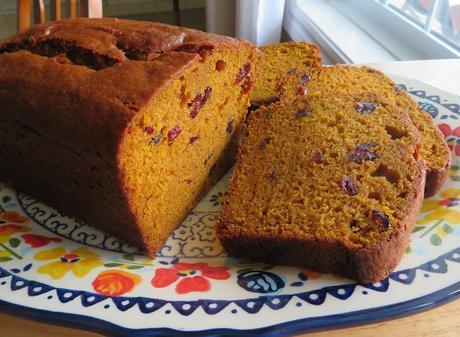 Pumpkin, Orange & Cranberry Bread
Yield:
8
Author:
Marie Rayner
Prep time: 5 Min
Cook time: 60 Min
Total time: 1 H & 4 M
This easy and delicious loaf is an annual autumn favorite. I got the recipe from my mother in law many years ago. It's the best pumpkin bread recipe!
Ingredients
1 cup (250g) pumpkin puree (from the tin, not pie filling)
2 large free range eggs, lightly beaten
1/2 cup (120ml) canola oil
1/2 cup (100g) granulated sugar
3/4 cup (150g) soft light brown sugar, packed
3 TBS frozen orange juice concentrate, undiluted (see note)
1 tsp vanilla
1 3/4 cup (245g) plain all purpose flour
1 tsp baking soda
1/2 tsp baking powder
1/2 tsp ground cinnamon
1/2 tsp ground nutmeg
1/4 tsp ground cardamom
1/2 tsp sea salt
1/2 cup (75g) dried cranberries
Instructions
Preheat the oven to 350*F/180*C/gas mark 4. Butter an 8 1/2 by 4 1/2 inch loaf tin and line with baking paper, leaving an overhang to lift the finished loaf out with when done.
Whisk the eggs, sugars, oil, orange juice concentrate, pumpkin puree and vanilla together in a bowl until thoroughly combined.
Sift together the flour, soda, baking powder, spices and salt until combined. Add all at once to the wet ingredients. Stir everything together just to combine and no dry streaks remain. Stir in the cranberries.
Spoon the batter into the prepared baking tin, smoothing over the top.
Bake for 50 to 60 minutes, until risen and a toothpick inserted in the center of the loaf comes out clean.
Let cool in the pan for 10 minutes before lifting out to a wire rack to cool completely. Cut into slices to serve.
Notes:
If you cannot get orange juice concentrate. Peel and segment a large orange. Puree the orange in a food processor until smooth and measure out three TBS.
Did you make this recipe?
Tag @marierayner5530 on instagram and hashtag it #TheEnglishKitchen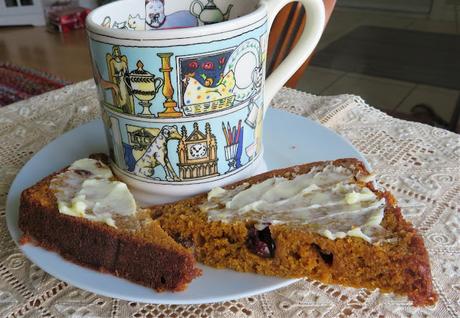 All of the content you see here on this page, both photography and written, are the sole property of The English Kitchen, Marie Rayner. Any reposting or misuse is not permitted. If you are reading this elsewhere, please know that it is stolen content and you may report it to me at mariealicejoan at aol dot com. 
 Follow me on Bloglovin